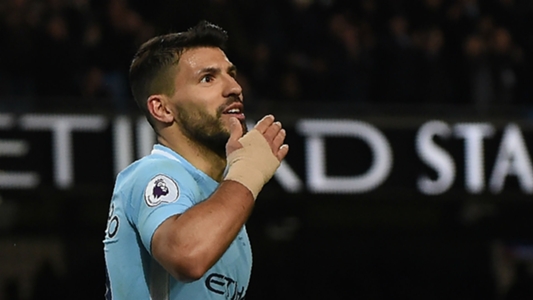 Sergio Aguero will face no punishment from the Football Association for his role in a fracas with Wigan fans following Monday night's FA Cup clash, the FA has confirmed.
Goal reported earlier on Tuesday that Aguero would not be disciplined for his actions in the incident.
The FA has been in discussions with Manchester City and Wigan throughout Tuesday, and sources told Goal that the governing body had informed Aguero that he will not be charged.
Hundreds of Wigan supporters flooded the pitch after their side knocked City out of the FA Cup at the DW Stadium on Monday, one of several other incidents under investigation by the FA.
Aguero was approached by a small number of fans and was seen jostling with them, seemingly after being provoked, before he was pulled away from the scene.
Sources have told Goal that City and Aguero are considering legal action against one fan, who they allege hit the striker, spat at him and said "suck my d***'.
[embedded content]
Goal also reported earlier on Tuesday that the FA would be studying footage of the incident, captured either by broadcasters or supporters, to establish the facts.
They have since decided that Aguero does not have a case to answer, and have conveyed that message to City's lawyers.
The FA is continuing to investigate other incidents from Monday's game, including Wigan's security arrangements as well as the behaviour of supporters of both clubs.
The FA has announced charges for both clubs for failure to control their players following the red card issued to City defender Fabian Delph late in the first half. 
However, clashes between City boss Pep Guardiola and Wigan's Paul Cook, both on the touchline during the first half and in the tunnel at half-time will not result in discipline for either manager. 
Let'