You can say what you like about Sergio Aguero, and many Manchester City fans currently are, but you cannot say that he is not trying.
It is fair to say that the Argentine has been in poor form for a few months now, and it is fair to say that he and his manager, Pep Guardiola, do not enjoy the most cordial of relationships. There is, once again, something bubbling away behind the scenes, and maybe this time, unlike the last, it will end messily.
But those behind-closed-doors issues have rarely been evident in public, and as he showed on Saturday with his FA Cup salvo against Burnley, Aguero still wants to fight for his place in Guardiola's plans. 
Whether that is enough this time around remains to be seen. Last season, after the Argentine used a mixed zone interview to suggest his employers may get rid of him, he got on with the task at hand; adding new facets to his game while continuing to find the back of the net. His employers decided he did have a place at the club, with chairman Khaldoon Al Mubarak assuring him personally that he would not be moved on, and that his grievances with Guardiola – that the Catalan was slowly forcing him out – would be rectified.
The biggest issue now is that Aguero is said to have realised in the past few weeks that things have not changed, and he still believes Guardiola wants him gone. 
If he is right, it is an issue which would extend beyond a club's 'simply' replacing their all-time leading scorer and fan favourite; the incredibly influential Al Mubarak genuinely does want him to stay. Last summer, Guardiola's superiors asked him to give Joe Hart time, but the Catalan insisted; the England man had to go. He won that battle but the political fall-out from selling Aguero would be something different altogether, if it comes to that.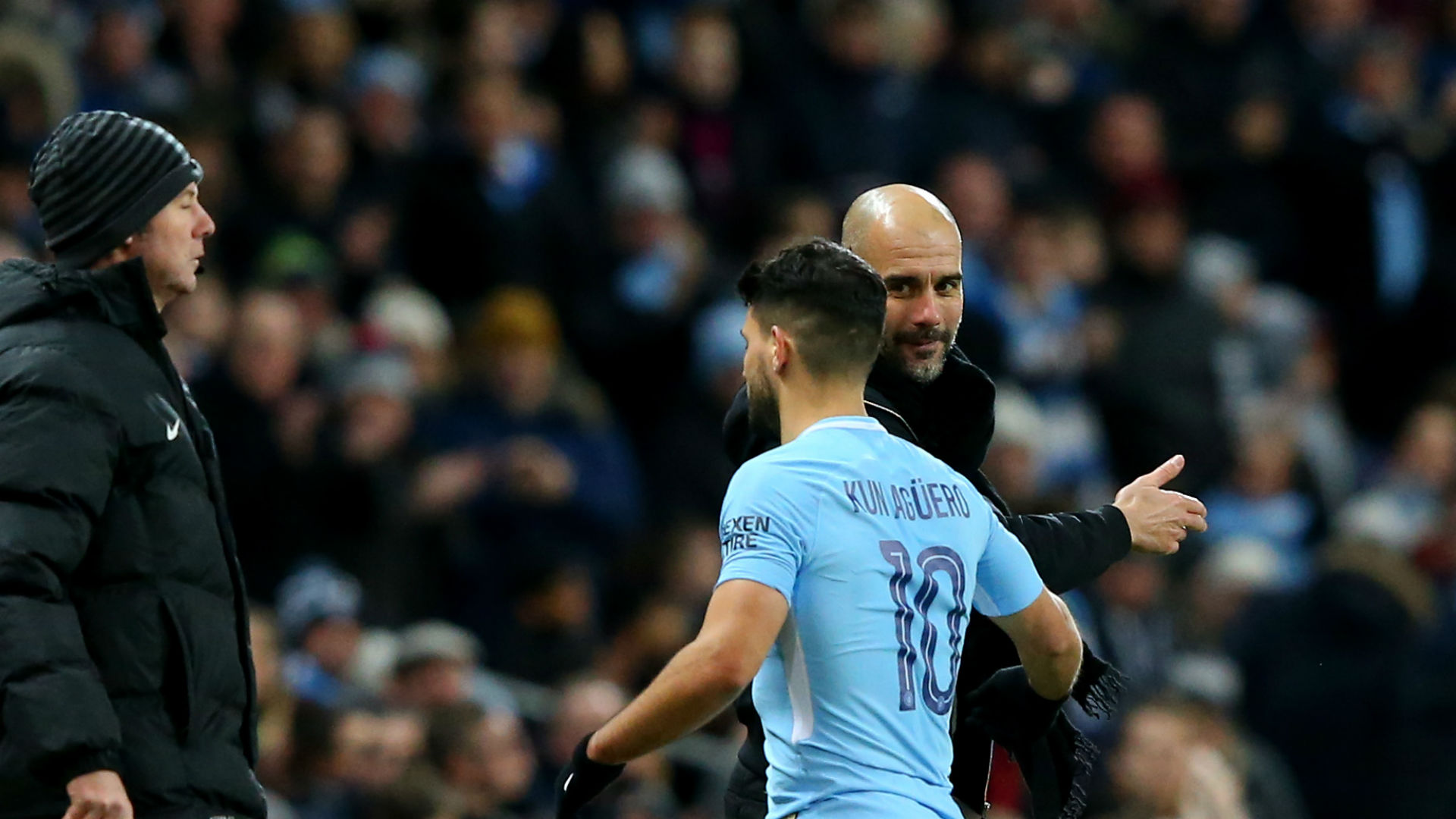 That said, those close to Guardiola insist that his only problems with his No.10 are footall-related; they believe he is simply unhappy at losing his place to Gabriel Jesus, and there is now a dismay at how many chances he has been missing. Whereas last season he was working harder and scoring goals, now the worry among the coaching staff is that he is not scoring goals. And then you have to consider how much he is doing for the team.
Not because he is not trying, but perhaps because he will never be the player Guardiola wants, no matter how much he tries. To try to illustrate this point, consider a 1-to-10 scale of a "Guardiola player". Hart, for example, would have been low down that scale, Ederson high up it.
Alexis Sanchez, who may yet arrive this month, would be at least an 8, probably a 9 or 10. Aguero may well have gone from a 4 (when Guardiola first took charge of City last summer) to around a 6 or a 7 (by the end of last season), and he deserves endless credit for the work that required, but it's still not Alexis' level.
Another example of the issues between the two: Aguero is annoyed that Guardiola keeps putting the ball in his court in press conferences, by saying things like "Aguero will decide his own future." Aguero, who insists privately and publicly that he has no desire to leave, thinks his manager is trying to blame him if he eventually leaves the club.
On the flip side, Guardiola is annoyed that Aguero uses rare press interviews to point out that it is the club who will decide his destiny. His interview with Cadena Ser after Tuesday's match against Watford, in which he said he would "respect the club's decision", did not go down well.
There is a sense that both men are positioning themselves to blame the other if there is a parting of the ways. That, though, is a situation which will only be resolved in the summer.
For all the jostling in the propaganda stakes, all Aguero can do between now and the end of the season is play football. 
It has been completely fair to criticise his performances of late, because he has missed a hatful of chances. Since breaking the City scoring record in Naples he had scored six goals in 12 appearances, including a couple of penalties and a goal at Swansea and two at home to Bournemouth which seemed to stand out as point-provers, goals that reminded those watching that he still knows where the goal is, even when the going gets tough, and even when his misses are being scrutinised more than ever.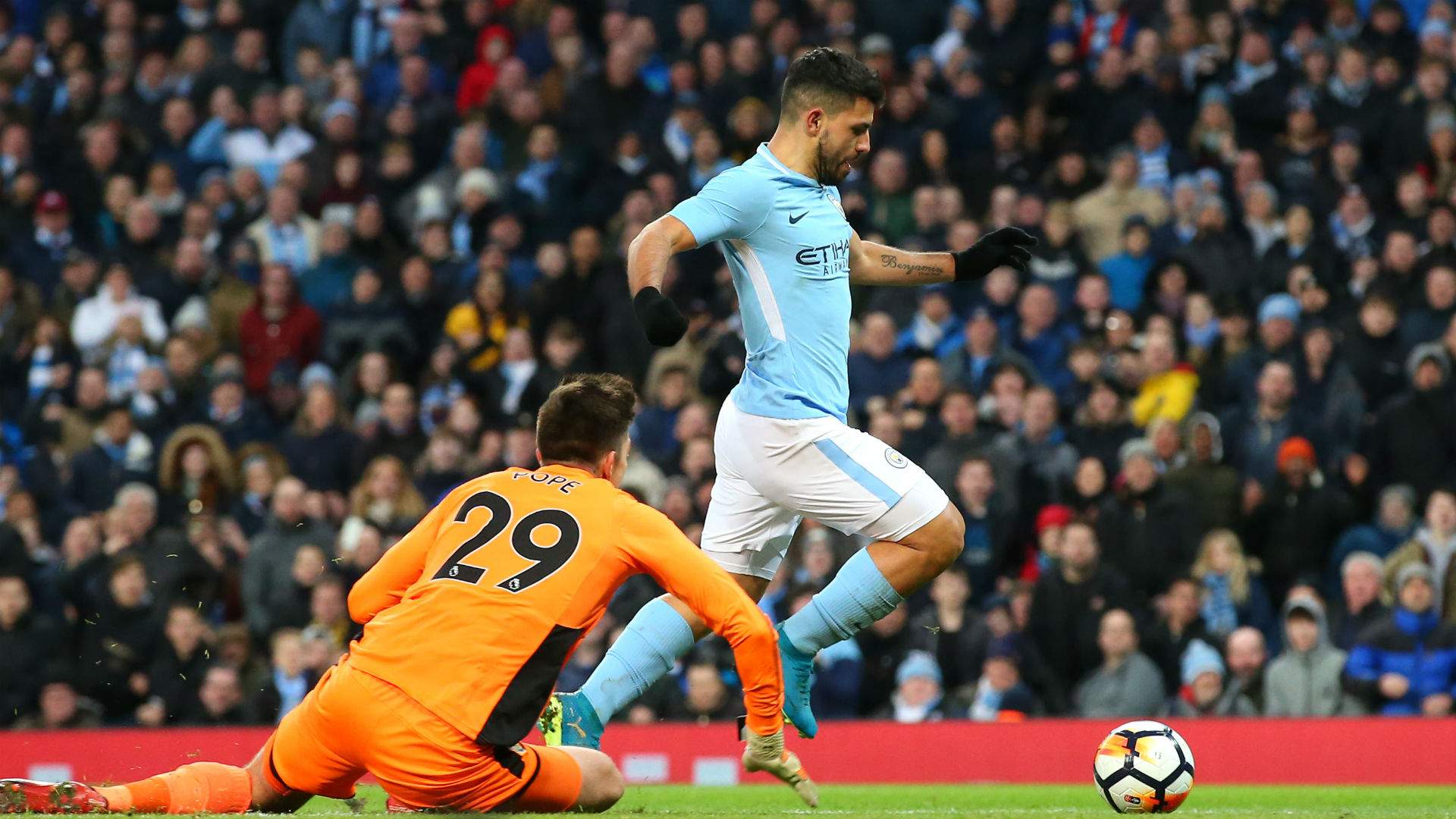 So too his goals against Burnley. By half-time on Saturday, Twitter was awash with a sizeable number of City fans who had had enough. Plenty fairly said his performance was not good enough, but some had decided he was yesterday's man, that Alexis should come in as soon as possible.
But he did it again. After 56 minutes, following some quick-thinking from Ilkay Gundogan, he raced into the Burnley box unmarked and, with Nick Pope bearing down on him, he slid in a vital goal to bring City level and calm plenty of nerves – and tempers – around the Etihad.
A matter of moments later he did it again. Another neat Gundogan pass, this time a flick of his heel, set Aguero in again. He rounded Pope and rolled the ball into the empty net. Two goals in two minutes that set City on their way to an impressive comeback, and set them on their way in the FA Cup.
There was no cupped ear in celebration, as there had been against Bournemouth, when Aguero scored twice, and he did not throw his gloves to the ground in disgust when he was taken off with 11 minutes to go, as he did against Tottenham in December.
Just as last year, an injury to Jesus may settle things down; Aguero will lead the line for the next 4-6 weeks and Guardiola will want him to be at his very best.
We are now past the time for talking. Both Aguero and Guardiola, in their own way, have made their positions clear. 
All that is left is to play, and with City still in all four competitions, there is plenty of time for that.
Let'