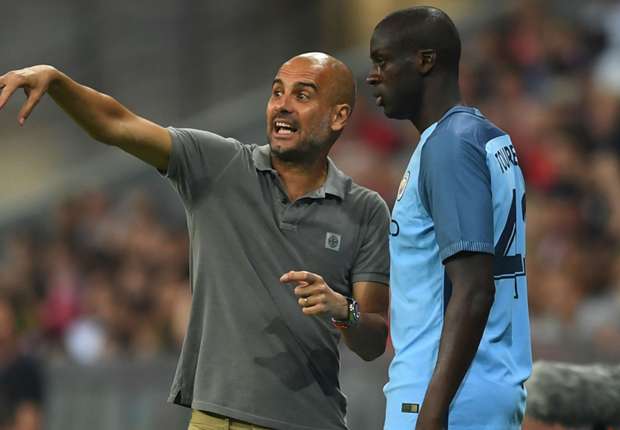 The Ivorian has shed light on how the City coaching staff helped him get back into the line-up and, he believes, play or for several more years
Yaya Toure has explained how Manchester City's backroom staff helped him drop eight kilograms to work his way back into Pep Guardiola's plans.
Toure was excluded from City's match day squads up until the middle of November, with Guardiola insisting that outbursts from the midfielder's controversial agent were to blame.
Guardiola: Aguero will stay at City
The 34-year-old eventually apologised to his manager but Goal revealed shortly after his surprise comeback at Crystal Palace that he had also been working hard on the training pitch to get himself back into the Catalan's good books.
And following the 5-0 win at Watford on Sunday, he explained how Guardiola's staff, including fitness coach Lorenzo Buenaventura and former Barcelona nutritionist Silivia Tremoleda, designed a programme to get him back to his best.
"Lorenzo is the physical trainer and Silvia, Tom, they changed all the diets, all the training and it was brilliant," he told reporters. "I am very happy because I got no injuries at all. I think they've been fantastic for me, always helped, always close, always looking at the details. I think those guys helped me a lot because I can play maybe two or three years more because of those guys, they're very important for me."
He added: "[Guardiola] is happy because when Pep's not happy with you, you don't play. That's the main thing with him. He's been great to me because he and Lorenzo and Silvia try to take care of my body and try to put me physically in good shape.
De Bruyne tops PL assist chart
"If you hear everybody talk about that then I have to say thank you to the guys and thank you to him because it was not easy. I had a bad moment, a difficult situation in the family but I think we owe Pep and that's why that guy is so important. Not only the manager but the people around him. The top guys helped me a lot.
"I'm 34 but I'm still running and when I say this [it's because] I saw a [running] stat, I was quite surprised. When you're hungry to play, age is just a number. I always play with my feeling. If I'm tired I'm going to say: 'Okay, I'm done'. Today, when the game was finished I was thinking about the next game but they said: 'The league is finished' and I said: 'Oh, that's a shame, we'll have to wait for next season then!'"
Toure's contract expires in July and while he says he is still unsure if he will be offered an extension he insists he wants to finish his career at City.
"I'm capable of playing more," he continued. "I need to be honest, I'd love to play more but I just want that when I finish I can finish at City. That's what I want but we will see."