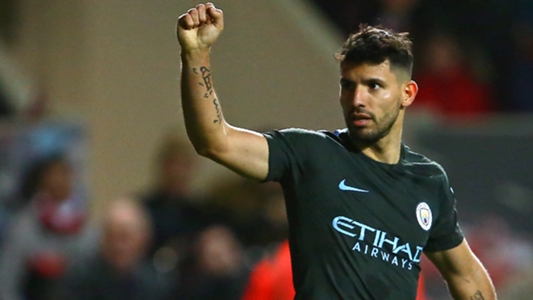 Manchester City's route to the Carabao Cup final was not always as smooth and free-flowing as the first two-and-a-half minutes, but you get the feeling that Pep Guardiola's men will be getting used to trips to Wembley in the years to come.
We have become accustomed to near perfection from this City team in recent months but their Carabao Cup run has been littered with harem-scarem moments that have almost cost them.
It was the same story on Tuesday, as City eventually overcame a stubborn Bristol City 5-3 on aggregate in the semi-final. Just as in the rest of their games, they were not without their shaky moments over the course of two legs.
Guardiola's side did, of course, boss proceedings in both games, as they have done in all of their games in the competition so far, yet there have been moments of uncertainty in each of those victories to make things interesting, and to offer encouragement to their eventual rivals in the final, either Chelsea or Arsenal.
It all started off so empthatically. For the first two minutes and 27 seconds of the third round tie at West Brom, a much-changed City team passed the ball between themselves at will, patiently waiting for a space to exploit and then bursting into life.
[embedded content]
After 52 consecutive passes, including all 11 players touching the ball at least twice, Ben Foster was the first Baggies player to even touch the ball. Unfortunately for him, his he could only push Ilkay Gundogan's shot towards Leroy Sane, who rifled home. 
No outfield West Brom player touched the ball until Hal Robson-Kanu kicked off, three minutes and 16 seconds into the game. City were off to a flying start.
With this game coming in mid September, before the Blues had racked up the most consecutive wins in Premier League history, and before racing into a surely unassailable lead at the top of the table, that goal provided as good an example as any that this group of players were getting used to life under Guardiola.
Yet as stunning as that goal was, and despite taking a two-goal lead, West Brom did hit back, and nearly took the game to extra-time. They did not manage it, but Wolves did in the next round.
City had started to look their assured best on all other fronts by the time the Championship side came to the Etihad Stadium, but a switched-up defence provided plenty of opportunities for the visitors, especially on the break.
The team which had looked so solid in the league and Champions League were reduced, at times, to sprinting back towards their own goal as fast as their legs could carry them as opposition strikers ran clear. Were it not for Claudio Bravo, who saved three one-on-ones and two penalties in the shoot-out, the Blues would have been out. 
It went to penalties in Leicester, too, albeit after City conceded a soft one in added time at the end of a game they had dominated with another changed line-up. The Foxes ran City close, but yet again it came down to Bravo to save the day, sparking wild celebrations in a packed away end shorty before Christmas.
And so to the semi-final, against a Bristol City side that deservedly knocked out Manchester United, courtesy of a dramatic 93rd-minute winner.
While they managed to overcome Jose Mourinho's sluggish side, and were backed by a raucous Ashton Gate crowd, nobody seriously expected them to lay a glove on the Premier League leaders, especially in Manchester.
Yet they took the lead from the penalty spot after Eliaquim Mangala gave the ball away and John Stones made a rash challenge in the box. Sergio Aguero popped up with a last-minute winner to give City what was, on balance, a deserved but certainly hard-fought victory.
And so too in Bristol on Tuesday. Guardiola picked a very strong line-up to ensure his side made it to Wembley, and their relentless pressing eventually proved too much when Sane struck the opener just before half-time. Kevin De Bruyne and Aguero ruthlessly exploited the space to double the lead five minutes after the break, and it looked like that would be that.
Yet somehow City somehow let their opponents into the game yet again. Marlon Pack benefitted following some more questionable defending with 30 minutes to go, and while the Blues did manage to rest back control of the game, they rarely looked like extending their lead.
Then, in the 90th minute, Aden Flint tapped home from close range to level the scores on the night. With five minutes of time added on, the hosts, with the crowd fully behind them once again, only needed one more to force extra-time. 
De Bruyne, of course, spoiled that particular party. The Belgian is head and shoulders above everybody in the Premier League, let alone the Championship, and he was never going to miss as City broke away.
Ultimately, City can prepare for Wembley and be happy that, on the balance of all of their games except perhaps against Wolves at home, they have played well enough and created enough chances to deserve to be there.
But it cannot be denied that they have made life hard for themselves in every match – much more so than they have in the other competitions – and no matter what state Arsenal or Chelsea are in in a month's time, City will have to be at their very best if they are to win the first trophy of the Guardiola era.
All that said, they have still proven that they find a way to win, even when not at their best.
And at Wembley next month they will have another 90 minutes to reach those dizzy heights of the first two-and-a-half back in September. They have every chance.
Let'