Manchester City are already past the point of having to prove themselves to anybody, in the Premier League at least, but they showed that, yes, they can cut it on a cold, wet night in Stoke.
In fact, they made it look so straightforward that it was easy to forget that the Potters know exactly how to get under the skins of their more illustrious opponents and leave them with bloody nose. City simply made it look like a walk in the park. The Stoke players and fans were passed into submission long before the final whistle — there was barely a whimper even when five minutes of added time was announced.
The man who shone brightest for the visitors was David Silva. Silva barely trained with his team-mates last week and will not join them on their flight to Abu Dhabi on Monday night, but he scored two beautiful goals to highlight once again that he has the character and ability to be regarded as one of the standout players of this fine City season, and indeed as one of the league's all-time greats.
In recent months he has been splitting his time between Manchester and Valencia, where his wife and family are caring for their son Mateo, who was born prematurely in December.
His performances over Christmas and into the new year, while his son was fighting for his life, serve as proof enough of his admirable mentality.
[embedded content]
Combine that with the ability that he has consistently demonstrated since he signed for City in 2010 and it is no surprise he is looking so impressive, so late in his career. At 32 years old he is playing the best football of his life and the suggestion around the City training ground that he needed just one conversation with Guardiola to understand what the new boss wanted back in the summer of 2016 certainly stands up to scrutiny.
Given he has been training on his own at Valencia's base when he is back in Spain, you can see why he has slotted so seamlessly back into Europe's slickest side. 
Here at the bet365 Stadium he finished off two lightning-quick team moves, highlighting that he is far from the only City player to fully grasp what Guardiola wants. The difference for him is that City's work under the Catalan may finally lead to him getting the recognition he deserves. He is now playing in a side which makes his best qualities strikingly obvious even to the casual observer.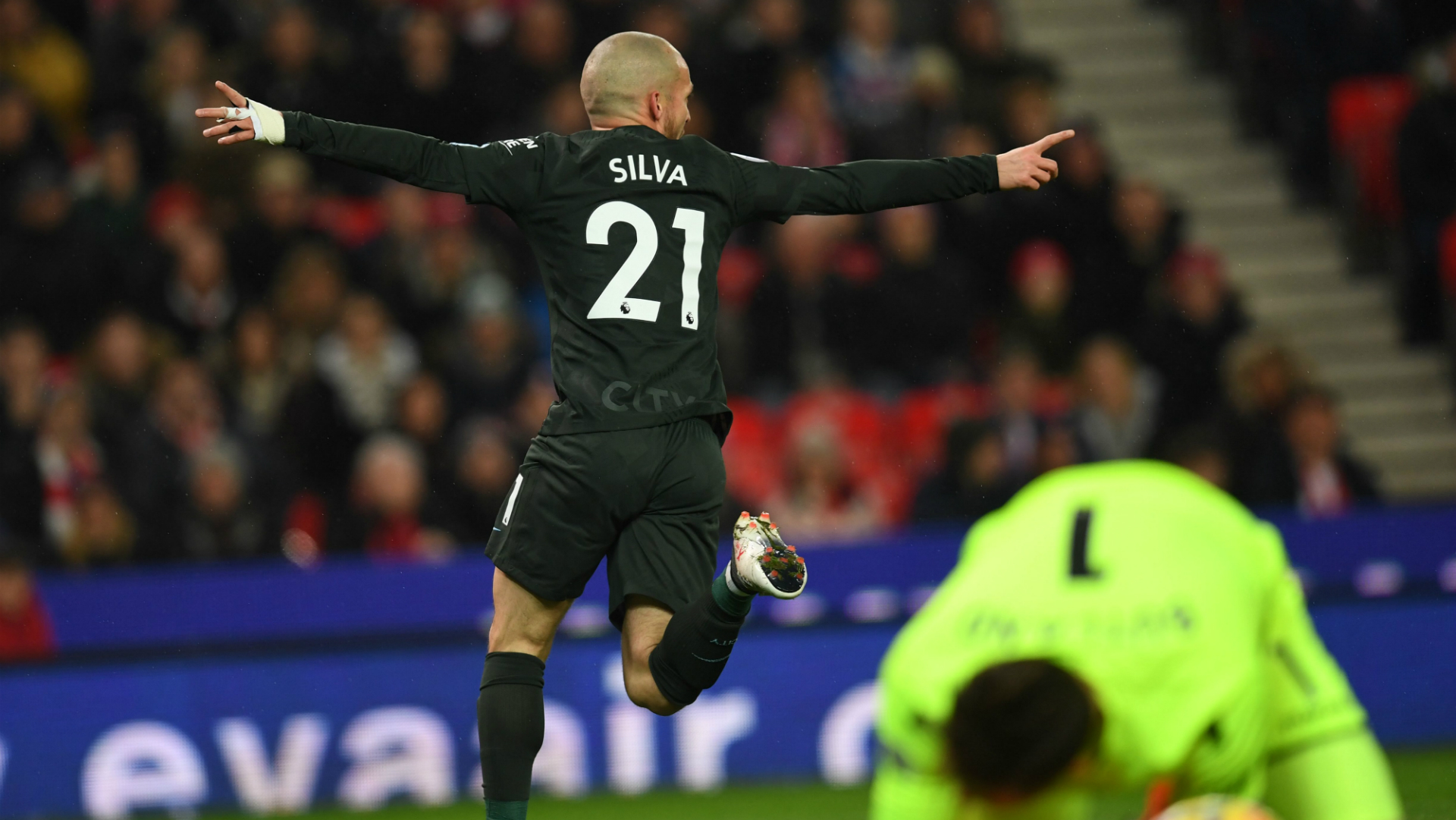 Plenty of City fans, from different generations, rate him as the best in the club's history, but what they have seen on a weekly basis for the best part of a decade has not always been plain to outsiders.
He has always had that underrated knack of knowing how to dictate the tempo of a game — not that it wins you fantasy football points.
Now, however, he has the goals and assists to go with it, the kind of stuff that gets clipped up for Twitter. The kind of stuff that even the Premier League's toughest teams can't tame.
"He's got a lot of technical skills in a complicated league with the physicality, the weather conditions, the pitches, and he has survived to be one of the best players in England for a decade," Guardiola said on Friday.
"He is a huge competitor. He is shy, he doesn't speak too much, but on the pitch when the moment is there and the game is on, he is the guy who never hides in tough conditions, when the game is not going well."
If he is the one who stands up when things are not going well, then it is hardly a shock that he looks so impressive when City are playing as they are right now.
Guardiola is building something special and Silva, despite everything happening in his private life, has proven yet again why he is so important to it. 
Let'