Given Manchester City's huge lead at the top of the Premier League table – a joint record at this stage of the season – injuries to Kevin De Bruyne and Gabriel Jesus will pose the more problems for Pep Guardiola than the two dropped points at Crystal Palace on Sunday.
Palace largely stuck to the template that any side hoping to take points off City will have to deploy this season; sit back, counter-attack, and hope it's your day. It so, so nearly was in stoppage time, when Wilfried Zaha won a penalty. Ederson saved Luka Milivojevic's effort. It seemed that even when City's luck was out, it was in. But they were very quickly dealt what initially appeared to be a bigger headache.
As City broke away, De Bruyne was caught by a nasty challenge from Jason Puncheon. Both men were stretchered off after several minutes of treatment, with De Bruyne eventually hobbling down the touchline with the help of two City coaches. He insisted shortly after full-time that he is OK, and if that is the case he will surely be given the next two games off as a precaution.
If it is not the case, it is a set-back which is likely to have an impact. Guardiola's men have coped with every injury problem thrown at them this season, and it has got beyond the point that rivals could suggest the Blues' true colours will be shown when they get a run of fitness concerns. They have already coped brilliantly without Benjamin Mendy, their only recognised left-back, Vincent Kompany, seen as irreplacable, and John Stones, who has matured rapidly.
Any time without De Bruyne, however, would be a problem. The Belgian, along with David Silva, who has missed several games of late due to a family issue, has been the driving force of this team.
For all of the great build-up play from Ederson and the defence, for all the mastery of Guardiola's positional play system, for all of Raheem Sterling's decisive goals, it is De Bruyne who is allowed to break ranks, go in search of the ball and make something happen. He may not have the assist stats to prove it but he has been behind so many of City's goals this season.
So Guardiola will have everything crossed that his talisman's injury is not too serious, and that he will be back after next weekend's FA Cup game with Burnley.
Jesus, though, is certainly facing a longer period on the sidelines. Guardiola said in the aftermath that the Brazilian will be out for one to two months, which is a blow but, if true, will surely come as good news given the striker had initially walked from the pitch in floods of tears, hinting at a much more serious set-back.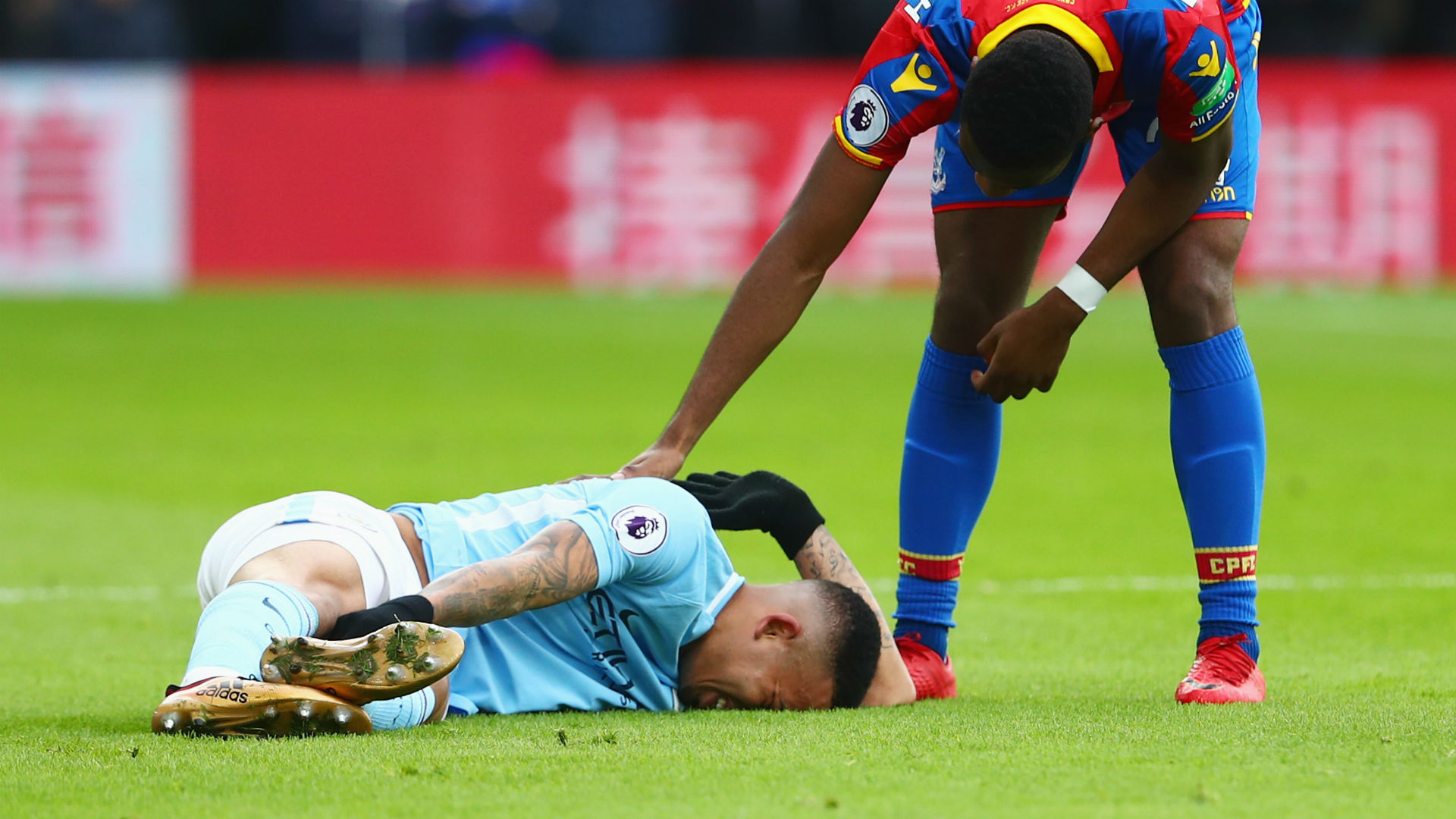 But with Sergio Aguero in indifferent form, Jesus, himself struggling in front of goal, will be missed for a crucial part of the season. And that blow comes as things were really starting to come together for Guardiola's side. In terms of the table, obviously, but also in terms of long-term squad planning. 
The draw at Palace puts them 14 points clear of second-placed Chelsea heading into New Year's Day, equalling Manchester United's lead over Blackburn Rovers at the same stage back in 1994.
Guardiola has already admitted he is "worried" about a fixture pile-up in January, and he plans to sign a centre-back in the next month to help cover for the kind of injuries at the back which could have already had a detrimental effect on their results and performances, if not for the efforts of Stones, Fabian Delph, Nicolas Otamendi, Eliaquim Mangala and Kyle Walker – who was superb at Selhurst Park.
Real Sociedad's Inigo Martinez is a real possibility, while West Brom's Jonny Evans ticks plenty of boxes.
Things have been so good for the Blues that they had even allowed themselves to look 18 months into the future. As well as a centre-back this winter, they had been planning the summer signings of a forward – most likely Alexis Sanchez – and a defensive midfielder. Their plans for a forward may now have to change. Alexis, for one thing, is desperate to complete his move as soon as possible, as reported by Goal on Saturday.
It was always possible that City would look to dip into the transfer market for another striker if one of their existing options were to get a serious injury, and Jesus is now facing a similar fate.
Bernardo Silva, who has so far been playing on the right of the forward line, may be called upon to fill in in midfield if De Bruyne's problems are more serious than first feared. City see Bernardo playing in the middle eventually, as he did for the latter stages on Sunday, and if he is the man to provide cover in the event of a De Bruyne injury, it would also vacate a spot in the forward line, meaning a move for Alexis, or an unidentified ace up the sleep, may come sooner than hoped.
City are in action again on Tuesday evening, against Watford at the Etihad Stadium. Guardiola, speaking in November as he looked ahead to a busy Christmas schedule, always used that game as a symbolic cut-off point, as if to say "we get through to that match and then we take stock of the situation". Back then he would surely never have expected City to have won all of their league matches, bar one, by this stage, and he will rightly be delighted by his side's lofty position at the top of the table, and their performances.
But after Watford will come the next period of City's season, one which features the start of the FA Cup and the Champions League knock-out rounds.
A draw at Palace – a game either side could have won – is less than ideal, but nothing to be too concerned about in the long-run. Guardiola, though, does have plenty of other things to consider as he heads back to Manchester to celebrate what has been a brilliant year for his side.
Let'