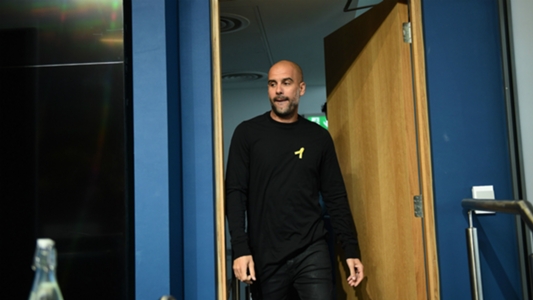 Pep Guardiola wore a yellow ribbon to his Manchester City press conference on Monday as a show of solidarity for Catalunya's political prisoners.
Several members of Catalunya's deposed government have been incarcerated pending further investigation into alleged rebellion and misuse of public funds by Spanish officials since the region's controversial independence vote at the start of October.
Two Catalan independence activists, Jordi Sánchez and Jordi Cuixart, were jailed in October, before eight members of Carles Puigdemont's parliament were detained at the start of November.
Puigdemont is currently in Belgium, having refused to turn himself in to Spanish authorities.
The arrests provoked mass protests across Guardiola's native Catalunya, and the City boss, preparing for his side's fifth Champions League group game against Feyenoord on Tuesday night, chose to show his support for those behind bars.
"Everybody knows why I'm wearing the yellow ribbon, and I hope that sooner or later I can stop wearing it," he said when questioned at a press conference. "That will be when the people who are imprisoned for wanting to vote will no longer be [imprisoned]. 
"I hope that the Jordis and the rest of the politicians can leave prison, return home to their families and live the life they deserve."
Let'