Pep Guardiola has done the hard work at Manchester City.
His team are on course for a dominant Premier League title victory, and more importantly he has overseen such an impressive overhaul of his squad that they are set up for success as long as he remains in charge.
But the last week has shown that there is still work to be done. Guardiola himself acknowledged that on Monday.
"If we are not able to do that," he said, regarding his side's recent habit of conceding several goals in a short space of time, "then psychologically it will be a good lesson for the future, because we are not just here for a few months, we are here for a long period."
But if City are to overturn a 3-0 deficit against Liverpool they will need to come up with the answers now. 
[embedded content]
City conceded three in nine minutes at Anfield in January, and despite taking steps to avoid a repeat last week they conceded three in 19 minutes.
Given Jurgen Klopp's tactics are something like Kryptonite for Guardiola, the result against Liverpool, as damaging as it was, could possibly be put down to the kind expected against a bogey team – especially when it is at Anfield, City's ultimate bogey ground.
But Saturday's bitter turnaround against United suggested there is more to worry about. United were dead and buried by half-time but they scored three in 17 minutes and cut through City just as Liverpool had done.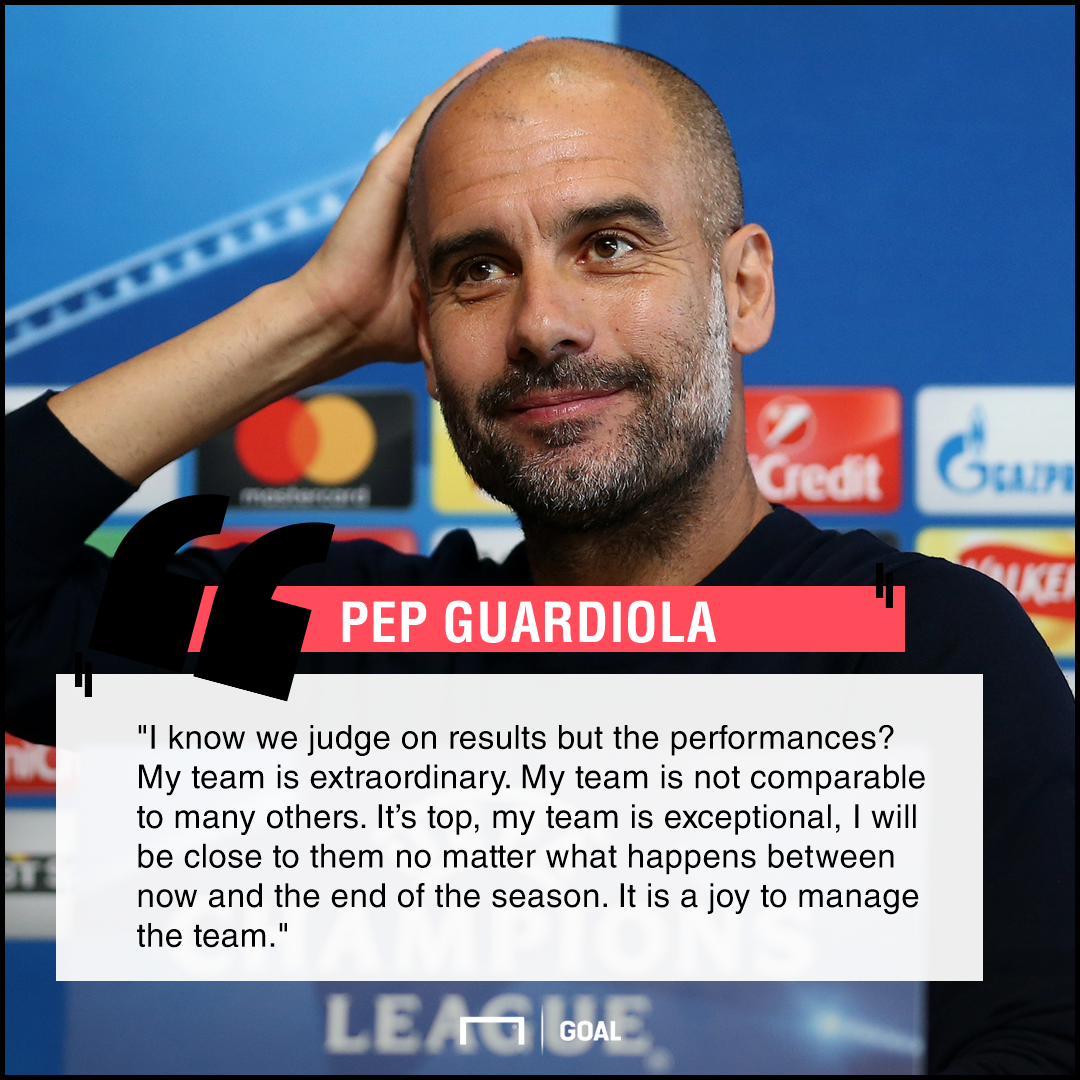 It suggests that for all of the progress made under Guardiola there is a glass jaw still in need of fortifying.
And that gives them a big headache, even apart from Tuesday's game.
Guardiola's teams have always had problems against Klopp's, and even if the tie were poised at 0-0 there would be enough concerns that the Reds' high pressing, aimed directly at the areas where City try to generate their attacks, would pose too many problems to deal with.
Last week Guardiola made several tweaks to protect his side from the Liverpool blitz – most notably by swapping Raheem Sterling for Ilkay Gundogan – but none of them worked and now they must come up with yet another new plan.
But even if they can find a way to avoid a costly 10-20-minute period, there is the danger that even one Liverpool goal, given extra significance thanks to the away goals rule, could spell the end of City's Champions League hopes for another year.
The Blues have reacted to plenty of set-backs this season – they wouldn't be where they are if not – but in their past two games, their biggest of the season, they have simply not done well enough at the first sign of trouble.
It is one thing to cave in and concede three goals so quickly but their responses have been just as concerning. At Anfield last week they had the ball for essentially all of the second half, yet did little with it. On Saturday they created the odd chance to peg United back to 3-3, and should have had a penalty, but crucially they could not come up with something when needed. 
Plenty have suggested they lost their bottle, but Guardiola is having none of it.
"I am so delighted to lose, for example, the way we lost against United," he said defiantly on Monday. "I don't want to lose, we are sad because for our fans [we had the chance] to be champions, but the way we played, even at 2-3, to react like that, under that pressure, the way we played is outstanding. I am so happy, I cannot say anything else about that."
In isolation that quote will raise eyebrows but it was part of a concerted attempt by Guardiola to transmit the message that his players have what it takes to shock Liverpool; he pointed out on several occasions that his side can create "a lot of chances in few, few, few minutes", and he is happy with their character, too.
If the players were confused by Guardiola's tweaks last week, this time the message is clear: Take the game to Liverpool.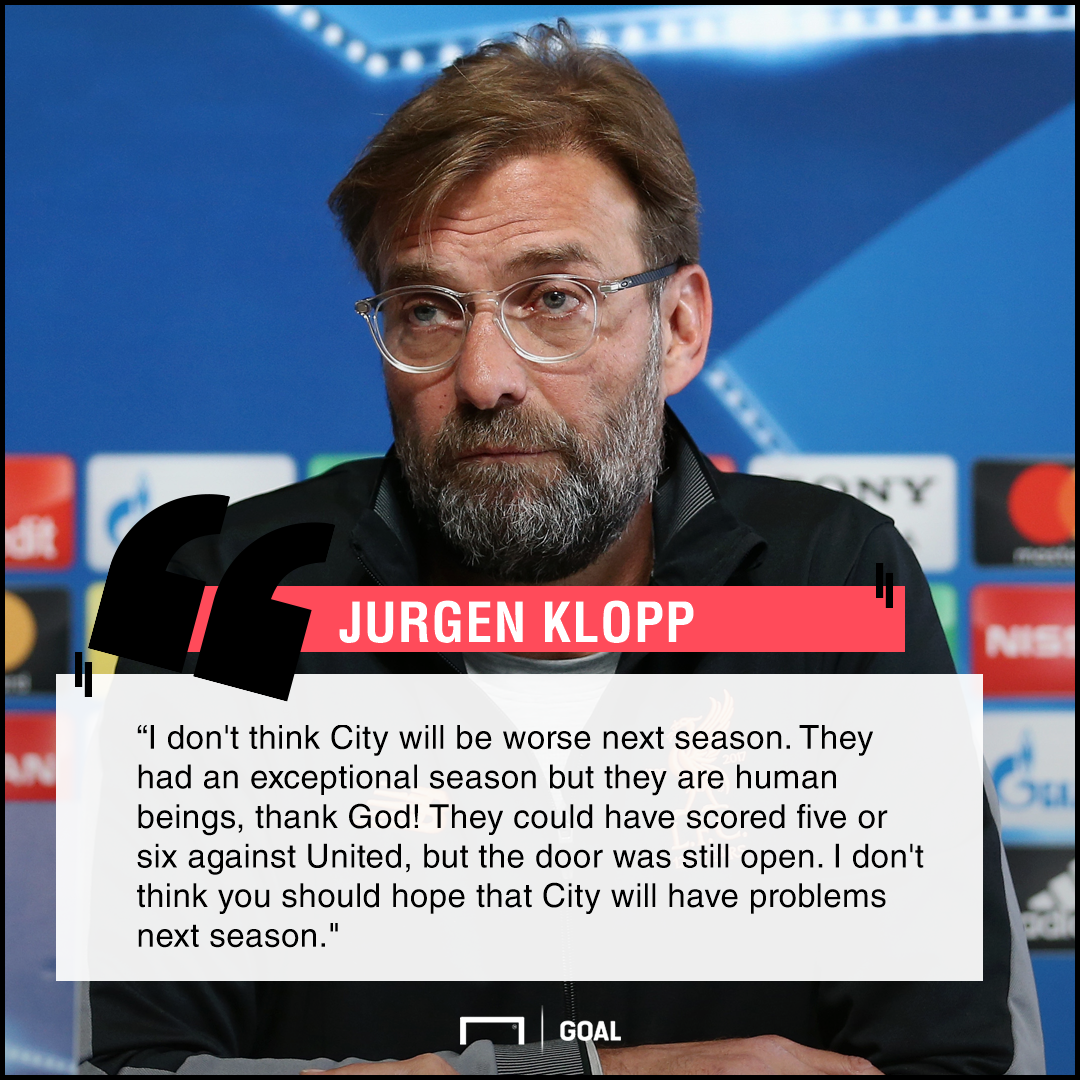 Yet, midway through another answer, Guardiola also revealed that psychology could come into it for his wounded squad: "If we concede a goal, don't give up. Don't give up, it's more than 90 minutes, and we did it many times, not just once, twice or three times, we did many times. In a short period we can create chances, create chances, and then you have to be clinical. But even if were are not clinical, OK move on, next one, next one, next one, that is what we have to think about."
City have already proven how far they have come under Guardiola, and even Klopp has warned the Blues' rivals not to get carried away about a supposed downfall looking ahead to next season, but after a damaging week they need to show they have the goals, and the guts, when it really matters.
Let'