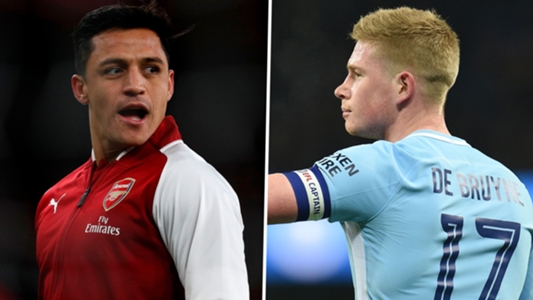 Kevin De Bruyne may have accidentally revealed that Alexis Sanchez will leave Arsenal for Manchester City.
Goal reported on Sunday that City hope to sign the Chilean in the January transfer window and are in on-going negotiations with Arsenal, with all three parties keen to find a resolution.
And De Bruyne may have suggested a deal is all but done when he was asked about the possibility of Alexis moving to City this month.
The Belgium midfielder was initially non-committal, but could have given the game away by saying "when", rather than "if" towards the end of his answer.
"He's a very good player," he told reporters. "Obviously we will see what happens in this transfer period. We don't have to [think] about that anyway. If a good player comes to us that is better, if he doesn't come we do it with the team we have.
"We are in a good period already, the whole season. Everybody is doing a good job. When he comes he will add something to the team."
De Bruyne himself is on the verge of an agreement with City, as the club look to tie him down to a new contract for the next six years.
Goal revealed before Christmas that his basic salary and bonuses have already been agreed , and that only the value of his image rights is left to be negotiated.
Agent Patrick De Koster is expected to meet with City by the end of January to hammer out that final detail, and De Bruyne himself says he is in no hurry.
"We are still in negotiations," he said. "I am waiting for an offer from the club but my agent has been on holiday for three weeks. There is nothing really new for the moment."
Asked if it will be finalised soon, he replied: "Probably. I'm not in a hurry. I still have three-and-a-half years on the contract."
It was then put to him that City are willing to offer him a big pay-rise: "Yes, OK! I cannot complain for the moment. Obviously we will see what happens. Negotiations are going good but they are going quietly. That is the way I think it should be."
Let'