Manchester City's January transfer plans may have changed several times, but Pep Guardiola's long-term strategy has remained the same – and Aymeric Laporte has always had a prominent role in it.
Should he complete his €65 million move to City, the 23-year-old will have to hit the ground running, as he will be tasked with helping the club in their toughest remaining games of the season, and beyond.
Whereas City, at one stage, were prepared to bring in Jonny Evans as a solid but unspectacular rotation option for the coming months and use him as fourth-choice centre-back from next season onwards, Laporte will go straight in towards the top of the pecking order.
Guardiola and his coaching staff viewed Evans as strong enough in the three key areas required of a City centre-back: playing out from the back; ability in aerial duels; and dealing with one-on-one situations. His game intelligence is also rated highly.
There was an acknowledgement that he is not quite as strong as Eliaquim Mangala in certain aspects, such as pace and physicality, but overall he was considered a better fit for the side.
[embedded content]
Laporte is simply considered to be somebody who could quickly become just as important as John Stones and Nicolas Otamendi.
Guardiola and sporting director Txiki Begiristain were furious when the defender pulled out of a deal to join City in 2016, and had overlooked him as a target last summer as a result, but such is his talent and temperament they were prepared to swallow their pride and bring him in this month.
Like Evans, he is not too fast, but that is his only drawback – and it is not as if Stones and Otamendi's lack of pace has been exploited too often this season.
Although he has not been at his best since he rejected the initial move to City, the France international is especially good on the ball, with both short and long passes. His ability to switch the play from left to right with an accurate long pass was highlighted as a big weapon when he was first pursued in 2016, so much so that when he elected to stay at Athletic, Guardiola coached Aleksandar Kolarov to play the same ball instead.
However, it is Jerome Boateng's deployment and not Kolarov's that the City coaching staff talk about now, and Laporte's long ball will be used to find a player in space on the right-hand side once the opposition have been sucked towards the left.
Much like Stones, Laporte's vision and decision-making are crucial in playing out from the back and, at six feet three inches tall (1.91m), he is also strong and good in the air, similar to Otamendi.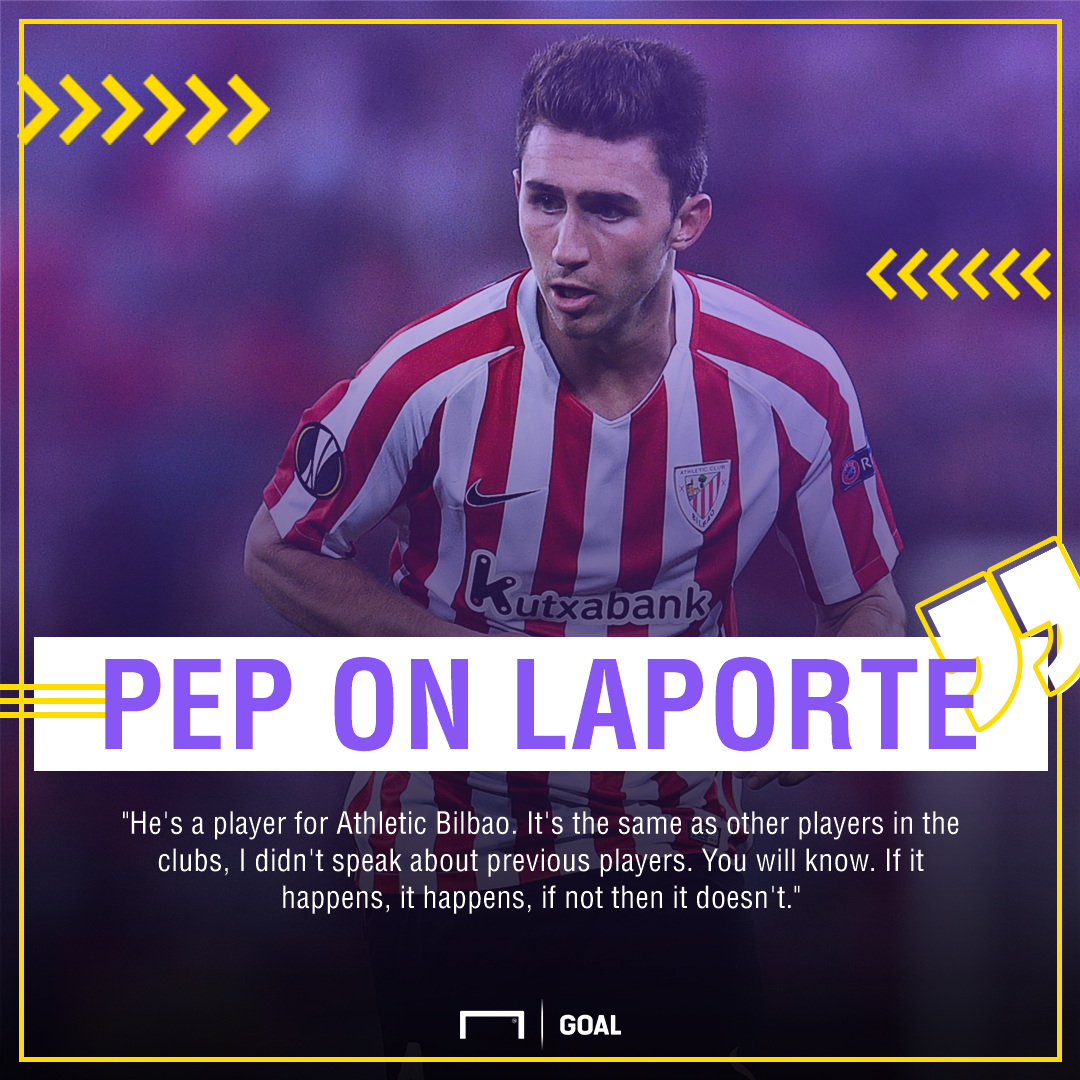 Sources at City hope he will be able to fit straight into the line-up, and if that is indeed the case, he will have an important part to play almost immediately.
Between February 25 and March 7, City will face Arsenal in the Carabao Cup final, the Gunners and Chelsea in the Premier League (on a Thursday and Sunday) and Basel in the second leg of the Champions League round of 16. 
Right now, Otamendi is considered Guardiola's best option for the centre of defence – which speaks to the Argentine's remarkable transformation this season. Guardiola praised Otamendi's courage to play every match, while Stones and Vincent Kompany were injured before Christmas, and it is possible that the former Valencia man could play each of the aforementioned games with one of Stones and Laporte next to him.
For now, Laporte and Stones would likely play together in the more straight-forward matches, most likely at home. The form and fitness of each centre-back will of course dictate who plays, but Guardiola is expected to shuffle his pack in April and May to keep his squad especially fit for the final push.
Beyond this season, Laporte's place in the plan will largely remain unchanged. He, Stones and Otamendi will be rotated depending on their form as individuals and in certain partnerships.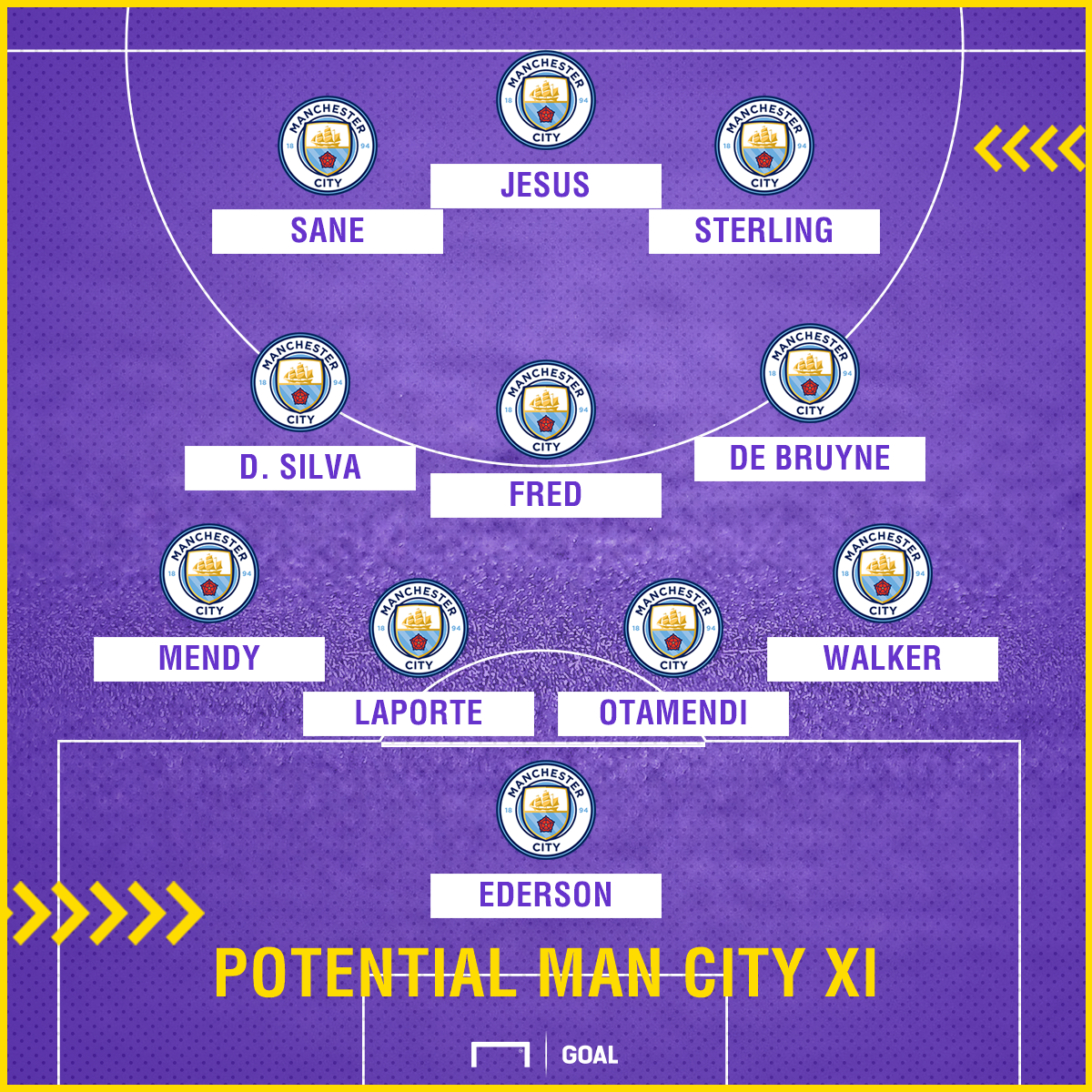 After missing out on Virgil van Dijk, who would also have been asked to rotate with Stones and Otamendi, Guardiola had originally planned to bring in Evans now and sign a better fit in the summer.
However, after losing out on Alexis Sanchez – the latest in a reasonably long list of big targets to have eluded City in recent years – the club have stepped up their efforts to bring in their "summer" targets in the winter.
Mangala will stay until the end of the season despite Laporte's arrival, partly because Guardiola cannot rely on Kompany's fitness. Mangala will be moved on before next season, however, and there are also question marks around Kompany's future.
The Belgian could even be given a non-playing role at the Etihad. Youngster Tosin Adarabioyo, who is regarded as a more intelligent defender than Mangala, could be kept around as effectively fifth choice, but he may want to go out on loan, as he had expected to do this season.
With Laporte on board, City still hope to bring in Fred, who can play in midfield and left-back, from Shakhtar Donetsk this month. Goal understands the Blues are also attempting to sign one more "summer" target this month, though it is thought to be a difficult operation with such little time before the window closes on Wednesday.
Depending on how many of those three arrive this month, City should have a relatively quiet summer. They will look for another defender, one who is likely to be relatively cheap and fourth choice in the pecking order of centre-backs. If a forward is not signed this month, City will try again in the summer.
The rest of their business will depend on who leaves. Replacements will be sought should Claudio Bravo or Sergio Aguero, for example, move on.
Laporte himself threw City's best-laid plans into disarray during Guardiola's first summer in charge, but this time around he appears to be the right man at the right time.
Let'