Manchester City's old guard stepped up to deliver Manchester City's first trophy of the Pep Guardiola era in what was probably the least "Guardiola-style" performance the Blues have put in all season.
Sergio Aguero, Vincent Kompany and David Silva, who have long since etched their names into the club's history, all fired in at crucial moments to set up a romp against an Arsenal side who simply caved in.
The narrative will dictate that this Carabao Cup victory will provide the launchpad for the rest of Guardiola's time in charge in Manchester but in truth it is merely a product of the work he has been doing since he arrived 18 months ago.
Even in the darkest moments of last season Guardiola's ideas were evident and after more time together, and some shrewd investment, everything is coming together.
Thanks to young talents like Raheem Sterling, Leroy Sane, Gabriel Jesus, John Stones, Ederson and Benjamin Mendy, City are less reliant on their old heroes than ever, with a young and exciting team set-up to challenge for top honours for years to come.
[embedded content]
In truth, City were hardly at their brilliant best today. The Blues look shoe-ins for the Premier League title thanks to an almost flawless league campaign, characterised by a high-intensity, hard-pressing and fast-passing style. They have one foot in the Champions League quarter-finals for the same reason and even in defeat in the FA Cup they deployed their manager's famous style.
Yet at Wembley on Sunday they only really looked like their normal selves when the game was won. Kevin De Bruyne played on the right-hand side in the absence of Raheem Sterling, and despite using Ilkay Gundogan, David Silva and Fernandinho in the middle City were unable to control the game in their usual manner.
The one element of English football Guardiola has incorporated into his approach is the ability to battle for the second balls but they even struggled with that, allowing Arsenal to have much of the possession and to create a few dangerous opportunities.
City were not necessarily bad, just different. Despite all that, they led at half-time thanks to Aguero's beautifully taken opener. Ironically, it was the much derided Claudio Bravo, used instead of new No.1 Ederson, who provided some continuity; the Chilean's long goal kick straight down the middle – something which Ederson has been doing all season – allowed Aguero to use his street smarts to nudge Shkrodan Mustafi out of the way, bear down on David Ospina and delicately flick the ball home.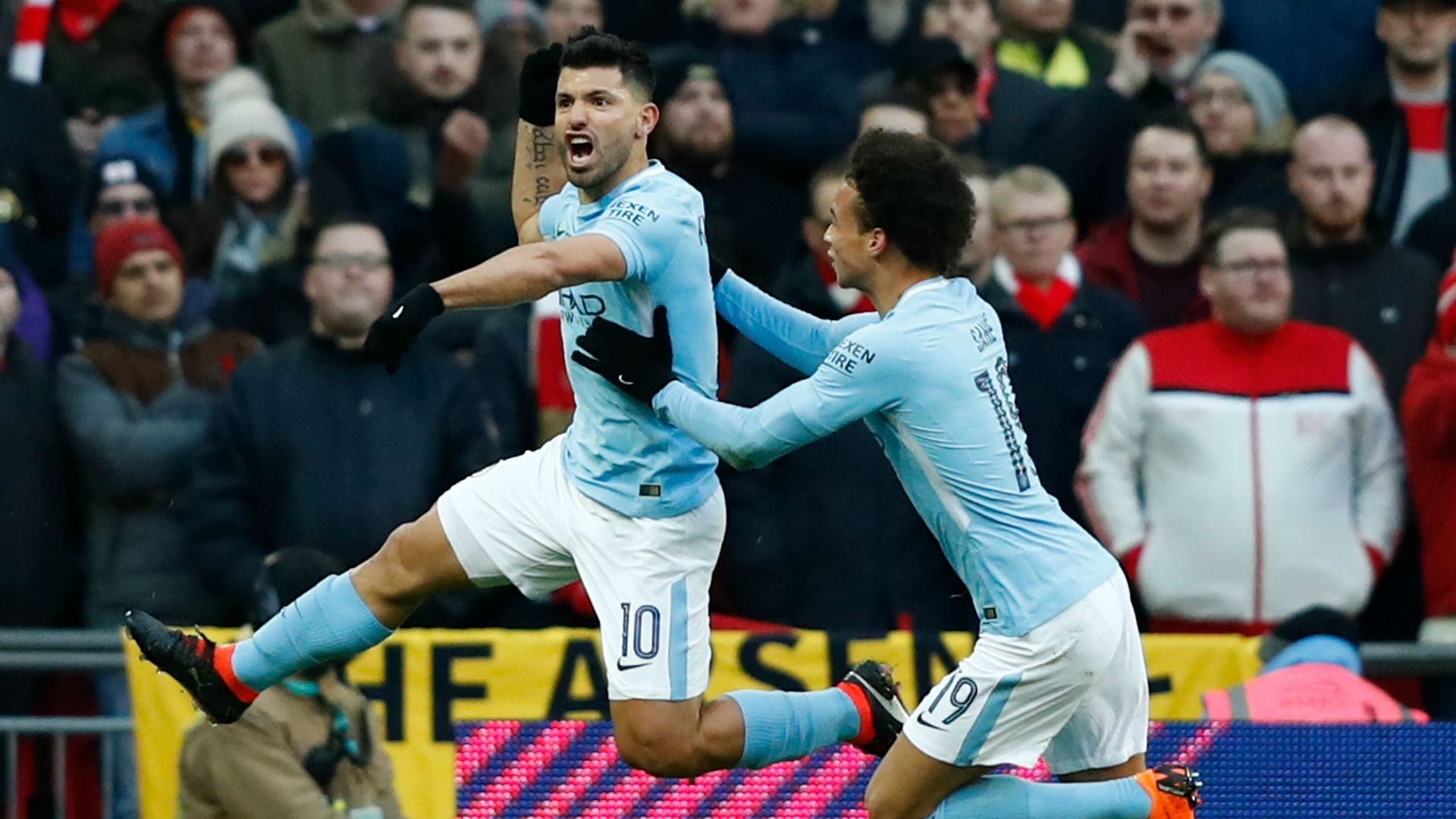 So often City's opponents are beaten by their inability to cope with the intensity passing and pressing but here Arsenal were simply deflated by Aguero's killer instinct.
The striker was not around when City won their first trophy of the modern era here at Wembley under Roberto Mancini in 2011, but he of course fired in that iconic goal which delivered the league title in 2012. The Argentine celebrated his 199th goal for the club as if it were the most important of his career.
As did Kompany when he steered in City's second. The Belgian was a key part of the FA Cup winning side seven years ago and despite a string of injuries which would have broken lesser men, not to mention a couple of managerial changes which could have also spelled trouble, he is still doing what he does best.
Indeed, Kompany has survived despite doubts about his ability on the ball from both Manuel Pellegrini and Guardiola. Never mind the arrivals of Nicolas Otamendi and Eliaquim Mangala, City have brought in John Stones and Aymeric Laporte with the specific intention of playing the ball out from the back in a Guardiola team, yet Kompany started at Wembley despite both men being fit and available.
It is testament to both his character and ability that he was able to play in an important cup final, let alone play so well; even more impressive than his goal was his out-pacing and out-muscling of Pierre-Emerick Aubameyang in the first half.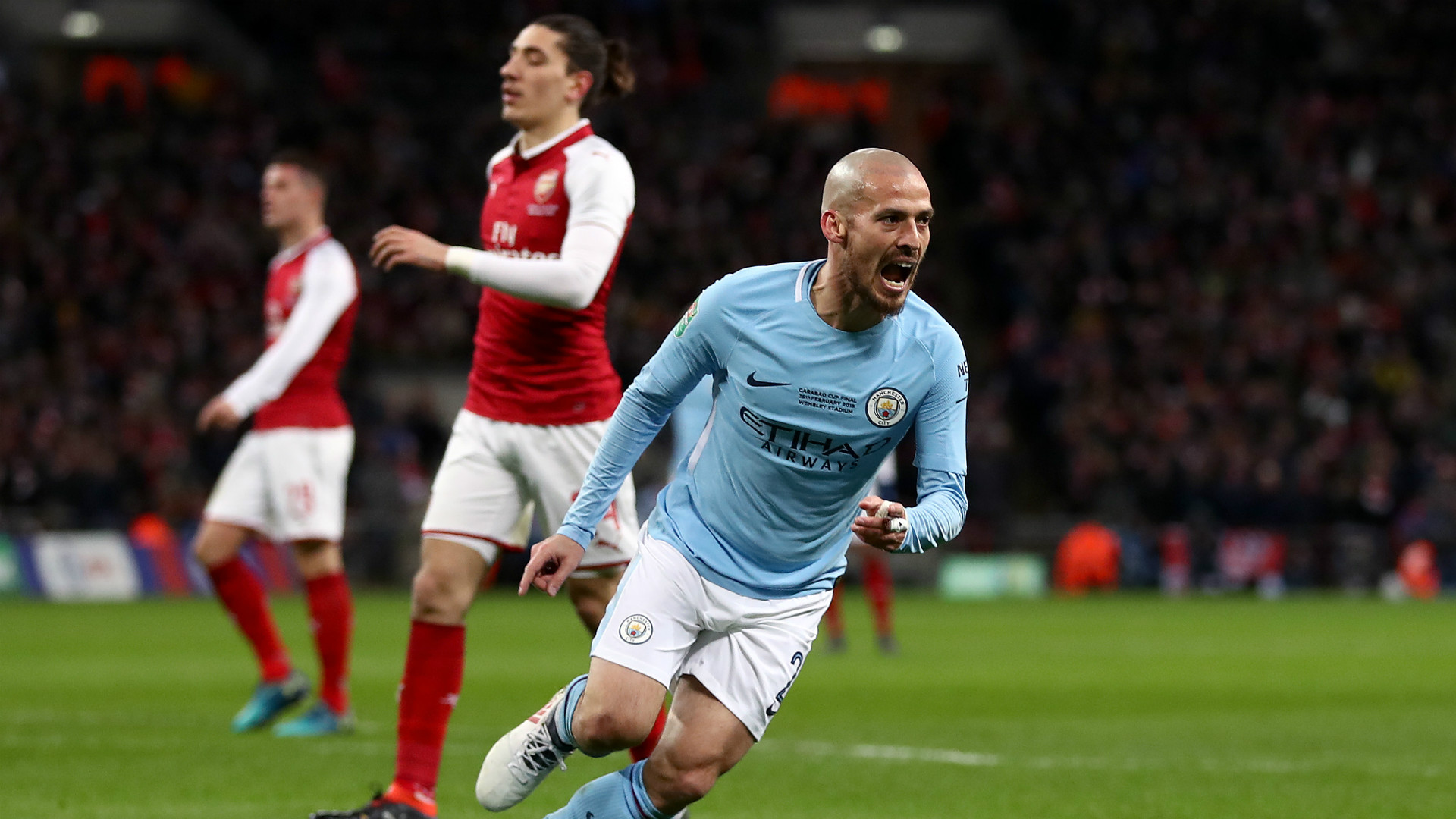 The Belgian, who has suffered 15 separate calf-related set-backs, plus groin surgery, in the past couple of years, unleashed all his emotions as he celebrated his goal, which killed off any lingering fight left in Arsenal. He lifted the trophy on Sunday as he surely will lift the Premier League title in May.
Then Silva got in on the act. The Spaniard still dictates the rhythm of this side, despite the new orchestrator on the sidelines, and although City were not at their metronomic best their beloved playmaker ensured he played a major part in their latest success with a cool low finish that left Ospina helpless again.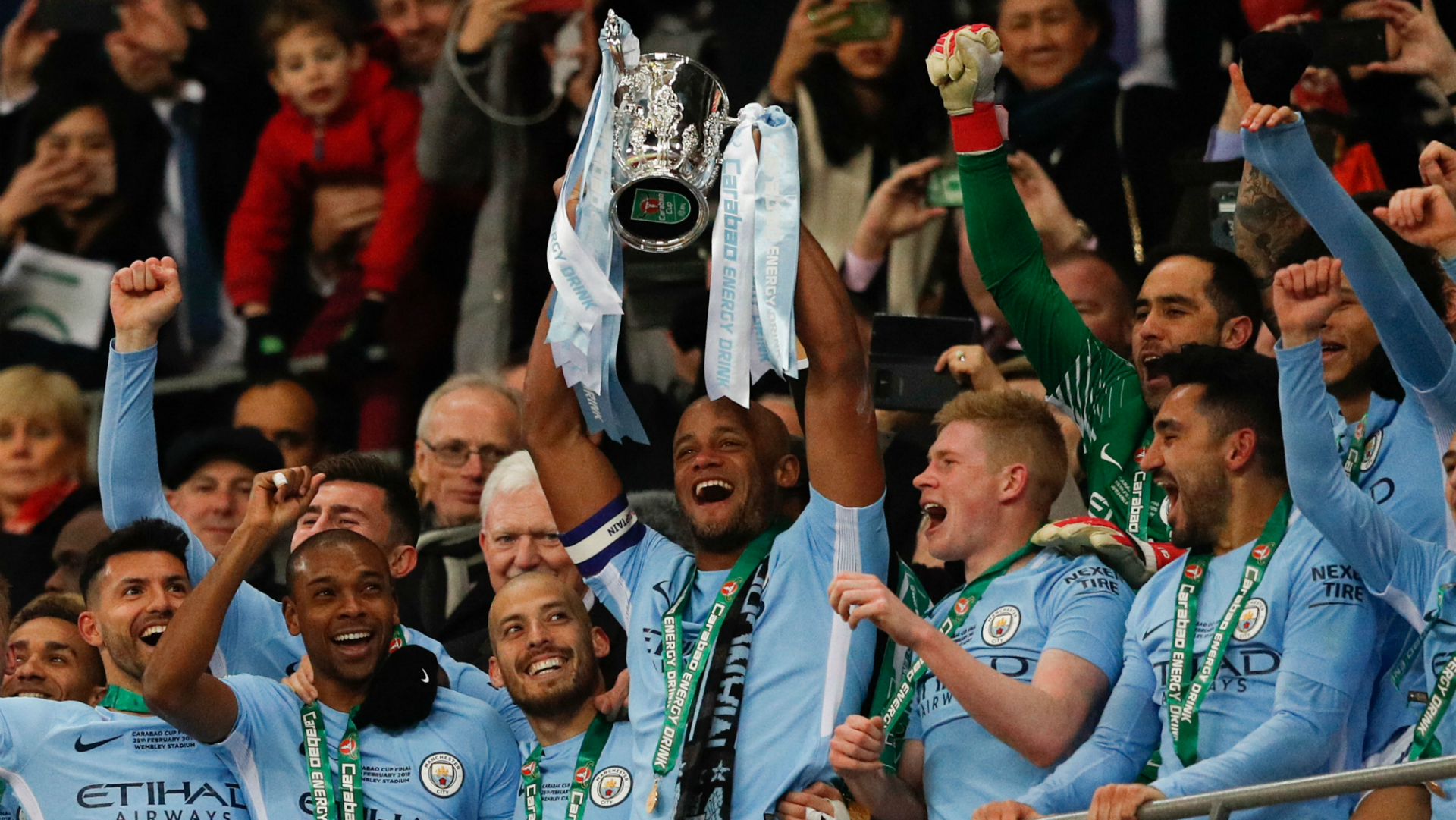 Only at that point — with Fernandinho off injured and the midfield rejigged — did City begin knocking the ball around for fun, the olés ringing out around Wembley.
This may not have been vintage Guardiola football, and the old heads may have provided the goals, but City are here to stay.
Let'