It was all going so well for Manchester City. Okay, they missed a couple of chances which would have put them at least 3-0 up against their bitterest rivals, but they were just 45 minutes away from clinching the Premier League title all the same. 
"This Is How It Feels" by Inspiral Carpets, a song long sang by United to taunt City, blared from the PA system as the teams made their way down the tunnel. This is City's song now. It's their league, too. 
Highlights of their 5-0 win against Liverpool earlier this season played on the big screens, some of the attention already turning to Tuesday's Champions League clash against the Merseysiders.
United, in many senses, were almost in the rearview mirror. All the momentum was building for City. Premier League title done, Champions League comeback next. Party time.
And then it all went wrong. Paul Pogba, the man allegedly offered to City in January by his rogue agent, scored twice in 97 seconds to bring United back to life. He has rightly been criticised for a number of half-hearted performances in a red shirt this season, and he was no better in the first half, but he stepped up here.
[embedded content]
His team followed his lead, and soon they took it. Chris Smalling, who looked so helpless as Vincent Kompany smashed past him to head in City's opener, now ghosted in behind Kompany, and away from Nicolas Otamendi, to volley in to give City the lead.
Pep Guardiola, who had left some of his most reliable performers on the bench with Tuesday in mind, did not see a reaction from his side and rolled the dice. Kevin De Bruyne and Gabriel Jesus on. Sergio Aguero not long after.
But it was not enough. 
Back at the end of the first half, Raheem Sterling's two misses were disappointing from a City point of view, but looked far from decisive. Thanks to United's most unlikely of comebacks, they turned out to be fatal.
Not for City's titles hopes, surely, and not necessarily for the Liverpool game, but this will be a defeat which will live long in the memory for all the wrong reasons. 
Yes, City will still win the league, although this defeat means they now need two more wins to get the job done at last. It really should have been today.
Had David De Gea not tipped over Aguero's last-minute header, and Sterling not somehow contrived to bundle against a post from a matter of yards, City would have at least had a draw, affording them the chance to win it at Wembley next weekend.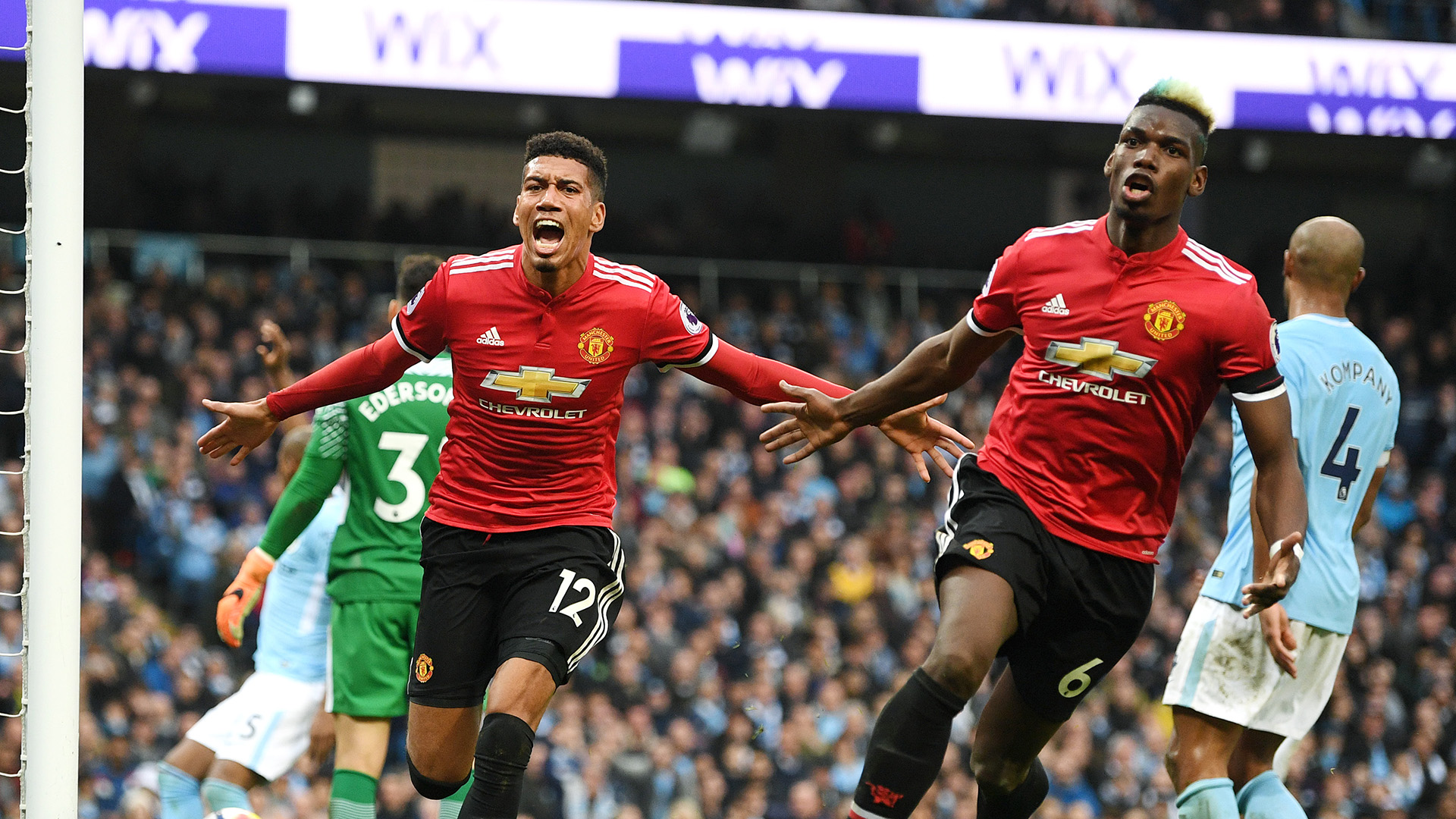 They may have had a penalty, too, but given their own mistakes they can hardly complain too much about the referee's.
And what of Tuesday now? City were by no means guaranteed to overturn the 3-0 deficit had they won the title here, but the momentum behind them would have been immeasurable. 
They are by no means guaranteed to be eliminated after this, but their task will certainly not have been made any easier.
After all, they have now conceded three goals in a single half in their last two games, two of their biggest games of the season.
City are where they are in the league because they are made of stern stuff – they have won so many games because they react to the worst moments in the best way possible. 
But in the last four days they have displayed a worrying tendency to collapse. At Anfield, it was somewhat understandable, given the sheer ferocity of their approach and the home crowd, but here, with everything in their favour, they somehow found a way to lose.
After two brutal defeats in the space of a few days, City now need to rally themselves and get back on track. Keep the champagne on ice.
Let'