Napoli fans will be rooting for Manchester City just as much as their own side when Champions League Group F comes to a close on Wednesday evening, but if results do not go their way they will ultimately have no right to blame Pep Guardiola or his players for what would be their own failings.
Guardiola did thrill Napoli on Monday when it emerged that a strong City squad had travelled to Ukraine to face Shakhtar Donetsk for what is, to the English club, a dead rubber, but there is every chance that the first teamers who did make the trip will not see much action.
[embedded content]
There is much more riding on the game for Shakhtar and Napoli than there is for City, and it is for that reason that the Serie A club have been imploring Guardiola not to rest his key men.
The Italians need to beat Feyenoord and hope City see off Shakhtar for them to reach the last 16 and avoid the Europa League. Shakhtar just need a point, which would be a much easier feat if the Blues use the fixture to rest their top performers ahead of Sunday's Manchester derby.
Marek Hamsik and Dries Mertens have both said, perfectly politely, that they hope City win, while coach Maurizio Sarri has appealed to the Blues' "professionalism".
In that sense, the Italians can have no complaints so far. Only Kevin De Bruyne, who is banned anyway, and David Silva were left back in Manchester, while Guardiola insists he has demanded his players be 100 per cent focused on winning.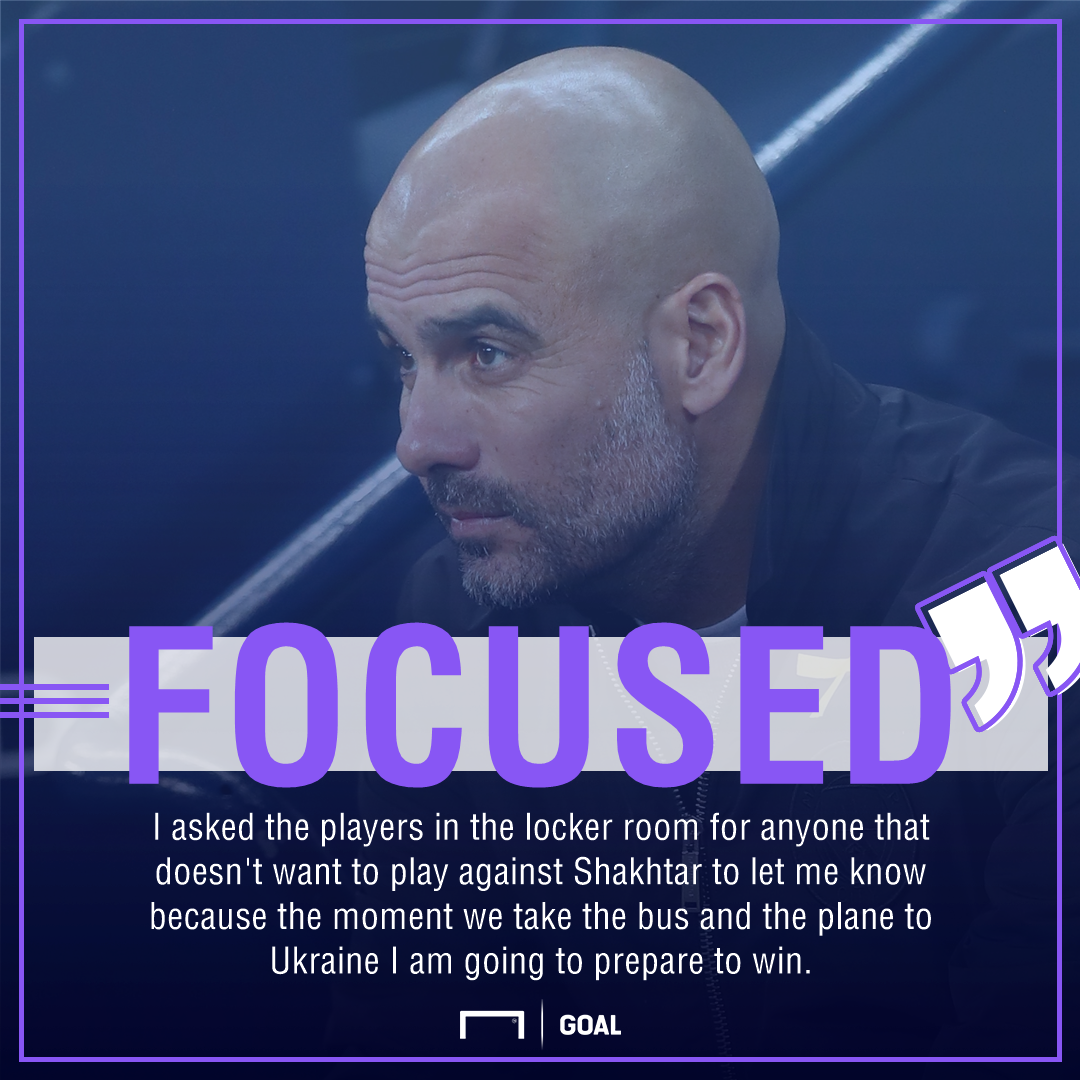 That much is true; Guardiola always wants to win, and indeed Napoli are especially lucky that City are on a 20-match winning streak which they will not want to end just before the derby.
But, unfortunately for Napoli, it would be no surprise if Guardiola does rest most of his first-team regulars. And rightly so.
It had initially been expected that Guardiola would allow many of his first teamers to skip the match and have a few days off, but the decision was made to take every eligible player, bar Silva, in a bid to prepare for Sunday's game at Old Trafford.
City will spend four days in Ukraine this week and it would be no surprise if one set of players are shown video analysis of Shakhtar's players while another set study United.
Because, while Guardiola has kept Napoli happy so far with both his words and his actions, he will not want to waste an opportunity to give his top performers a much-needed break.
The Catalan regularly bemoans the football calendar and he has earmarked this current period, which for him started after the most recent international break and will end after City host Watford on January 2, as a crucial juncture in the season.
That is because of the sheer number of games in a short space of time – eight in 24 days between the derby and Watford – and it is noticeable that Guardiola used the game against the Hornets as his cut-off point; the one after is the FA Cup third round, so changes are surely inevitable there.
And it would be foolish not to rest players on Wednesday, too. Seven of City's next eight games are in the league, and the other is the chance to reach the Carabao Cup semi-final. If they are ever going to rest players it is this week, and having qualified as group winners with a game to spare that is their prerogative.
Which brings us back to Napoli. Sarri's side may yet make the last 16 regardless of the team City pick, but if they do end up in the Europa League they will only have themselves to blame.
They kicked off the campaign with what was, to many, a shock defeat at Shakhtar, when they chose to leave Mertens and Jorginho on the bench. And then there is the game against City at the Etihad back in October.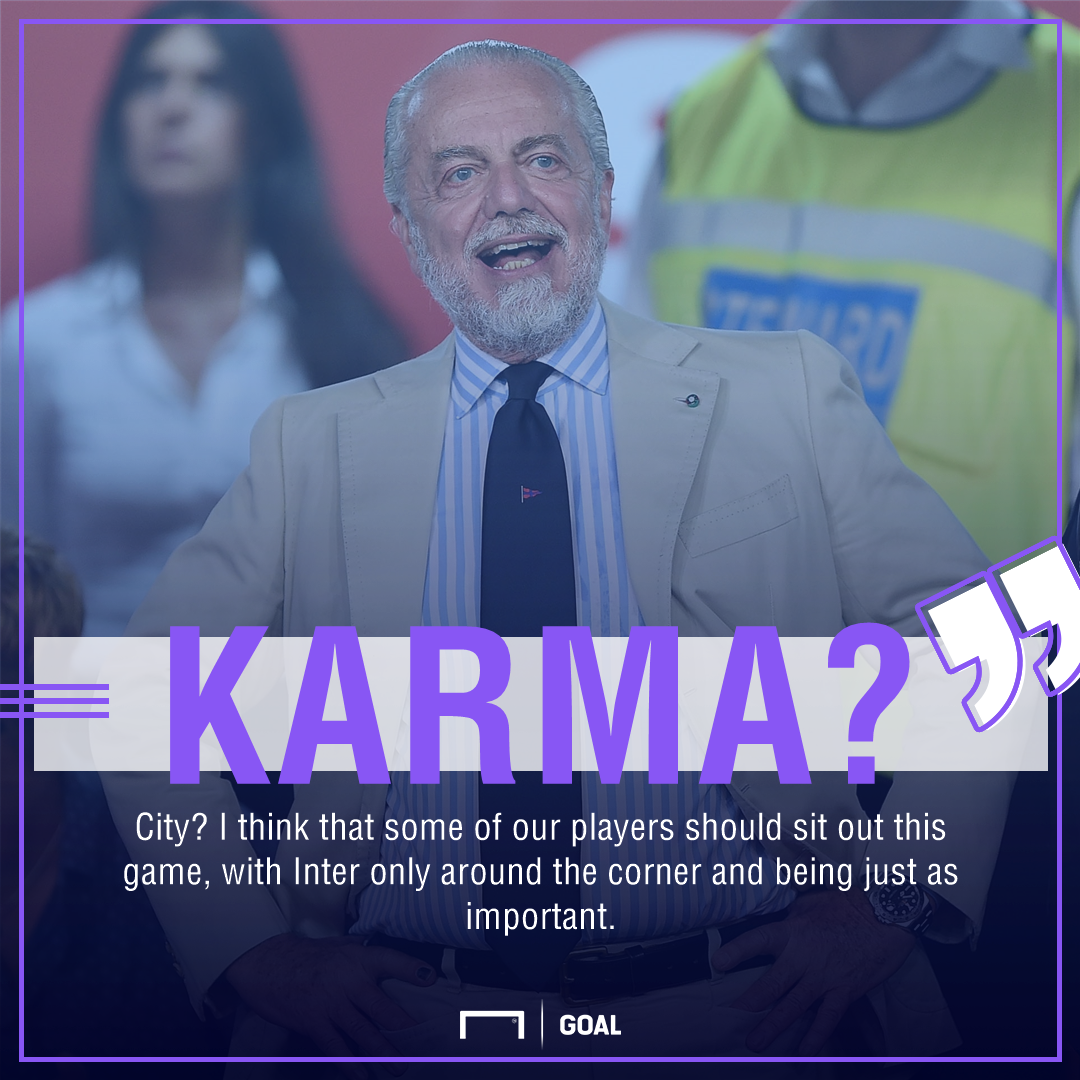 "I think that some of our players should sit out this game," president Aurelio De Laurentiis said. "Inter is only around the corner and that is just as important."
Napoli, like City, have a great chance of winning their league this season and, clearly, they know just how important it is to keep some players fresh for other assignments.
Perhaps De Laurentiis was annoyed that Sarri only chose to rest Jorginho in Manchester, yet even that was a controversial decision given how important the deep-lying midfielder is to Napoli's game plan.
If Napoli's game against Inter was just as important as their game with City, how important is City's dead rubber against Shakhtar, with United coming up on Sunday?
So it would be a little rich for anybody at Napoli to cry foul if City use this ideal opportunity to keep themselves in optimum condition for a crucial run of fixtures.
Napoli play great football and it would be great to see them in the last 16, but they have made their own bed.
Let'