Manchester City toyed with Everton for 37 minutes at Goodison Park on Saturday afternoon, running up a 3-0 lead which allowed them to canter towards the final whistle, and what lays beyond.
In the next 10 days City will face Liverpool home and away in two mouth-watering Champions League ties, which bookmark a potentially historic Manchester derby that would see Pep Guardiola's magnificent side crowned champions with a victory.
Everton away was never going to be easy, and never taken for granted, but after yet another polished City performance it will only be regarded as a starting point for this fascinating run of fixtures.
Not just for us onlookers, but for Guardiola himself. As the City fans left Goodison Park singing songs about winning the title on derby day, Guardiola made it plain that his own priorities are different; the Liverpool games, both of them, are more important even than the opportunity to win the league against his club's bitterest rivals, and his old foe Jose Mourinho.
"We were a long time without being together, and after three weeks I didn't want to play with maybe seven, eight or nine players who are going to play on Wednesday to have gone four weeks without playing together, so that's why we needed to be together to find the pace, to find our rhythm, the way we want to play, for our massive, massive two games against Liverpool," he said, revealing that most of Saturday's team will play in midweek. 
"I understand the people are talking about United now but all the decisions I am going to take is thinking about Liverpool, the game before United and after United, so that is what it is."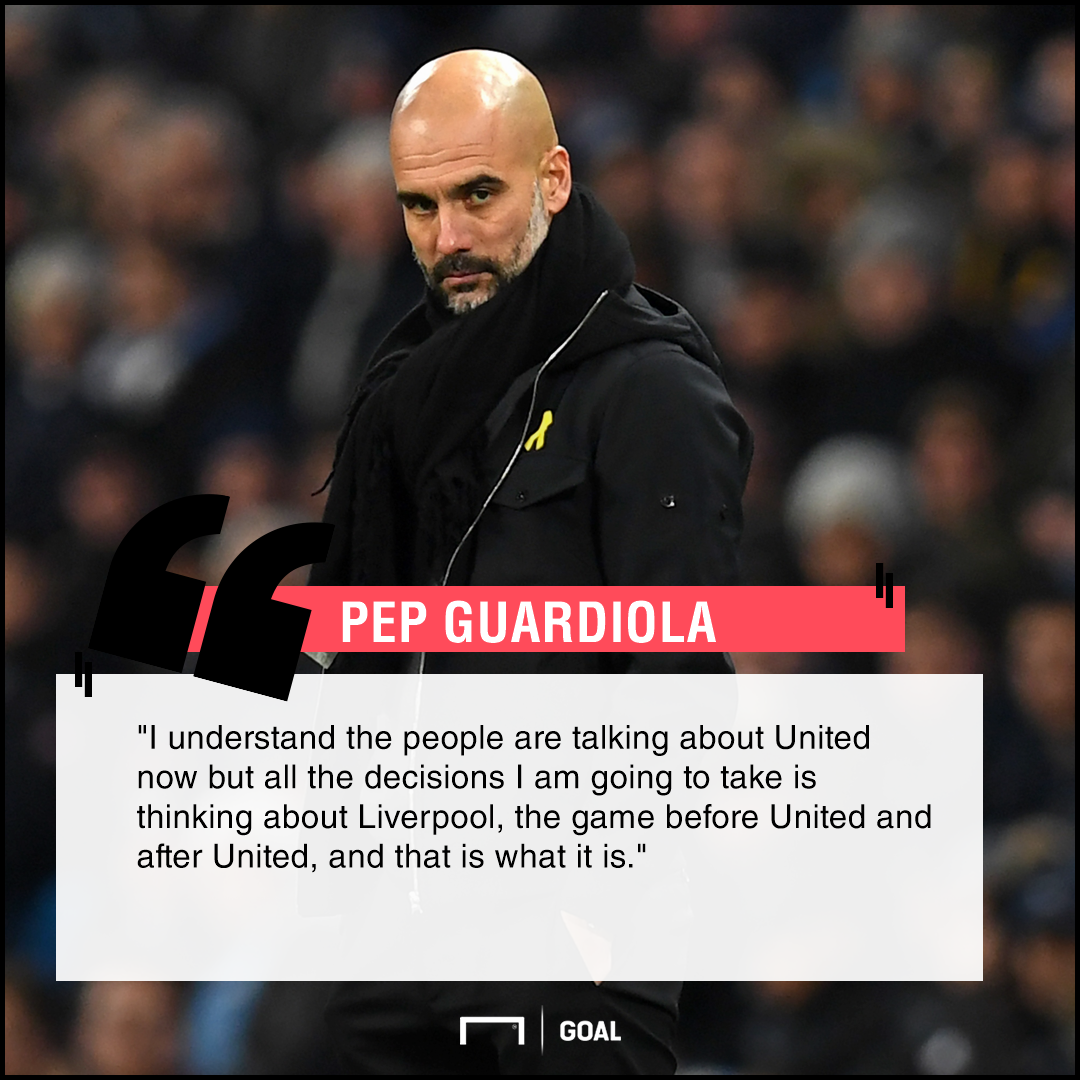 You can be sure that by the time the derby rolls around City will try to win it, but Guardiola's attitude towards the next three games is clear.
"We are closer than ever," he said of the title. "Now we have one more game to win, if we are not able to win then okay, we have six more chances."
The chance to rub United's noses in it by beating them to clinch the title is the dream scenario for every City fan, but getting the better of Liverpool is paramount for Guardiola.
Jurgen Klopp has beaten Guardiola six times in their previous 12 meetings, including their most recent, but the Catalan is not planning any sweeping changes for these two "massive, massive" games. He will instruct his side to stick to their guns.
Unless Klopp himself shakes things up, the City technical staff expect five Liverpool players to form a giant U shape in the middle of the pitch, which will close in on anybody caught in the middle. This is "the mouth of the wolf", according to Marti Perarnau, the author who knows the tactics of both managers inside out.
If City's players elect to go wide instead, Liverpool will look to create a two-versus-one situation in another attempt to rob the ball and pour forward.
City struggled to get out of the wolf's mouth for 10 damaging minutes at Anfield in January, in which they conceded three times, but Guardiola will only make minor alterations in a bid to emerge unscathed. Ederson, Nicolas Otamendi and the two full-backs will be charged with playing long balls to keep the Reds on their toes.
Who occupies the left-back berth is still to be decided, but while Guardiola did not admit it publicly, the decision to play Aymeric Laporte on the left at Everton is thought to have been a trial run ahead of a showdown with the irrepressible Mohamed Salah. Laporte picked up a minor injury on Saturday and endured a few hairy moments which may force Guardiola into a rethink, but there were other tweaks at Goodison which may also be deployed across Stanley Park.
Kevin De Bruyne sat deep alongside Fernandinho, adding even more of a steadying presence in the middle. Kyle Walker played effectively as a winger, with Raheem Sterling hovering around the No.10 position, occasionally combining with Gabriel Jesus in tight spaces.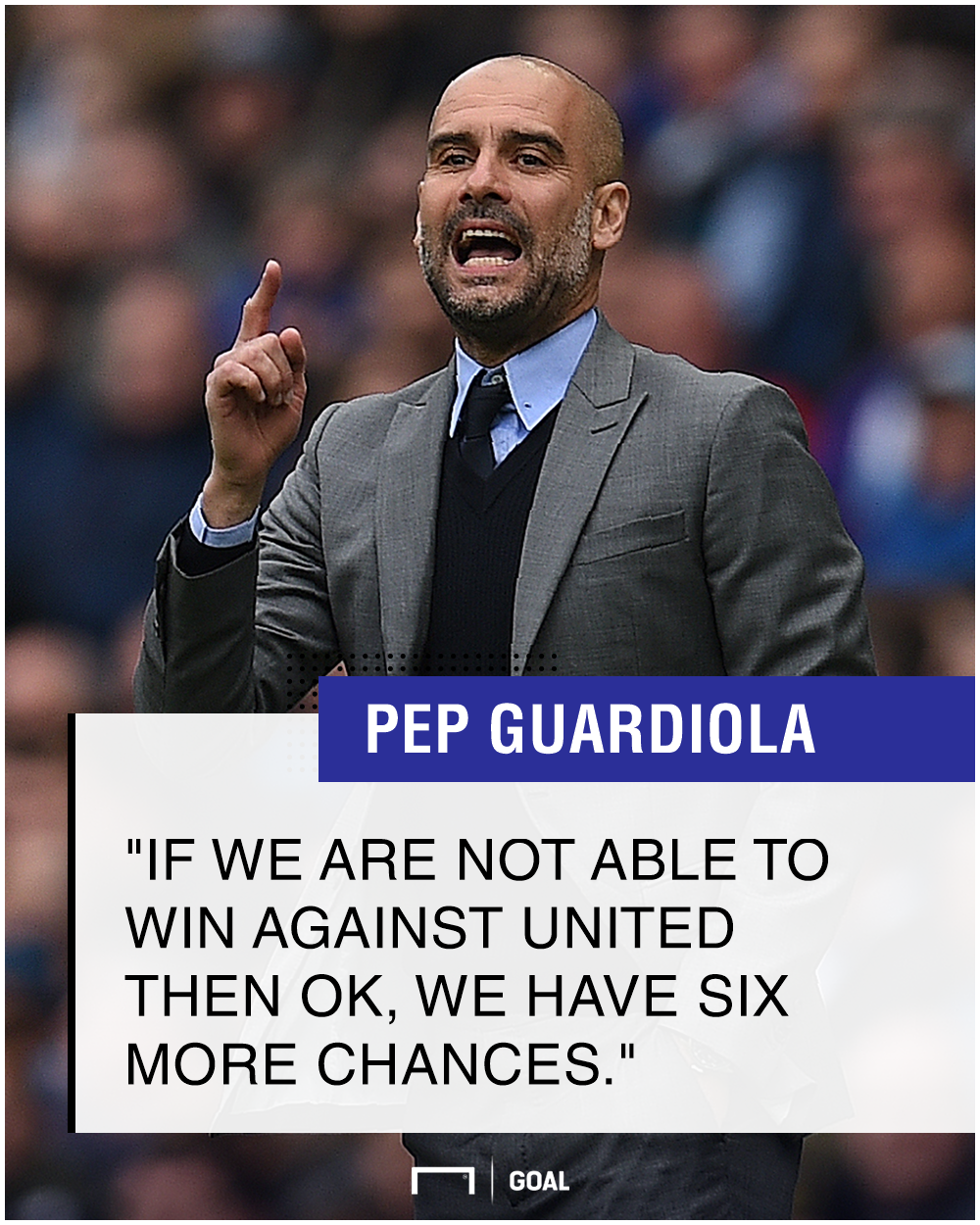 Everton are not Liverpool, far from it, but the dizzying movements of these City players, in whatever formation you can come up with to explain Saturday's especially fluid display, will pose problems for anybody.
Sam Allardyce, who admittedly did himself no favours by putting Wayne Rooney up against City's midfield maestros, summed it up best: "You try to do something to stop them and they can play around anything. That's the beauty of this team, not just the quality of the players. Try to stop them in any way and you can't. Try to press them from the front, they play around you. Try to press them in midfield, they pass and move. You try to pack the final third, but the give-and-goes, the quality on the ball in such tight areas… and their quality of finishing? Well, brilliant."
If England's two most successful clubs want to derail, or at least delay, City's quest to establish a new era, they will have to find those answers over the next 10 days.
If they cannot, City will find themselves in the Champions League semi-finals and with the Premier League title in the bag, in record quick time. Whatever happens, they'll do it their own way.
Let'