Jose Mourinho was late for his Manchester United press conference on Tuesday afternoon. Nothing out of the ordinary there, you might think, but as one journalist at Carrington put it: "The cynical might suggest he's waiting to see what Pep Guardiola, whose press conference is under way, says first on the Old Trafford tunnel bust-up." 
With Mourinho, you can never be too cynical. By the time he took his seat, his Manchester City counterpart had indeed given his thoughts on the tunnel row which has overshadowed Sunday's Manchester derby. It afforded him the chance to weigh up his response and fire back, and he did so.
[embedded content]
Guardiola, himself no slouch in the press conference stakes, kicked things off; he may not have shed any light on who threw the punches and the bottles, but he did give the distinct impression that United were the instigators.
Granted, it requires a little reading between the lines, but just as Mourinho's previous behaviour suggests he probably did delay his entrance so he was well positioned to strike back, it is fair to say Guardiola is a seasoned pro at pointed, but unspoken, messages.
The Catalan said on several occasions on Tuesday that his team did nothing wrong. He admitted he encourages his players to celebrate big victories, like Sunday's, but stressed that doing so "inside the dressing room" is fine. He seemed to make a particular point of using the word "inside".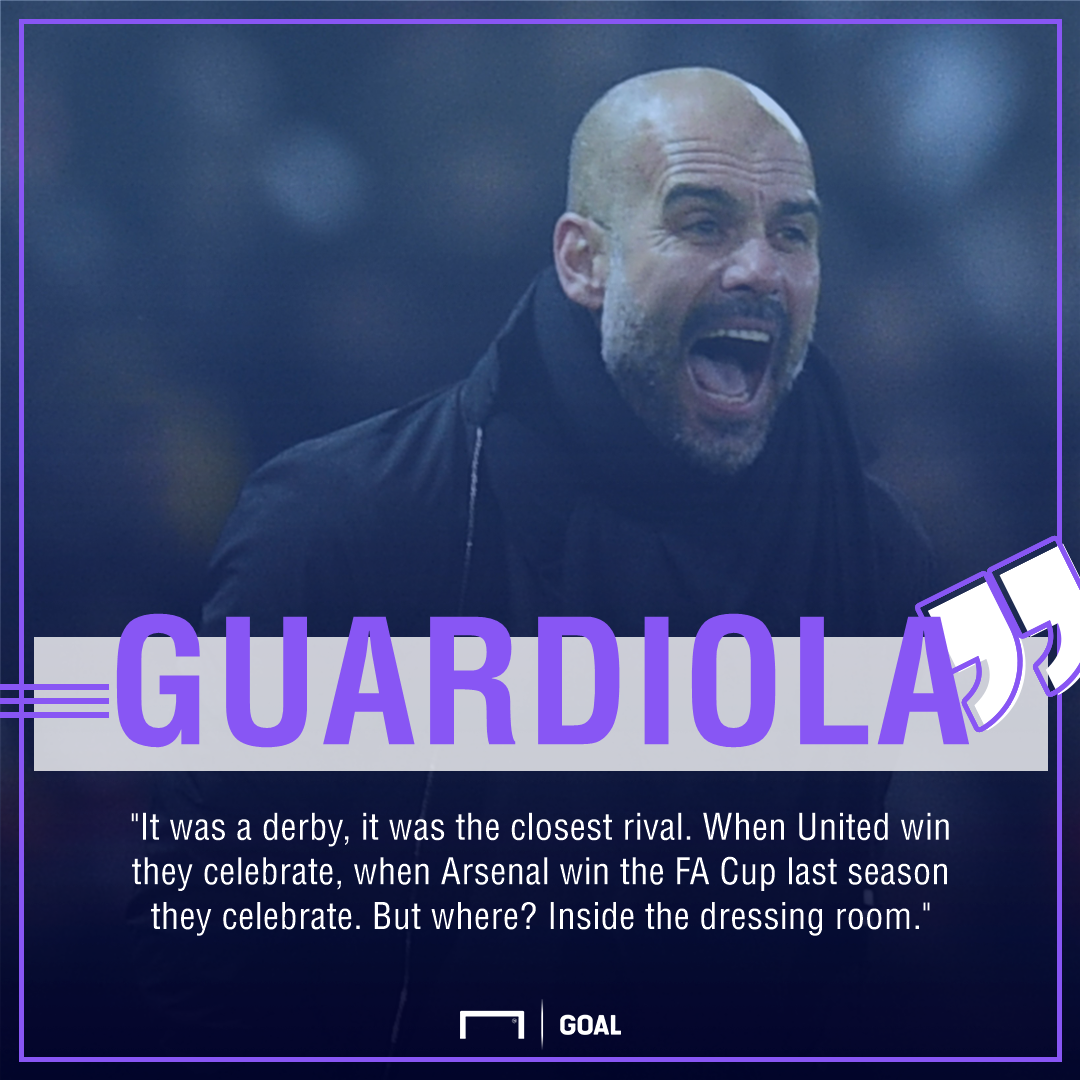 The available information indicates it was Mourinho who entered the City dressing room. Guardiola's implication is that somebody from United would have had to go in for the row to have happened, that United would have had to take exception to City's normal celebrations, and that they would have had to go out of their way to make their feelings known. 
Guardiola said clearly that his players were not to blame – "No," he replied when asked if his players over-stepped the mark. "Definitely not. Believe me. Definitely not," – and without saying so he gave the impression that United are sore losers, although he was careful to avoid that exact phrase.
Word travels quickly these days, so Mourinho, and everybody else at Carrington, knew exactly what Guardiola's side of the story was.
"He says, he says," Mourinho snapped back. "I'm not here to comment on his words, the only thing I can say is that for me it was just a question of diversity, diversity in behaviours, diversity in education, just that and nothing more than that."
Mourinho, like Guardiola, said a lot by saying very little, and he put the ball back in his rival's court. Like Guardiola he did not accept the blame, and like Guardiola he suggested the other party were at fault.
But true to form his hints were also somewhat darker than Guardiola's. The Catalan suggested City did nothing wrong by celebrating, and that he encourages them to do so, but Mourinho says that while the Catalan sees nothing wrong with that, plenty of others do; it is not just City's fault, but Guardiola's.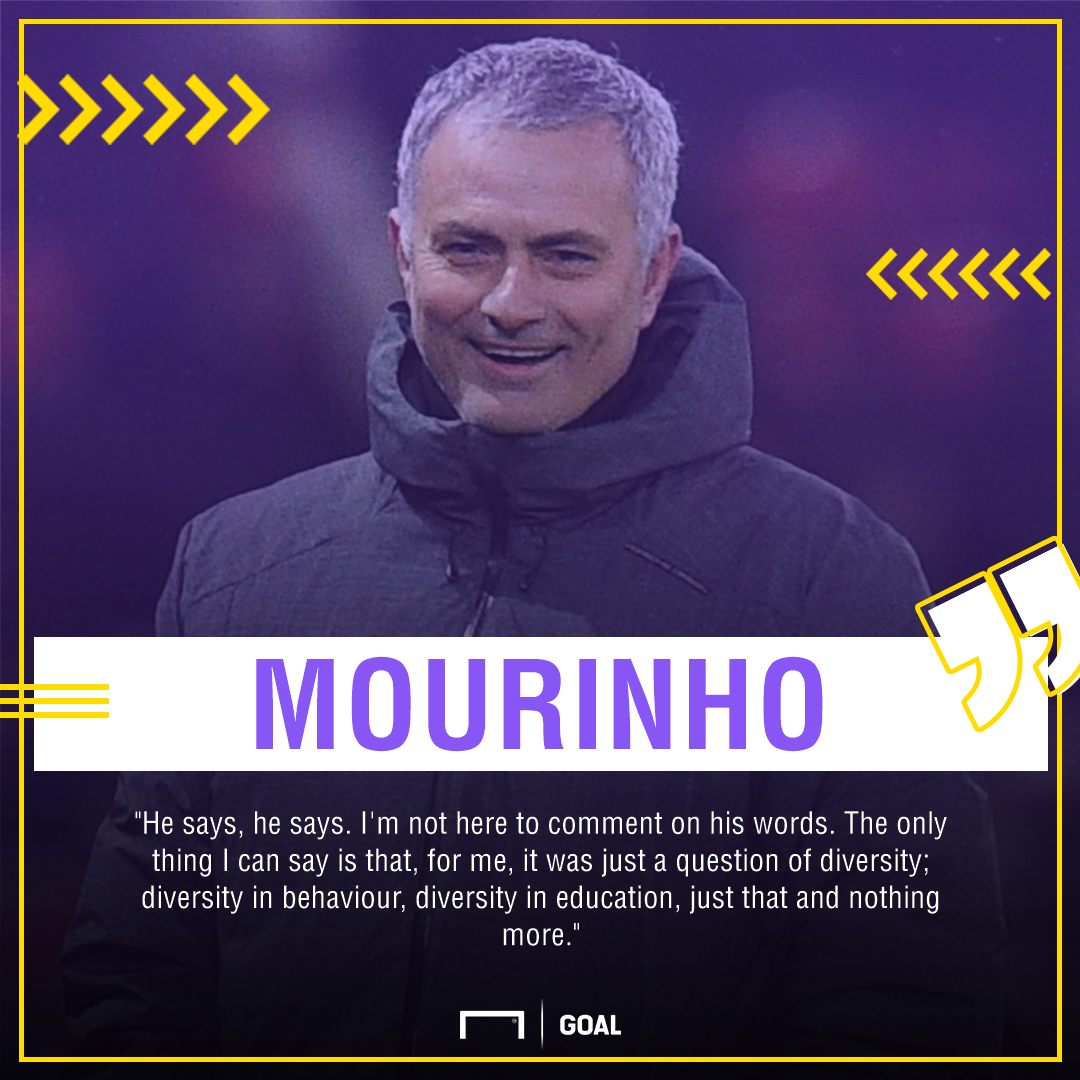 Mourinho does not make it clear whether he embraces that difference in behaviour and education, and he does not make it clear whether he believes Guardiola behaves better or is better educated than himself. But you would not imagine so.
Mourinho has raised the spectre of Mauricio Pochettino's comments from earlier this season, when the Spurs boss said Guardiola "struggles to be a gentleman" when he wins.
Guardiola insists his Barcelona, Bayern Munich and City teams have always celebrated like this; Mourinho and Pochettino say those celebrations are out of order.
After 18 months of working in the same city, the Guardiola-Mourinho rivalry has finally sparked into life. There will be plenty of headlines to come of it as the Football Association continue their investigation into Sunday's events.
Yet it should not be forgotten that this is very much a side battle. Indeed it is a battle that is not entirely relevant to the outcome of the war.
Whatever punishments are meted out, Mourinho is in the weaker position. Whether City are bad winners or United are sore losers, the fact is that Guardiola's men are 11 points clear at the top of the Premier League table.
Both men will have to focus on that sooner or later.
Let'