History was made at the Etihad Stadium on Tuesday night. Manchester City contested a penalty shoot-out at their Eastlands home for the first time in its 15 years in service, but, more significantly, the crowd sang Claudio Bravo's name for the first time. 
It is no exaggeration to say that, rightly or wrongly, Bravo has become one of the least popular City players in recent memory, notwithstanding the boos faced by Richard Edghill 17 years ago.
The solid start to the season made by Ederson, Bravo's replacement, has served only to highlight how bad the Chilean's debut campaign in England was.
Whatever happens across the duration of Pep Guardiola's time in Manchester, fans will look back on the Catalan's first year in charge and wonder if their minds are playing tricks on them or if Bravo really did let in every shot he faced for about three months. But they will be right.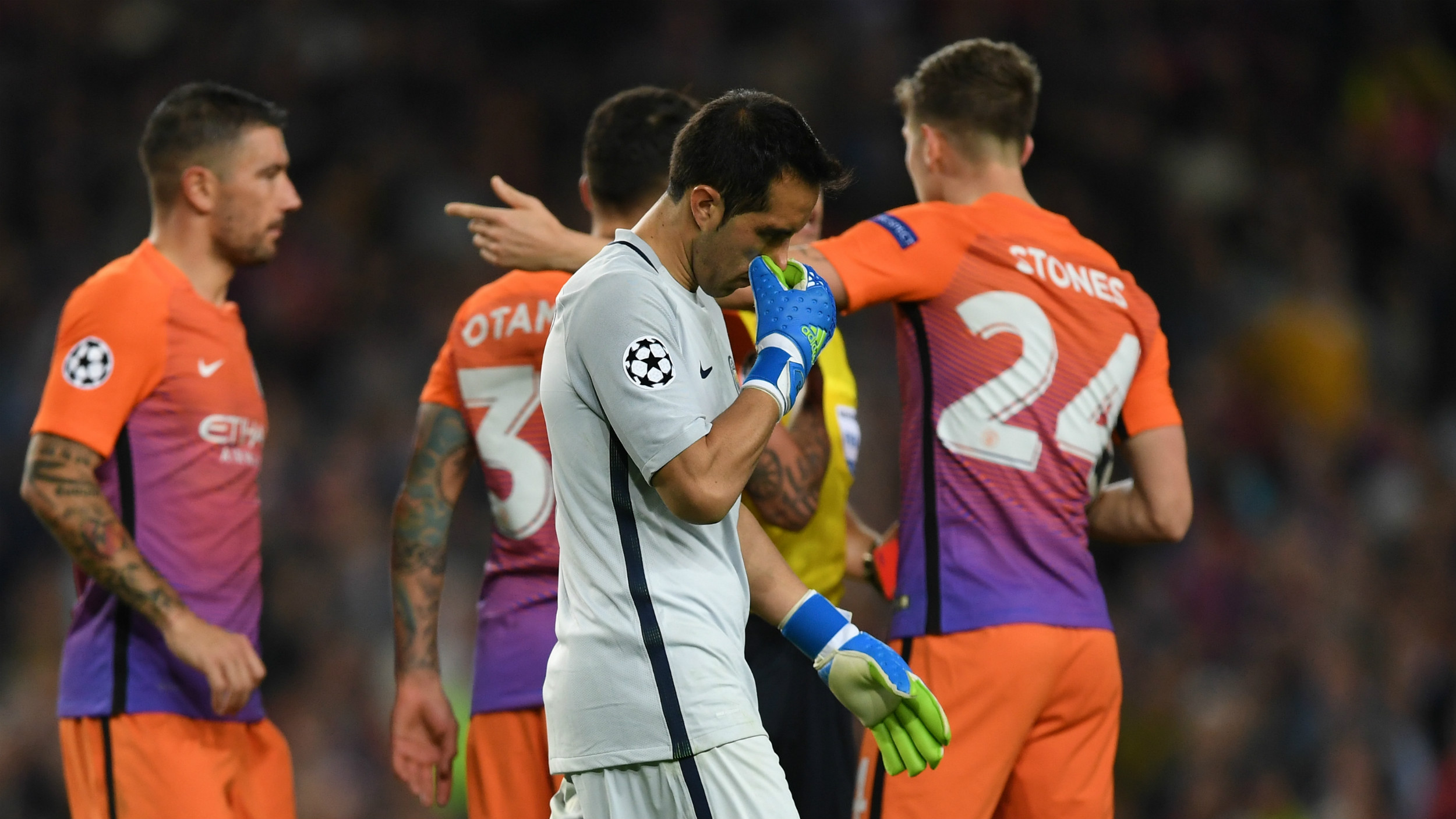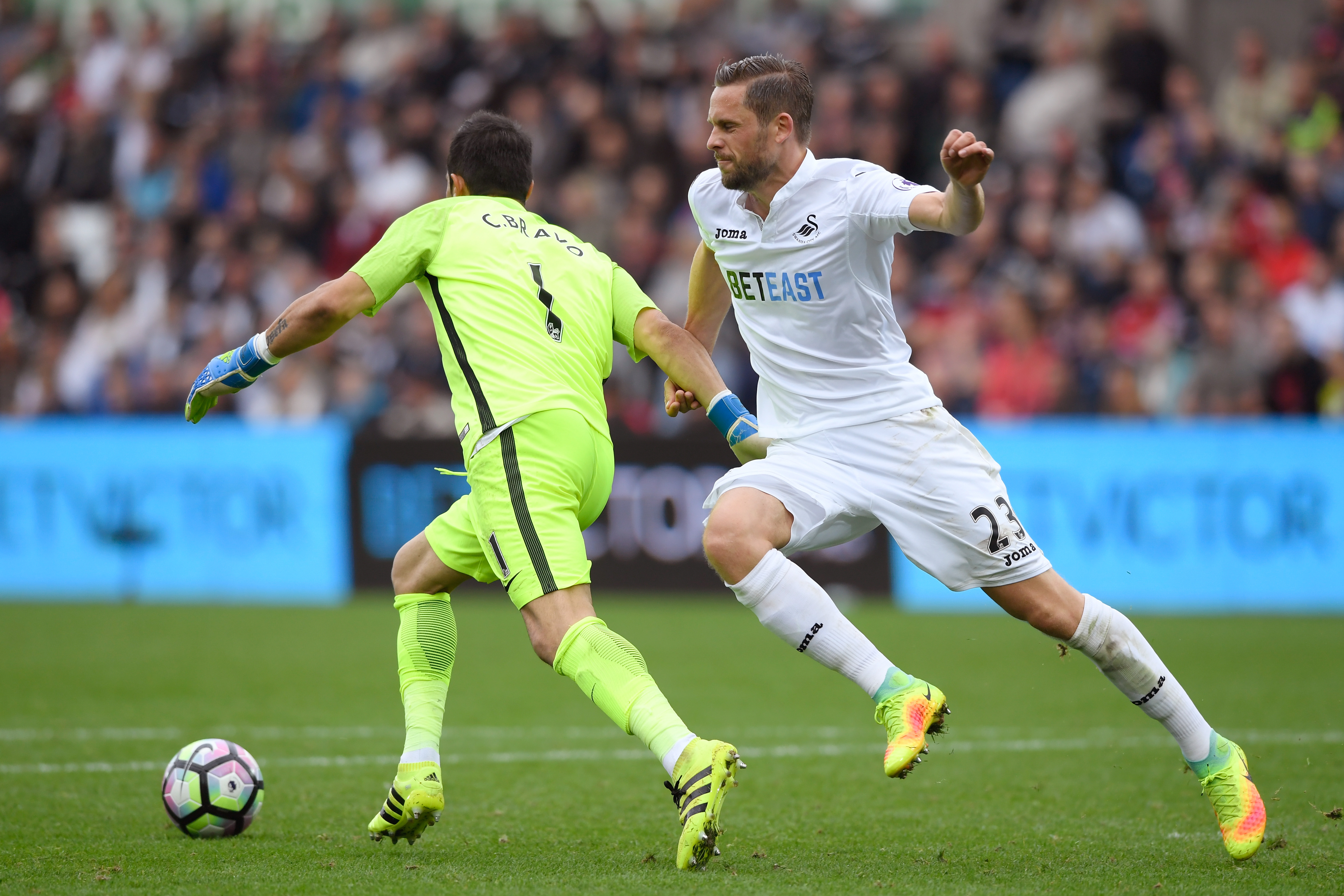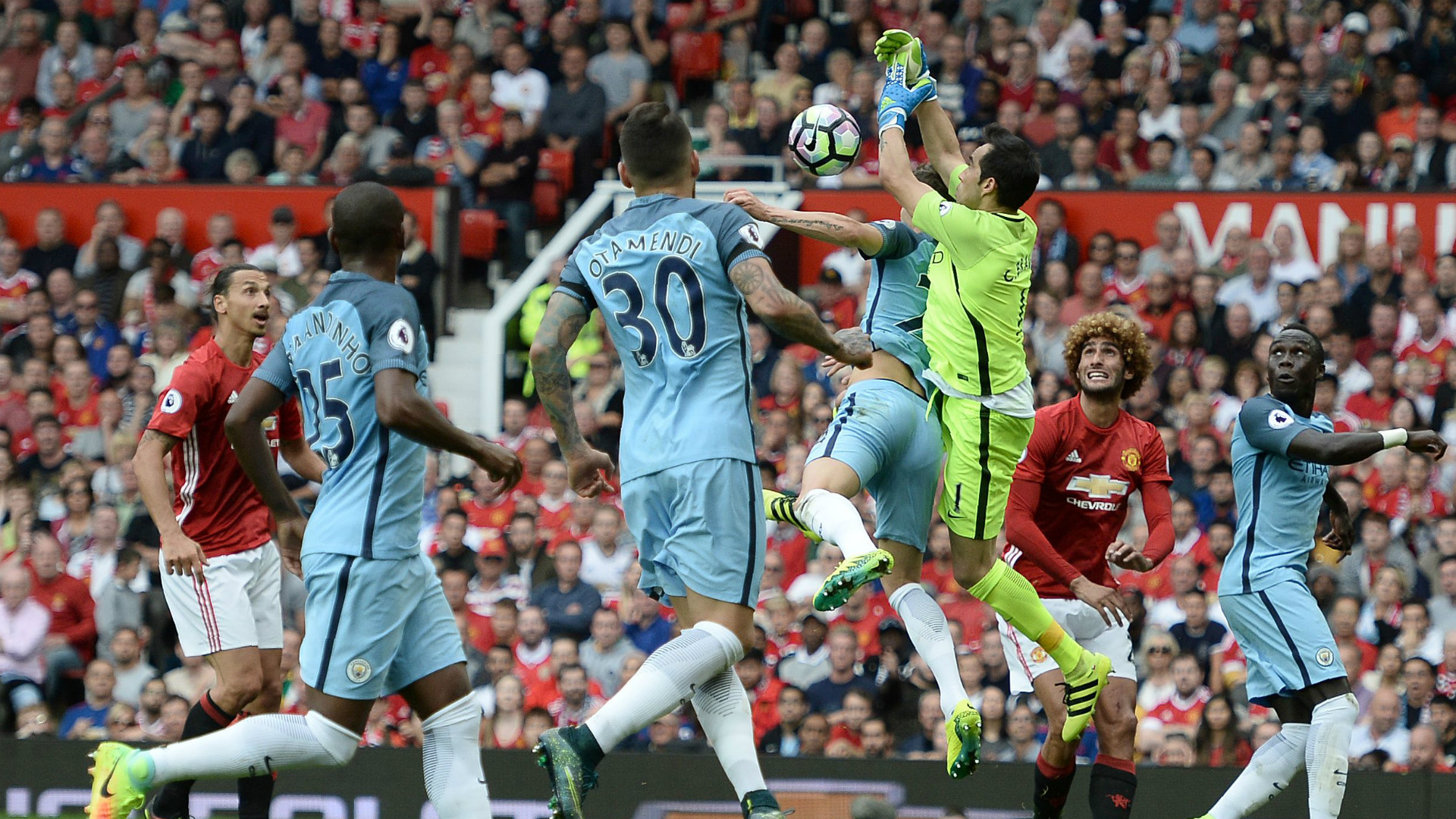 Bravo's well documented poor form had been so bad from December until the end of the season that many wondered if he would be sold in the summer. Despite his struggles and a major loss of confidence (from him, the coaching staff and the City fans) he resolved to stick it out.
City wanted a change, however, and brought in Ederson, who shares many of Bravo's attributes, and some others besides. The big Brazilian's distribution is even better than Bravo's, although that was never really an issue). The main difference, though, is that Ederson is performing exactly as was hoped; as well as his contribution to City's build-up, he has kept eight clean sheets from the 10 games he has played.
Had Bravo delivered his Barcelona form when he arrived last September City would have had significantly fewer problems last season and Guardiola would not have got so much criticism for replacing Joe Hart (a decision which needed to be made, regardless of the form of who replaced the England keeper).
Yet Bravo quickly looked a shadow of the man who has been such a key part of Chile's unprecendented international success and the man who held fort as Barcelona continued their own dominance. He not only disappeared into his shell around the training ground, but he seemed to disappear altogether when faced with an opponent bearing down on goal.
On Tuesday night, however, the old Bravo was back. He saved a relatively routine header early on, which was nothing special but it drew the usual smattering of ironic cheers from those who would gladly see the back of him. Expectations, of course, are incredibly low.
But that was just the start.
City seem to be perfecting Guardiola's brand of football and as a result they have barely offered any opponent a single counter-attack all season. Here, though, they seemed to wave Wolves through at will.
Four times the visitors had only Bravo to beat, and on two occasions they were able to streak clear with City's despairing defenders chasing them down. Guardiola, ever the perfectionist, will be concerned about that, even if this back-line will surely never play together again at any level, and Yaya Toure will not have to hold the back of midfield – a job he did poorly on the night.
Yet none of that mattered in the end, because Bravo did what he was brought to City to do in the first place.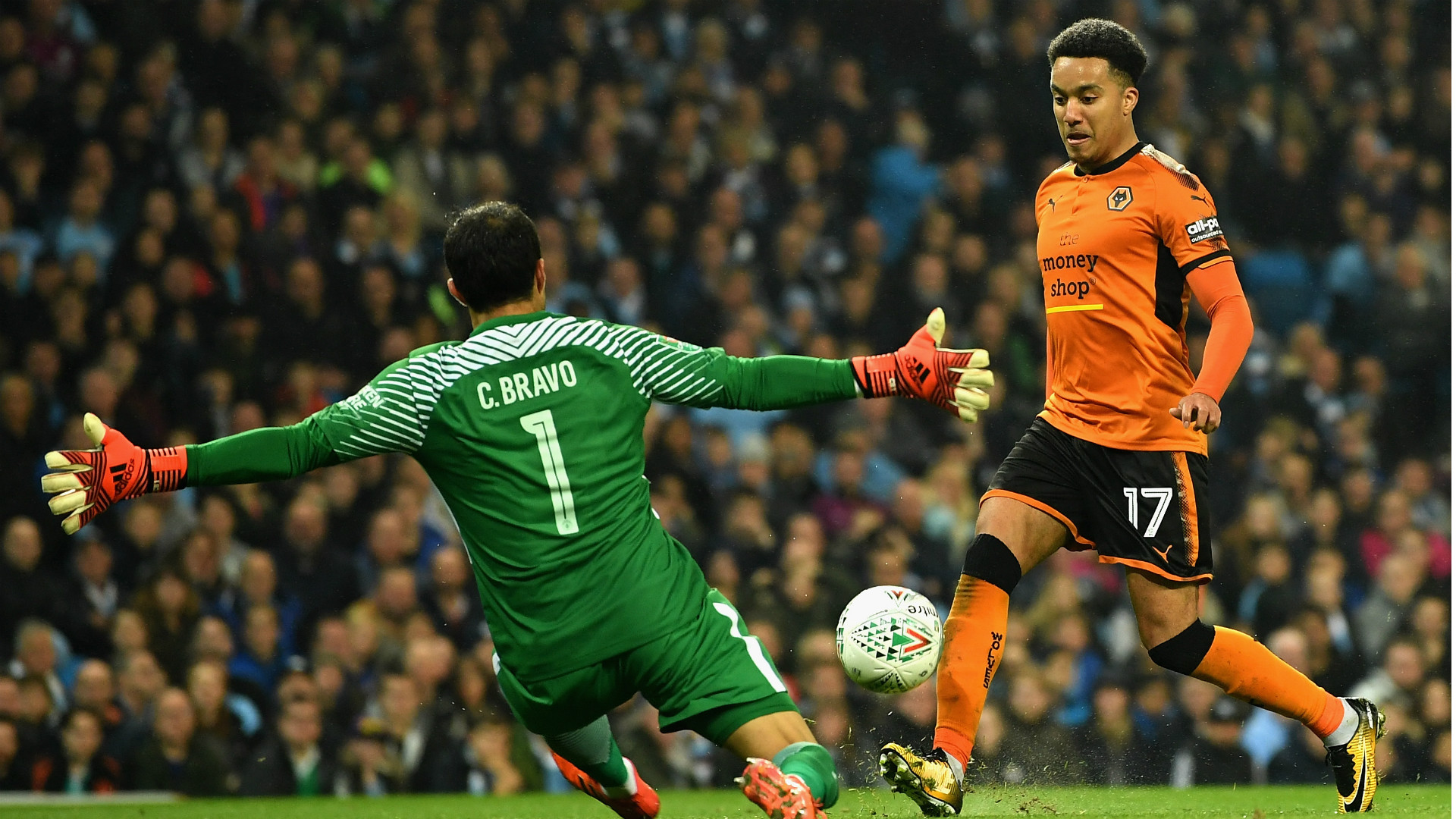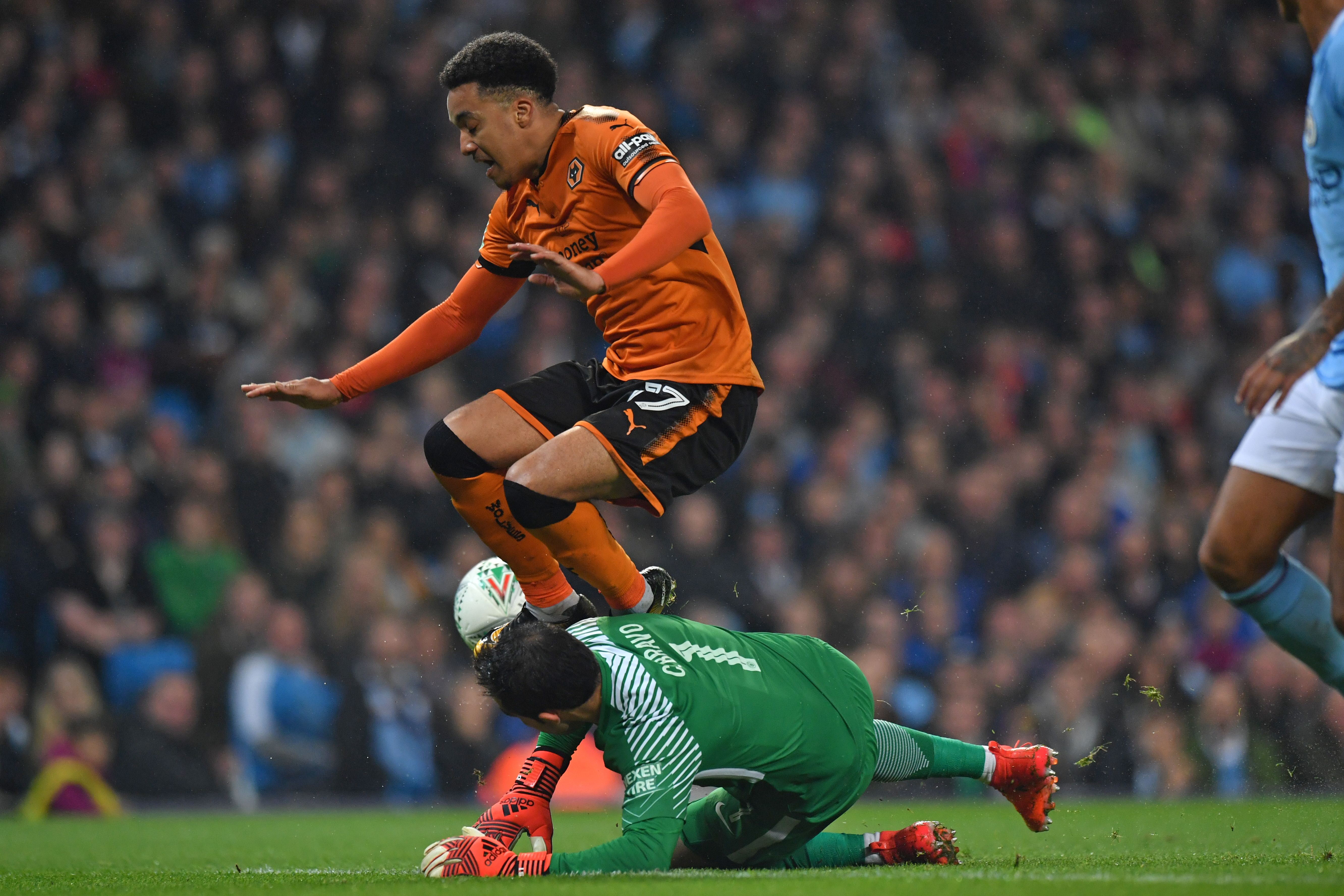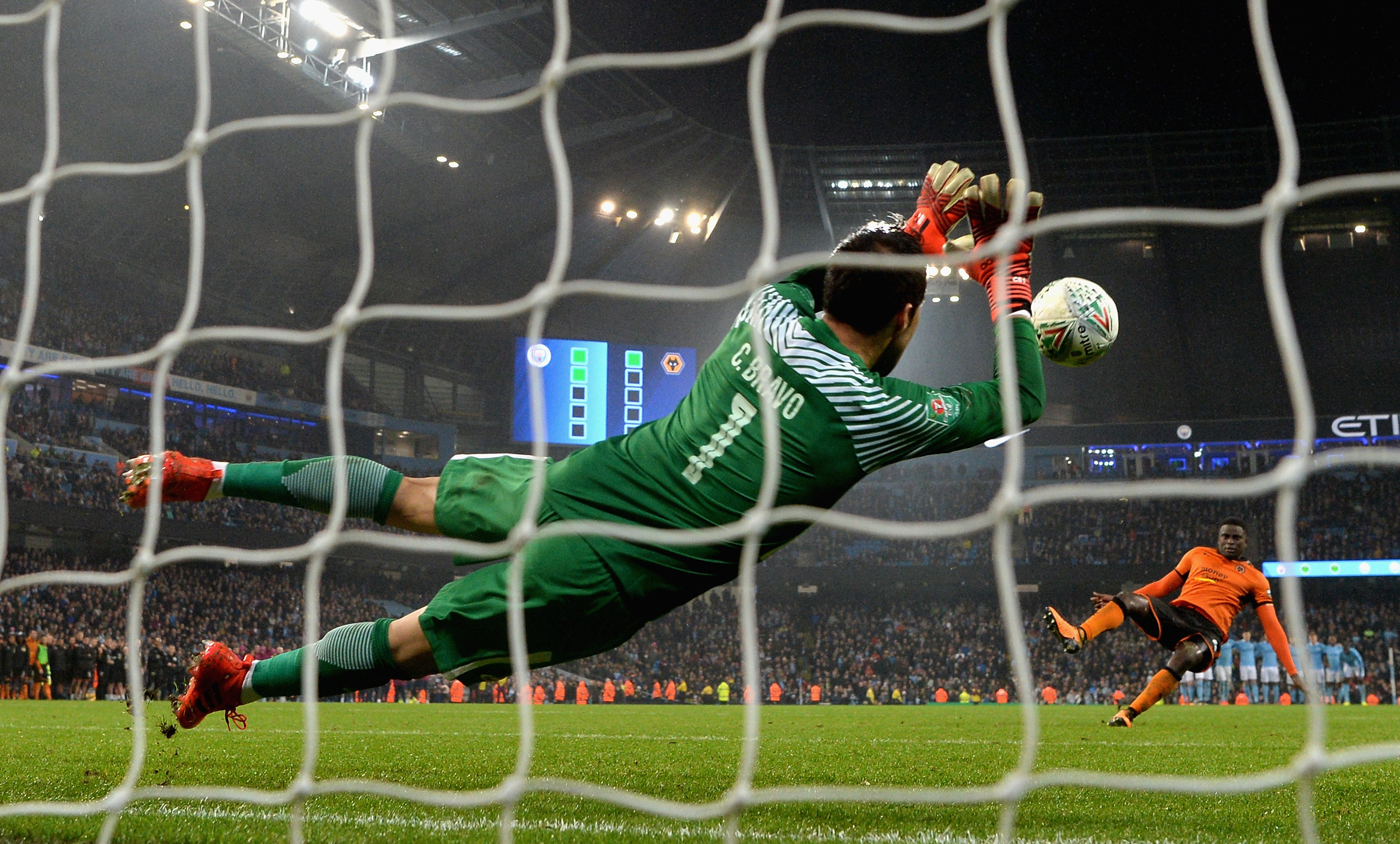 Four times he denied Wolves players in one-on-ones, and then, in a tense penalty shoot-out played out in front of the thousands of travelling supporters, he saved two efforts back-to-back, allowing Leroy Sane and Sergio Aguero to keep their heads and send City into the next round after 120 incredibly frustrating minutes for the club's gilded forwards.
It was a game not at all in keeping with City's recent performances, indeed it was more a throwback to last season, when teams would hit Guardiola's men on the break time and again and make them pay the price.
But had this been like last season City would've been hammered. They were not, because the real Claudio Bravo finally stood up.
Let'