Since leaving Camp Nou for Manchester City in 2010, the Ivorian has established himself as one of the best midfielders in the world – so why did the Blaugrana let him go?
ANALYSIS
By Mark Doyle
Transfers are a touchy subject in Barcelona right now. However, with the Catalans set to take on Manchester City in the Champions League on Tuesday night, it is nigh on impossible to avoid thinking about the €30 million deal that saw Yaya Toure swap Camp Nou for the Etihad in 2010.
Of course, that is solely because in the intervening four years the Ivorian has proven himself one of the most complete midfielders in world football. Which begs the question: why on earth did the Blaugrana let him go?
Toure is in no doubt as to where the blame lies. When pressed on his exit in October 2011, he made it clear that then Barca boss Pep Guardiola had effectively forced him out.
THE VIEW FROM BARCELONA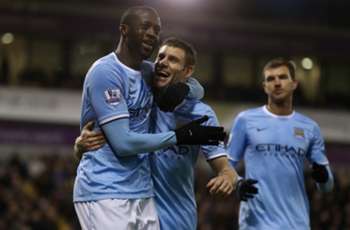 "Pep Guardiola didn't have a great relationship with Toure and that's the main reason that Yaya left Barcelona.
"There wasn't a specific problem between them but what we do know is that Guardiola wanted to have a team of players fully behind him – and that's why Pep oversaw a gradual clear-out of some of the key components of the squad he inherited. Of course, there was also the fact that Pep preferred Sergio Busquets to Toure in front of the back four.
"Toure didn't want to leave the team and the fans still view his departure as a big loss, as they remember him fondly as one of the best players the club has had in recent years."
Pilar Suarez | Goal's Barcelona Correspondent

"Whenever I asked him something, he always gave strange answers," Toure told ONA FM. "He pretty much ignored me until City's offer came in. That's why I eventually opted to leave. I didn't speak to Guardiola for a year.
"If he had talked to me, I would have stayed at Barcelona. I did not want to go and wanted to end my career at Barcelona. However, he had no faith in me."
Guardiola, though, offered a rapid riposte, saying that he, in conjunction with then president Joan Laporta, had done his utmost to persuade Toure to remain at Camp Nou.
"I talk to anyone and the doors to my office and house are always open for the players," the former Spain international told AS. "The truth is that [Toure] asked Laporta to leave. We even tried to convince him to stay."
Clearly someone is being economical with the truth. Certainly, Toure's love for Barcelona has always appeared sincere. In the first couple of years after his exit, he repeatedly spoke of his desire to return to Catalunya one day, while he dismissed talk of a transfer to Real Madrid in 2012 by explaining that such a move would be unthinkable given he still considered himself a Barcelona fan.
However, there is no doubt that Toure was drawn to Manchester City for a variety of reasons, chief among them the presence of his brother Kolo at the Etihad at the time. There was also the astronomical wage on offer (a basic package of €170,000 a week excluding extremely lucrative performance bonuses), an offer that blew Arsenal's hopes of signing Yaya out of the water. The guarantee of regular first-team football was also key. As a bit-part player at Barcelona, Toure was undeniably seduced by the promise pitched to him by City's former chief executive, Gary Cook, that he would become a legend at the Etihad.
From Barcelona's perspective, incoming president Sandro Rosell was keen to balance the books at Camp Nou and was quite content to accept €30m for a player who was essentially a reserve. Indeed, in his final season in Catalunya, Toure largely served as an understudy to Sergio Busquets, something he subsequently admitted to having found very difficult to take.
"Without Busquets, I would not have left," he conceded in October 2010. "He has great quality but what I want are games, not sitting on the bench. I won everything there and needed other challenges."
He has certainly risen to those challenges, though it helped that he went from feeling underappreciated to adored. Ex-City boss Roberto Mancini built his team around Toure, playing an integral role in the Ivorian's transformation from a defensive midfielder to a box-to-box colossus. It is worth noting that Toure netted only six times in all competitions in three seasons at Barcelona – yet he managed 10 in his first campaign at City alone. Of course, Toure had played in a more advanced position during his time at Monaco but he was only truly set free by Mancini.
"It was he who decided to put me more forward," the three-time African Football of the Year said in February of last year. "Since coming to City I have enjoyed my football more because my game is all about attack and what I did at Barcelona was quite different."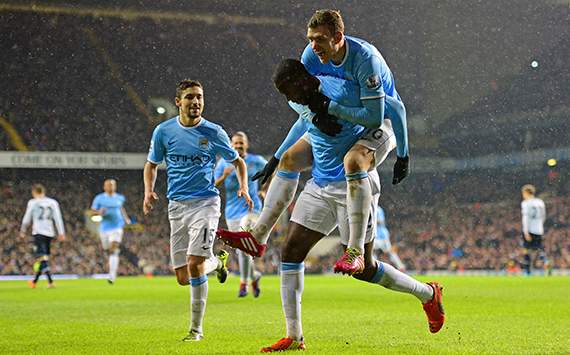 Toure's Transformation | The Ivorian scored six goals at Barca; he hit 10 in his first season at City
The Blaugrana's decision to sell Toure must therefore rank as one of their more expensive errors, particularly when one considers that two supposed replacements, Javier Mascherano and Alex Song, were subsequently signed at a combined cost of €42 milliion. That Guardiola failed to see – let alone unleash – Toure's full potential is also strange, given this is the coach that has successfully turned Bayern Munich captain Philipp Lahm from a full-back into a holding midfielder.
Of course, that is if you pay no heed to the Catalan's claims that he tried in vain to persuade Toure to stay at Camp Nou. Truth be told, it is hard to know whom to believe.
Instead, maybe it is just best to think of the time that former Brazil forward Ronaldo appeared before a congressional hearing in 2001 to give his views on the country's struggling national team and vowed: "I will tell you my truth … But there are many truths."
In this instance, Toure has his version of the truth; Guardiola has his. All we can know for certain is that in the summer of 2010 Barcelona lost a great player – and Manchester City gained one.
Follow Mark Doyle on