The Nigerian striker found the net in Monday's 3-0 defeat of Hull City and his team-mate praises his performance as he looks ahead to a crunch match against Liverpool
Yaya Toure praised Manchester City team-mate Kelechi Iheanacho after the striker found the net in Monday's 3-0 victory over Hull City.
Toure maintains perfect penalty record
Iheanacho came off the bench to score City's decisive second goal at the KCOM Stadium, putting the game out of the hosts' reach and moving his side up to second place in the table.
And Toure, who opened the scoring from the penalty spot, believes that the 20-year-old's hard work is paying off this season.
"When you're young like that, you have to show your hunger," the midfielder told reporters after the game. "What I tell him all the time, even on the training ground, [is] when you play like that you have to show up and I think today was brilliant for him.
"It was a massive goal. The important second goal gives you a lift [and] lets you continue the game. It made Hull attack and leave space, and the third goal came from that. It was too open, we tried to keep the ball moving and after that it was a good action from Raheem [Sterling, who created the third]."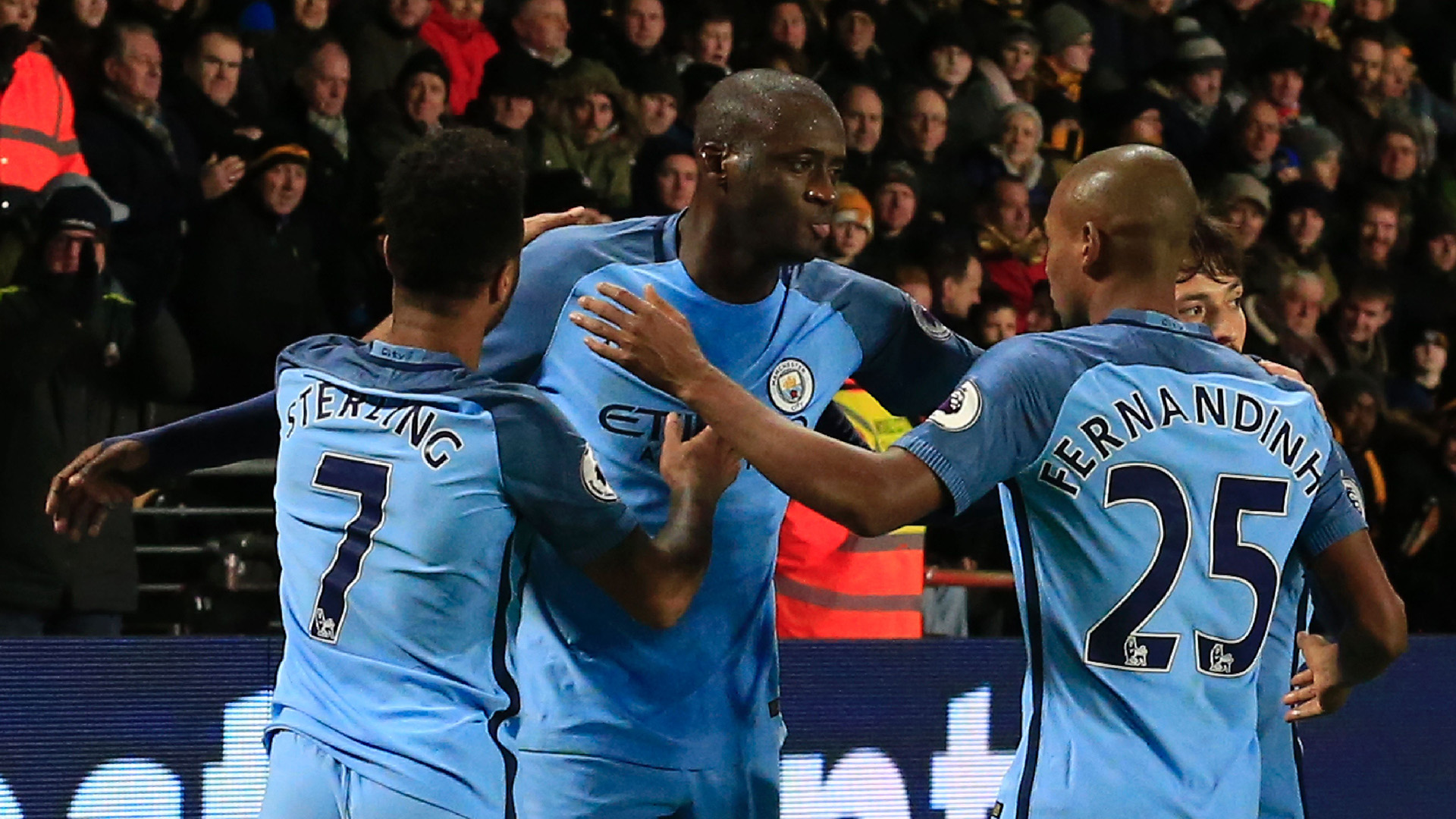 The Boxing Day triumph kept Pep Guardiola's side within seven points of leaders Chelsea, who beat Bournemouth by the same scoreline.
Aguero's priceless response to being fined
And Toure feels that the hard-fought victory was vital in keeping City's title hopes alive.
"Very good," he replied when asked for his thoughts on the game. "[It was] very important to keep it close and keeping going. For the title race, it is very important to win games.
"I think when you see all the game, especially in the first half, [Hull] didn't deserve to be at the bottom [of the table]. All teams that come here are going to suffer. Sometimes, when you lose a game, mentally you are not right but I think, after one game, they are going to be all right.
"That's why it's the toughest league in the world because, when you see how they played today, how they made it very difficult, and then we changed the tactic just to find the space and they still made it tough.
"After the very good action of Raheem Sterling, we got the penalty and it gave us a lift. We tried to control the game and we knew we would have more space and we did very well with that."
The best players available for free in 2017
Toure has once more become an important figure at the Etihad Stadium, with the Ivorian having now appeared in seven Premier League matches after spending the first three months of the campaign in exile.
The 33-year-old says that he is enjoying himself again as he looks forward to Saturday's encounter with Liverpool at Anfield.
"I look like a kid, you know, just enjoying playing football and helping my team-mates and then the fans," he enthused. "I'm used to winning Premier Leagues – I think it's second [place] three times – and I want to win another. I know it's going to be tough but we have to keep going because Chelsea are very good this year.
"I think for me [Saturday's game] is almost a final of the Premier League because I think it's going to be a similar kind of football. I think for the fans it's going to be fantastic and what we have to do [is] we have to be ready and try to do like we said before. We will try to get one point or three points. We have to continue because the Premier League is very tough."
Toure has started five games in the top flight this season, scoring three goals.