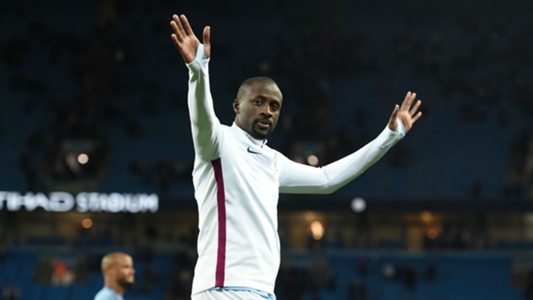 Yaya Toure has sent a 'final message' of gratitude to Manchester City fans as he departs the club.
The Cote d'Ivoire international ended his eight-year stay at the Etihad Stadium outfit after leading City past Bridgton and Hove Albion at the Etihad Stadium last week Wednesday.
The midfielder joined the Citizens from Barcelona in the summer of 2010 and was instrumental in the positioning of the club as one to reckon with in Europe.
Toure featured in 230 English Premier League games, scoring 59 times. He helped them to three Premier League titles, two League Cups, one FA Cup and Community Shield.
The 35-year-old also scooped the African Player of the Year four times in a row [2011, 2012, 2013 and 2014] while at the club.
And the former Monaco player has applauded the City faithful for their support for him and his family during his time at the club.
"This is Toure Yaya, this is my personal message to you for all your support and all the things you've been doing for me most especially for me and my family," Toure said via his Twitter page.
"I want you to understand that you made me who I am. It is only in City I achieved a lot of personal trophies like four times best African player in a roll, won trophies, week in week out playing games and was free of injuries.
"You 've always been behind me pushing me on to be able to be the best and today I want to say thank you and I appreciate all the time we 've been together.
"To be honest this is the first time in my whole career I will be staying with a club for more than eight years. The love I have shared with you has been immense and incredible and I was thinking it will never end but now it has ended.
"You have to understand that you will always stay in my heart and maybe one time I will be very happy to come back.
"I think the thing my family and other persons close to me saying is the legacy I have left.
"What I have been thinking for this club and thinking for you is what is happening now and I want to say thank you and I hope you will continue to support this club and be the greatest fans I have."
A final message to the City fans… 💙💙💙

Mon dernier message aux supporters de City… 💙💙💙 pic.twitter.com/2nDvnHvvkN
— Yaya Touré (@YayaToure) May 15, 2018
Let'