The story of Pep Guardiola and Sergio Aguero's relationship at Manchester City is long and complicated.
By now, after nearly two full seasons' worth of claims, leaks and protests, it is almost too tiresome to list every decision and grievance that has led us to this point – but for anybody in any doubt that things are not quite right between the two it is worth a quick recap.
City's attempts to sign replacements, from Pierre-Emerick Aubameyang in 2016 to Alexis Sanchez in 2017 and 2018; the carefully chosen public declarations from both manager and player (and how each has reacted); the pointed social media posts; Guardiola's decisions, tactical or otherwise, to leave Aguero out of certain matches and the striker's feelings as a result; and the clandestine meeting(s) between Guardiola, Aguero and Aguero's agents have all contributed to the current climate.
It is an enigma wrapped in the mystery of why Aguero's contract extension was never announced. 
The fact that Khaldoon Al Mubarak personally assured Aguero last summer that things would be better during Guardiola's second season should speak for itself (so should the fact that Aguero, by December, had decided that things hadn't changed at all).
[embedded content]
Put simply, Guardiola suspects Aguero wants out, Aguero suspects Guardiola wants him out. Something doesn't add up.
But despite all of that, we may well be at the stage where it really doesn't matter.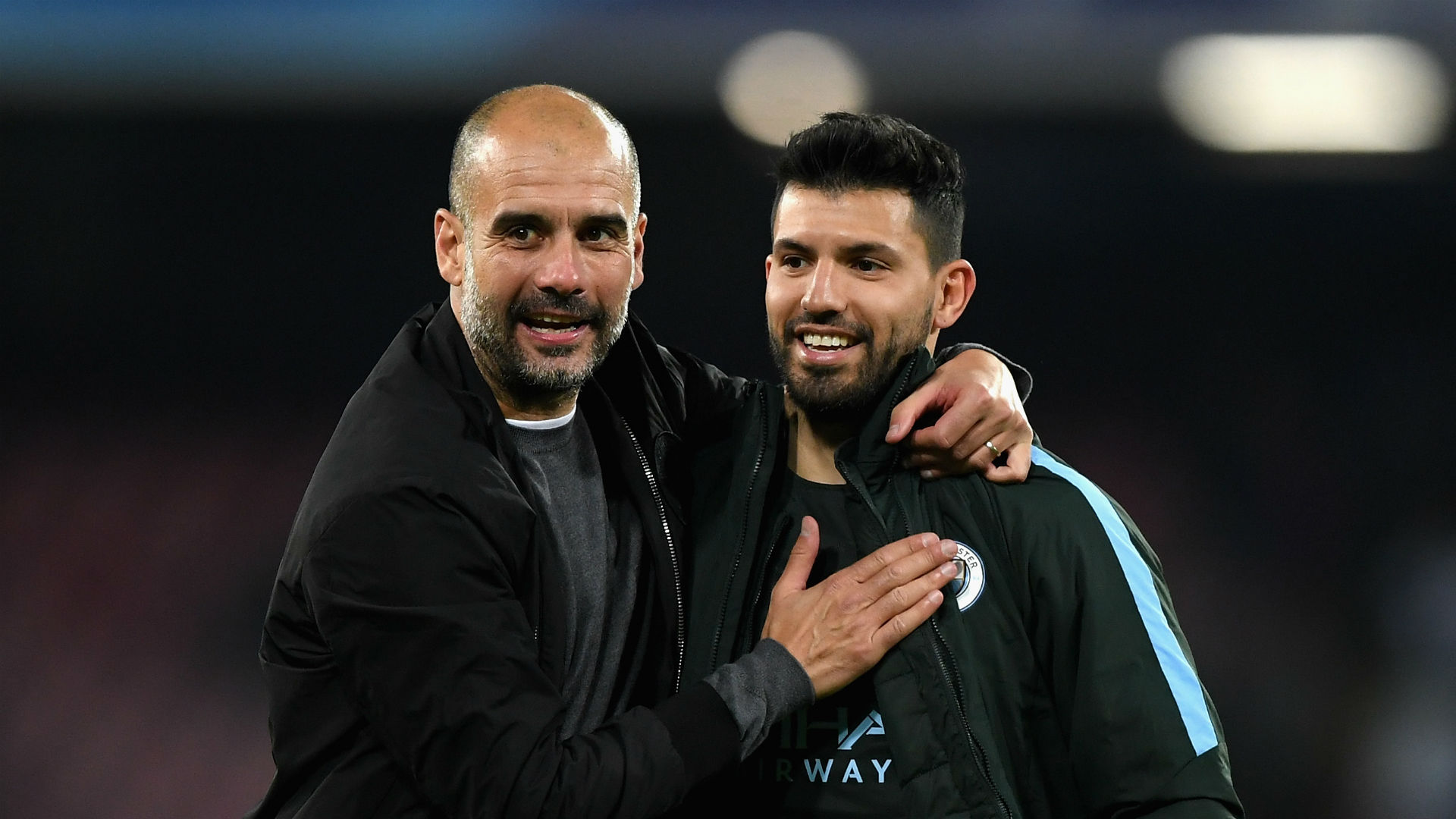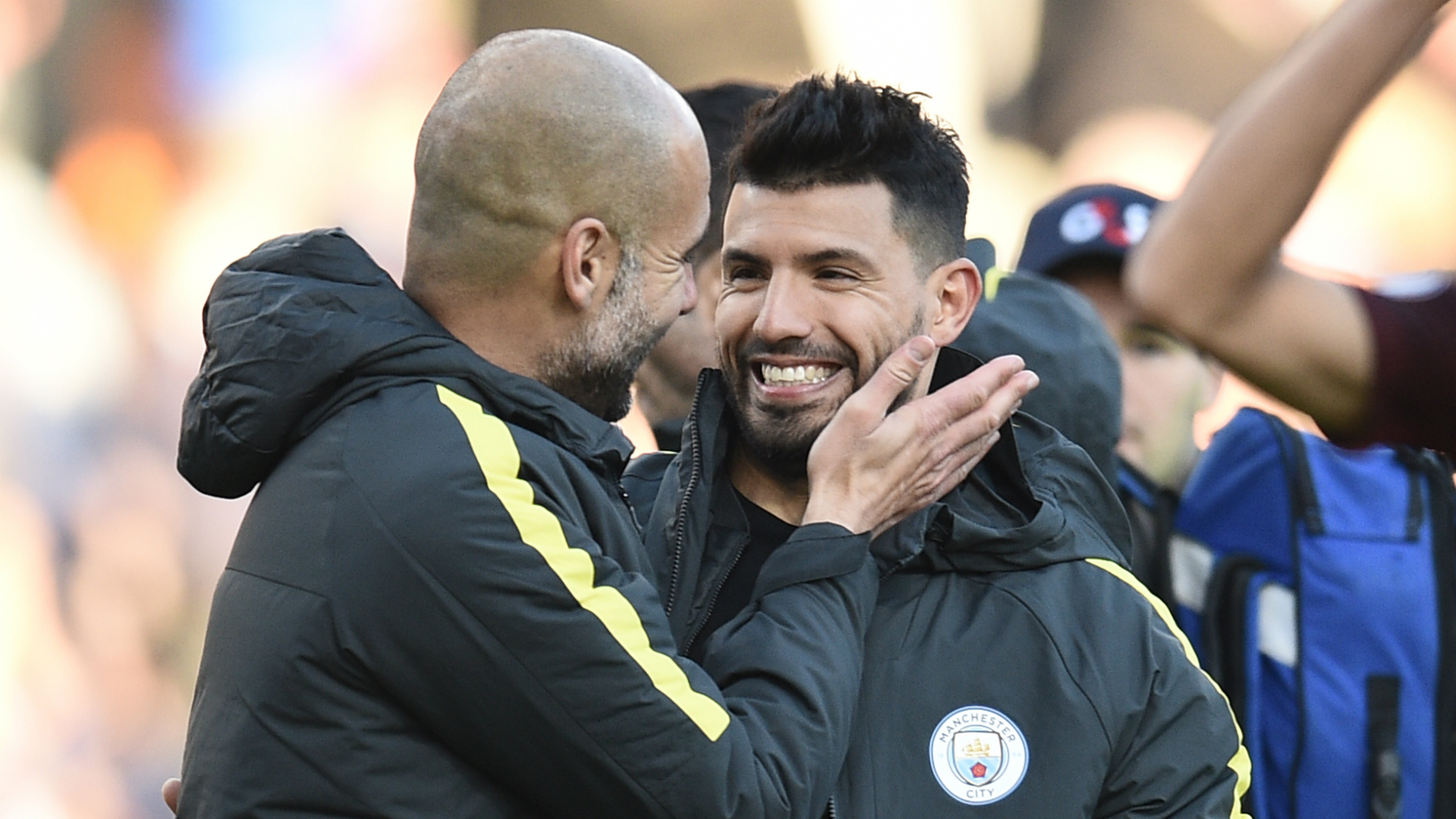 A year ago, after Aguero insisted that he had three months to prove himself, Gabriel Jesus got injured and the Argentine stepped up, adding effort and intelligent movement to his usual flow of goals and in doing so, he proved a point to Guardiola that he can do what had been asked of him all along. 
And in a strange quirk of fate, just after Aguero made it known in December 2017 that he was unhappy again, Jesus picked up another injury. This time the Argentine has grasped his opportunity even more impressively than he did 12 months ago.
Aguero is now playing the best football of his career and regardless of whatever he and his coach think of each other, everything is going so well on the pitch there can surely be no question of the striker leaving for any reason.
Guardiola's happier, too, both publicly and in private.
"Since we were together here with Sergio I think the last month, two months is the best Sergio I have seen," the Catalan said after City beat Chelsea earlier in March.
"Not just scoring goals, but he doesn't lose one ball. He makes a movement for runs in behind, he is the first guy to make a high press, to help that second line be more comfortable with the ball.
"I am so pleased. OK, he didn't score, it's not a problem, he will score in the future, but he did really well."
As Guardiola noted, Aguero did not score against Chelsea but he put in a fine all-round performance, and it was the same three days earlier at Arsenal, when the 29-year-old cleverly dropped back to help his midfielders create the overloads that Guardiola so cherishes.
Aguero was unhappy at losing his place for the Manchester derby in December, and Guardiola has tended to prefer Jesus for games in which he needs more pressing up front and more of a willingness to drop back, but the Argentine has improved so much since the turn of the year it is difficult to imagine him being overlooked for City's biggest matches from now until the end of the season, even with Jesus available for selection.
Perhaps more pertinently, Aguero is playing at such a level that it is difficult to think of any realistic City transfer target who could come in and do a better job than him.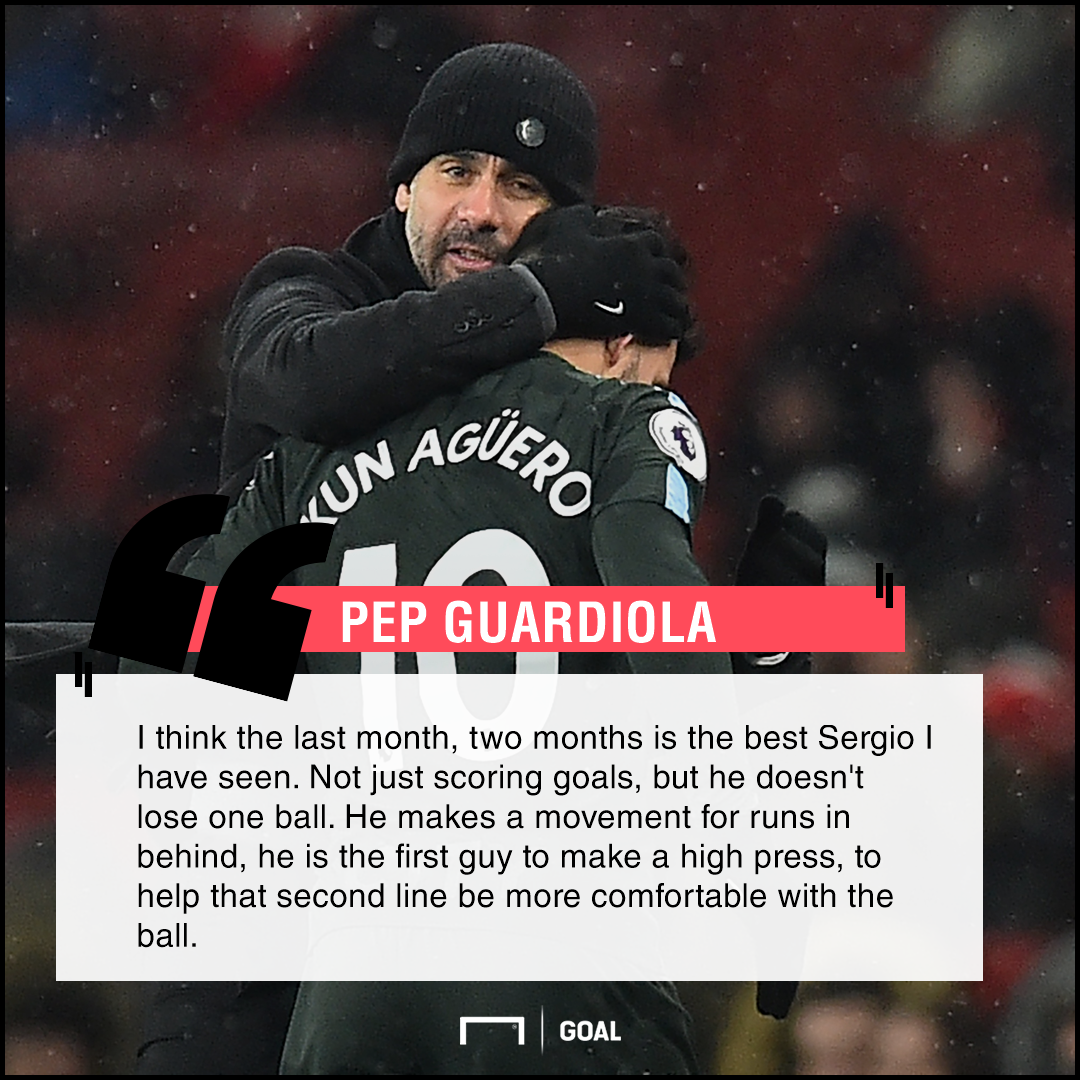 No matter how loyal the vast majority of City fans are to Aguero, plenty will acknowledge that at times during Guardiola's reign he has not always looked the right man for the job. But now he does.
He is playing so well that it simply would be pointless to try and replace him. Last season, despite everything, he maintained his torrid scoring pace and he has 21 already this season – and this is while he has been adding a number of different facets to his game. Not only would a new player have to come in, hit the ground running and work as hard as Guardiola wants, they would have to replicate Aguero's always-impressive goal tallies. 
And that's without replicating his influence in the dressing room, and the surely impossible task of striking up as strong a bond with supporters.
Guardiola won his battle with the City board and got rid of Joe Hart, and while not every fan agreed at the time they surely do now. And with City well on their way to the most impressive title victory in recent memory, the Catalan has so much credit in the bank that he could get away with doing almost anything he wants to the team.
Aguero may well have stated his desire to return to Independiente in 2020 but, right now, his manager surely could not resort to selling him, even if he wanted to. 
They may not always see eye to eye, and they may never do, but Aguero and Guardiola seem to have stumbled into a marriage of convenience. 
Their differences aside, Aguero has only ever wanted to keep his place in the City team, and Guardiola has only ever wanted his strikers to do what he asks. As long as this continues both men will be happy.
Let'