Manchester City's usual suspects struck against Newcastle to ensure the Blues bounced back from their first defeat of the season and prove that missing out on Alexis Sanchez is not the end of the world.
Another set-back would have been the last thing City needed but Raheem Sterling, Leroy Sane and Sergio Aguero, not to mention the support behind them, provided a timely reminder of exactly why City are well-placed in all four competitions this season.
It is true that City pulled out of the Alexis deal on their own terms, but it remains the case that the Blues wanted the Chilean – both last summer and this month – because they believed he would make a huge impact on their season, particularly in the Champions League.
The 29-year-old was regarded as a ready-made addition to the squad, somebody who could provide the kind of cutting edge that is deemed to be sometimes missing from this team.
But while that is the belief of Pep Guardiola and his coaching staff – so it holds plenty of weight – it should be remembered that this team has already scored 70 league goals this season, at least 16 more than anybody else in England. They have 12 more points than their nearest challenger, too. 
[embedded content]
And thanks to their 3-1 win against Newcastle, there are no signs that the wheels are about to come off.
You could imagine the mood at Old Trafford over the next 10 days had City slipped up. With Alexis gearing up to make the kind of impact Guardiola had anticipated, only for Jose Mourinho's team, there would be a sense at Carrington – misguided or otherwise – that a nine- or 10-point lead could be overhauled in the coming weeks.
On a day when Arsenal, Chelsea and United all won – a rare occurrence this season – it would have been particularly bad timing for City to come up short.
But they have put paid to any of those worries before Alexis has even put pen to paper. With the Blues welcoming West Brom in their next league game as United travel to Spurs, the pressure is already back on the chasing pack.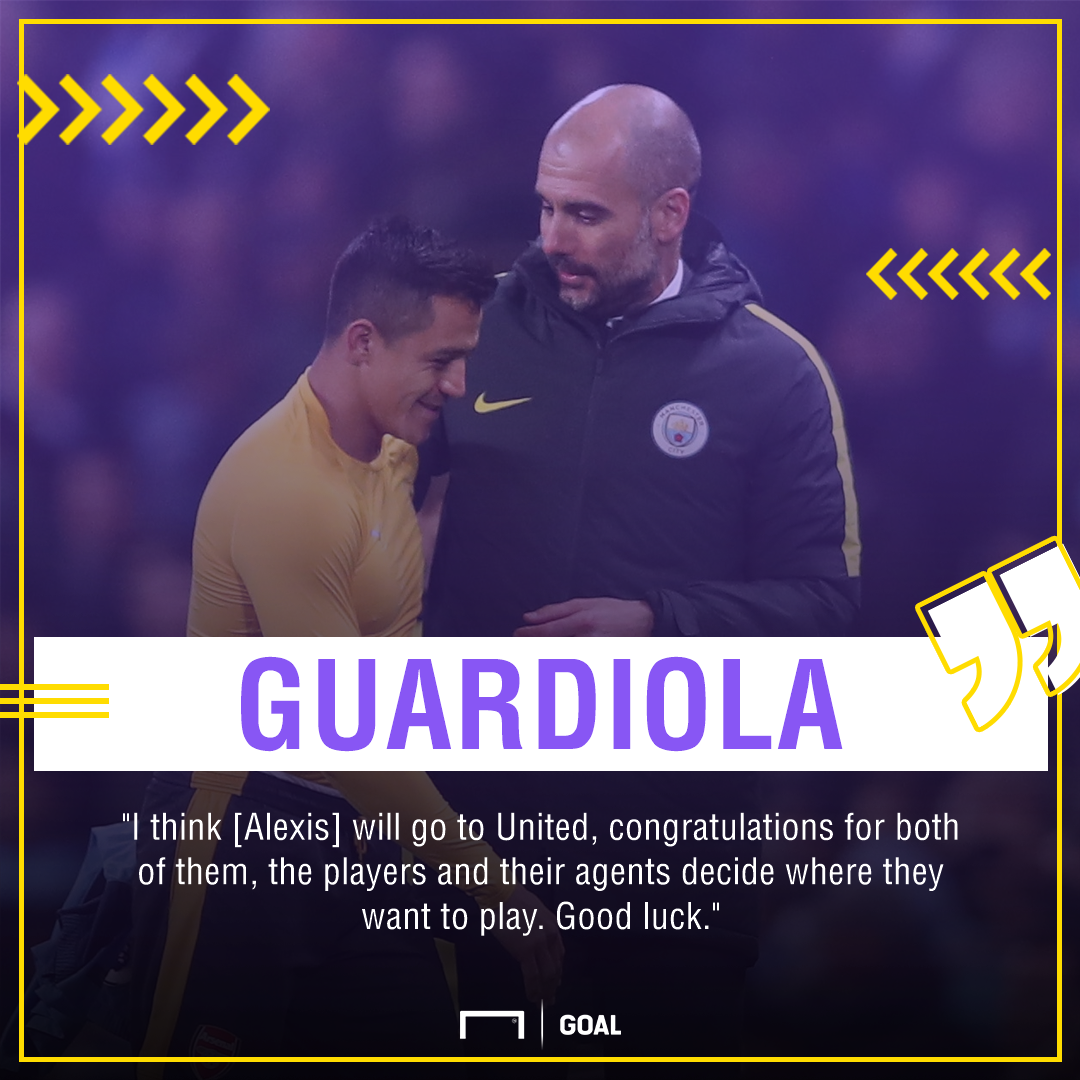 The result on Saturday provided yet more proof that City are already miles clear of the rest, even if they were not quite at their dominant best. Sergio Aguero is less than happy with his situation and would have been less so had Alexis arrived, but he personally bounced back from a difficult afternoon at Anfield with a perfect hat-trick – left foot, right-foot, header. 
That those goals were laid on by an inch-perfect Kevin De Bruyne cross, a penalty won by Sterling's trickery and a breathtaking run by Sane serves as another reminder that things really aren't that bad at all, particularly in the front line.
Guardiola and his bosses are making plans for the future regardless. The Catalan said on Friday that City are trying to "anticipate" the market, and they are working on deals this month to avoid Alexis-like summer sagas. Senior officials have been trying to tie up a deal for Shakhtar Donetsk midfielder Fred , while Nice's Jean Michael Seri is also on the radar. One or both could be signed this month to arrive at the end of the season.
Moves for a top-class centre-back and Alexis replacements, as it were, will have to wait for the summer.
Jonny Evans could yet come in and contribute to the rest of the campaign, even if the 30-year-old former United centre-back may not set many pulses racing, especially if he is City's only January arrival. He, too, has his place in the grand plan – even if that is as fourth-choice centre-back come the start of next season.
There are currently no plans to sign a left-back, either now or the summer. Guardiola says he has a "big problem" in that department given Fabian Delph's injury, yet that situation also serves to highlight how well City have coped with every set-back this season. After all, few gave them a chance should Benjamin Mendy, their only left-back, get injured, and he has been out since September.
Delph, who was allowed to join Stoke City last summer, has deputised so well that his own absence is now regarded as a blow, but Guardiola may have yet another ace up his sleeve. A little over a year ago, City CEO Ferran Soriano told staff at an internal meeting that it was very possible that two of the club's 2016 summer arrivals would never play for the club. Oleksandar Zinchenko and Marlos Moreno, two hot prospects with burgeoning reputations, apparently did not have much of a chance of making the grade at the Etihad Stadium.
Yet at the end of a week when Moreno had a disappointing loan spell with City's sister club Girona cancelled so he could be sent back to South America with Flamengo, Zinchenko is proving that he may well have what it takes after all.
It was said the 21-year-old elected to join City over Borussia Dortmund in the first place because the German side wanted him to play left-back, where he had played only a handful of times for FC Ufa, but it turns out he's quite good at it.
His performances there have not all been perfect but it is obvious that he is getting better by the game, and if he can deputise for the deputy, City's hunt for silverware should continue unhindered.
There are improvements to be made as City strive for European domination, and the failure to land Alexis may well come back to bite them in the latter stages of the Champions League, but while Guardiola is planning for the future, it should not be forgotten that present is going pretty well.
Let'