Yaya Toure had to get out of Manchester City because Pep Guardiola was "killing his career as a footballer", says fellow Ivorian Emmanuel Eboue.
After eight years at the Etihad Stadium which delivered three Premier League titles and domestic cup triumphs, a Blues legend has headed for the exit.
Toure has moved on at the end of his contract, with the 35-year-old having dropped into the free agent pool as he weighs up his options.
He has not gone quietly, with a flurry of insults aimed in the direction of Guardiola from both the iconic midfielder and his agent, with a relationship first strained at Barcelona failing to be rebuilt in England.
Eboue claims to understand the frustration of a countryman, with the former Arsenal defender telling KweseESPN on the need for a fresh start: "As a player, there is a time you completely cannot work with a coach and because of your future, you must go.
[embedded content]
"It was evident Pep Guardiola did not like my brother Yaya right from the Barcelona days.
"It is the best decision for Yaya to get away from Guardiola's territory because he was killing his career as a footballer.
"I think Yaya's last one year has been hell because he was not playing enough. For a professional footballer that is very terrible."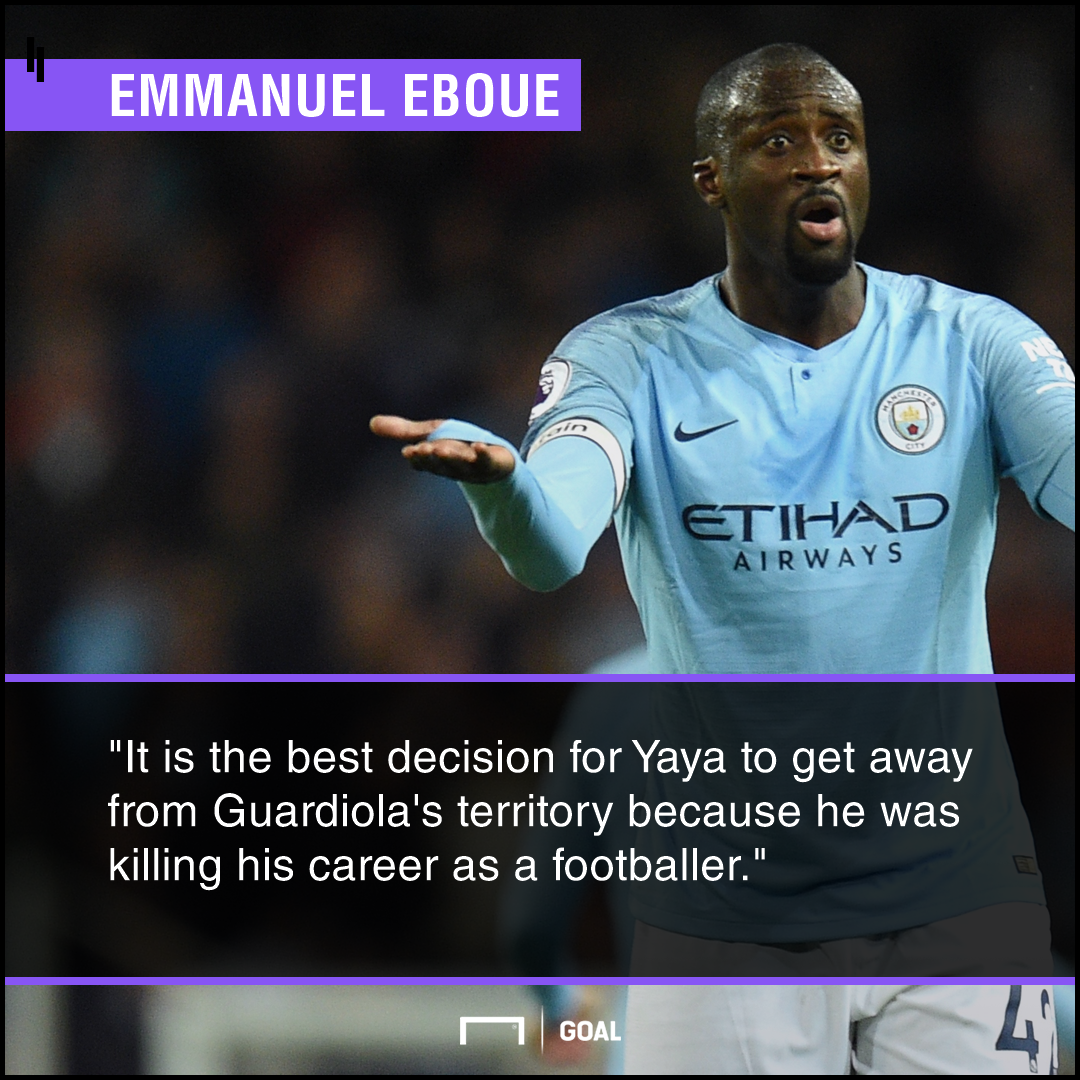 Toure accused Guardiola of being "jealous" of him and having a problem with African players while his agent, Dimitri Seluk, branded the former Barcelona and Bayern Munich boss "worthless".
The Catalan has hit back at what he considers to be "lies", but Eboue believes there were clearly issues between a high-profile player and manager and that a parting of ways is best for all concerned.
He added: "Sometimes it's not all about the money.
"When your relationship as a player is not good with the manager and it does not seem like it will improve, it is always better to move elsewhere.
"Yaya is a great player and leader and I think he still has some years to continue playing at the highest level.
"He is the kind of player who can turn things round and he always wants to win."
Let'