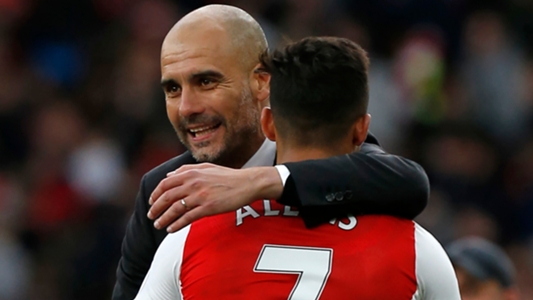 Pep Guardiola has congratulated Alexis Sanchez on his impending move to Manchester United, insisting the Chilean and his agent have "decided what is the best for them".
Guardiola had made Alexis his priority target last summer and this month, but Goal revealed this week he and his Manchester City bosses pulled the plug on their pursuit after discovering that the 29-year-old and his agent had struck a deal with United.
Jose Mourinho confirmed that his side are yet to close an agreement with Arsenal, but admitted that he could not deny that his side "are there" in the race to sign him.
It has been widely reported that Alexis will earn anything between £300,000-per-week and £500,000-per-week at Old Trafford, but Guardiola was not prepared to discuss the financial aspect of the deal.
"I am not the guy with the mathematics, the numbers," he said.
[embedded content]
"At the end what I know is he is still at Arsenal, I think he will go to United. Congratulations to both of them, the players and his agents decide where they want to play, good luck."
Alexis had agreed a deal to join City on two separate occasions during 2017 – last spring and before Christmas – but Guardiola insists he does not feel let down.
"I repeat, the players and their managers decide what's best for both," he said. "There's nothing to add. My opinion of Alexis remains the same. It was always a pleasure to be with him in Barcelona. He has decided to join another club and we wish him all the best."
Speaking generally about January transfers, the Catalan added: "I believe in it if the players adapt quickly and have quality. It depends if they are nice people. We are looking for nice people to come to help if we believe we need them."
Let'