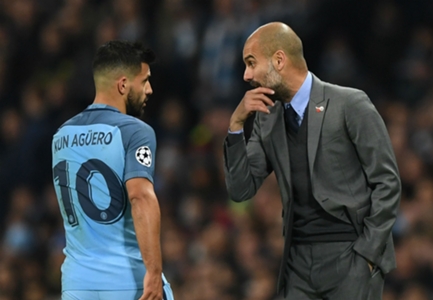 Pep Guardiola has announced Sergio Aguero will not be able to play against Chelsea on Saturday or for Argentina in the upcoming international break, but insisted he has no problem with the Argentina striker spending a day off at a concert in Amsterdam.
Aguero has confirmed he broke a rib when the taxi that was carrying him and a friend back to Amsterdam Schipol airport hit a post in the De Beolelaan of the Dutch capital on Thusday evening.
The 29-year-old will arrive back in Manchester on Friday afternoon after being discharged from hospital, but has missed City's final training session ahead of Saturday's game against Chelsea.
City doctors will assess Aguero when he arrives at the training ground, with Guardiola insisting the extent of the rib injury is not yet known.
But he confirmed the striker will not play against the Blues at Stamford Bridge, and doubted he will be able to join up with his international colleagues.
"I'm not a doctor, I don't know exactly what he had," Guardiola said at a press conference.
"The first impression is that he has a broken rib but the number of days he will be out, I don't know right now.
"Of course it was an accident, fortunately he'll come back and recover as soon as possible."
Asked whether he had a problem with Aguero attending a concert ahead of the top-of-the-table game at Chelsea, he replied bluntly: "No. Day off. I am not the police."
"I have not spoken to him yet. I was busy this morning preparing the training and other things. I'll speak to him after. I know he's ok. It's an accident. He's ok that's the most important thing. He'll recover asap."
On how his players spend their days off, he added: "I think they have to be happy. I want the players to be happy. They have to rest mentally and physically and they have to enjoy their lives. If he decides to go there, that's ok with me."
Guardiola also revealed left-back Benjamin Mendy will not return to the squad until "our Champions League semi-final". The last four of the competition is scheduled for the end of April, meaning the Frenchman will be out for between five to six months.
And the Blues boss says there is "no way" Vincent Kompany will be fit enough to return at Chelsea on Saturday, despite the Belgian having been called up for international duty.
Guardiola says he has already spoken to Belgium boss Roberto Martinez and insists the centre-back is only meeting up with his compatriots to have a meeting, rather than to play.
More to follow…
Let'