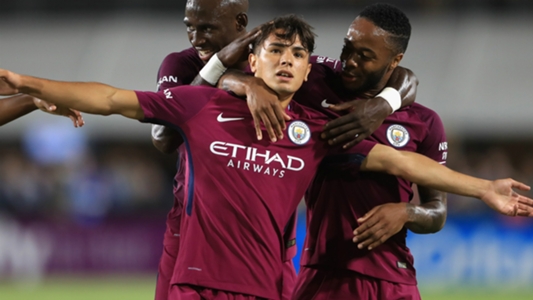 Manchester City boss Pep Guardiola is unsure if he can stop Real Madrid from poaching young talent Brahim Diaz.
Citizens 9/1 to beat Watford 3-1
City managed to tie down 19-year-old centre-back Tosin Adarabioyo to a new contract this summer, but lost Jadon Sancho to Borussia Dortmund despite offering him a £30,000-per-week professional contract.
Highly-rated 18-year-old Brahim has already signed pro terms with the Blues and will be kept at the club until at least December, when his future will be assessed and he could be loaned out to a Spanish club.
But Goal understands that Madrid have long been in contact with the youngster's entourage and have made it clear that they are ready and willing to sign him if the opportunity ever arises.
Guardiola lamented the loss of Sancho a week ago, and though he insists Brahim is happy with the chances of progressing to the first-team at City, the Catalan is wary of Madrid's pulling power.
"We want him, but today the market is the market, the wishes from the clubs, maybe we can't control it," he said at a press conference. "I know, because we spoke with him many times, that he is committed to staying here and playing for Manchester City, because City gave him the opportunity to play at a high level.
"He grew up here, his family is happy here, but we never know. We are going to try of course, because he has to know that even at Real Madrid, even Dortmund, here, at the top level it is not easy to play. But in the end his performance on the pitch decides it."
Following the acrimonious departure of Sancho, who was earmarked as one of the club's three most promising Under-19 players alongside Brahim and Phil Foden, Guardiola says the Blues will continue to do "absolutely everything" to keep their best youngsters, even if in the end the decision rests with the players themselves.
"It depends on the desire of the player," he added. "Of course, the clubs with huge talented players, like City, make the effort to keep them with the salary.
"We did absolutely everything with Sancho, we will do it with Phil, we will do it with Brahim, we will do it with the players we have. We did it with Tosin, of course we want those players to stay with us, but we never don't know."
Let'