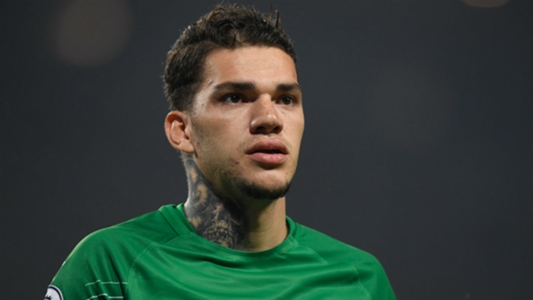 Manchester City goalkeeper Ederson will not be taking a penalty before the end of the season, Pep Guardiola has confirmed.
Following City's victory against Swansea last Sunday Ederson had said that he wanted to take the second-half penalty that Gabriel Jesus had missed, and that he hopes to get another chance in the coming weeks.
But Guardiola has other ideas.
"No, that is not going to happen," he said at his press conference. "Because he's a goalkeeper, there are other players who can take one, respect for the opponents, respect for the competitions." 
The City boss did suggest that Ederson could take one in a pre-season friendly, however, or even in a competitive shoot-out in the future.
[embedded content]
"One situation is a friendly, for a shoot-out, maybe he can do it, but during the game, no."
City face West Ham at the London Stadium on Sunday as they look to finish their title-winning season in style.
Should City win two more games this season they will break the record for most victories in a season – Chelsea won 30 during the last campaign.
City can also beat Chelsea's record goal haul of 103, set in 2009-10, and if Guardiola's side take 10 points from their four remaining games they will be the first Premier League side to break the 100-point barrier.
Let'