For Pep Guardiola, it's all about the details. That is as true now as it was last season, when Manchester City looked far from the fearsome, all-conquering side they do now, and in fact as true as it was 10 years ago, when he was just setting out on his coaching career.
So many doubted that Guardiola could dominate English football like he did in Spain and Germany, but having won the Premier League title in such commanding fashion that is exactly what he has done.
City have spent more than their rivals in recent years, yes, but the gulf between them and their rivals in terms of both class and points is not something that can simply be bought. After all, City spent plenty ahead of Guardiola's first season, too, but the outcome was very different.
Indeed, Guardiola did not do too much differently last season. The markings on the training pitches were the same, the grass was the same length, the full-backs had the same instructions, the midfielders and forwards were pretty much the same, they were told to defend high, to press, to pass. 
The difference is that the smallest details are now in place. 
[embedded content]
Guardiola has been asked countless times what has been the difference between last season and this, and every time the answer is simple: that he and his players have had more time working together.
It sounds overly simplistic, but he is right. The players finally understand exactly what is required of them.
Few City players speak openly about Guardiola's specific methods but Vincent Kompany, via former Blues striker Craig Bellamy, has revealed that the City players now know what is demanded of them to such a level that they have barely worked on tactics in training for months.
"[Pep] has taken a while to get us where he wanted us," Kompany says, according to Bellamy, who was speaking on Sky Sports' The Debate Live.
"[But now] honestly, it's just there, we know what we're doing. It's been programmed into us, he's got us into his way, and now training is just recovery and that kind of stuff because we're programmed into what he wants."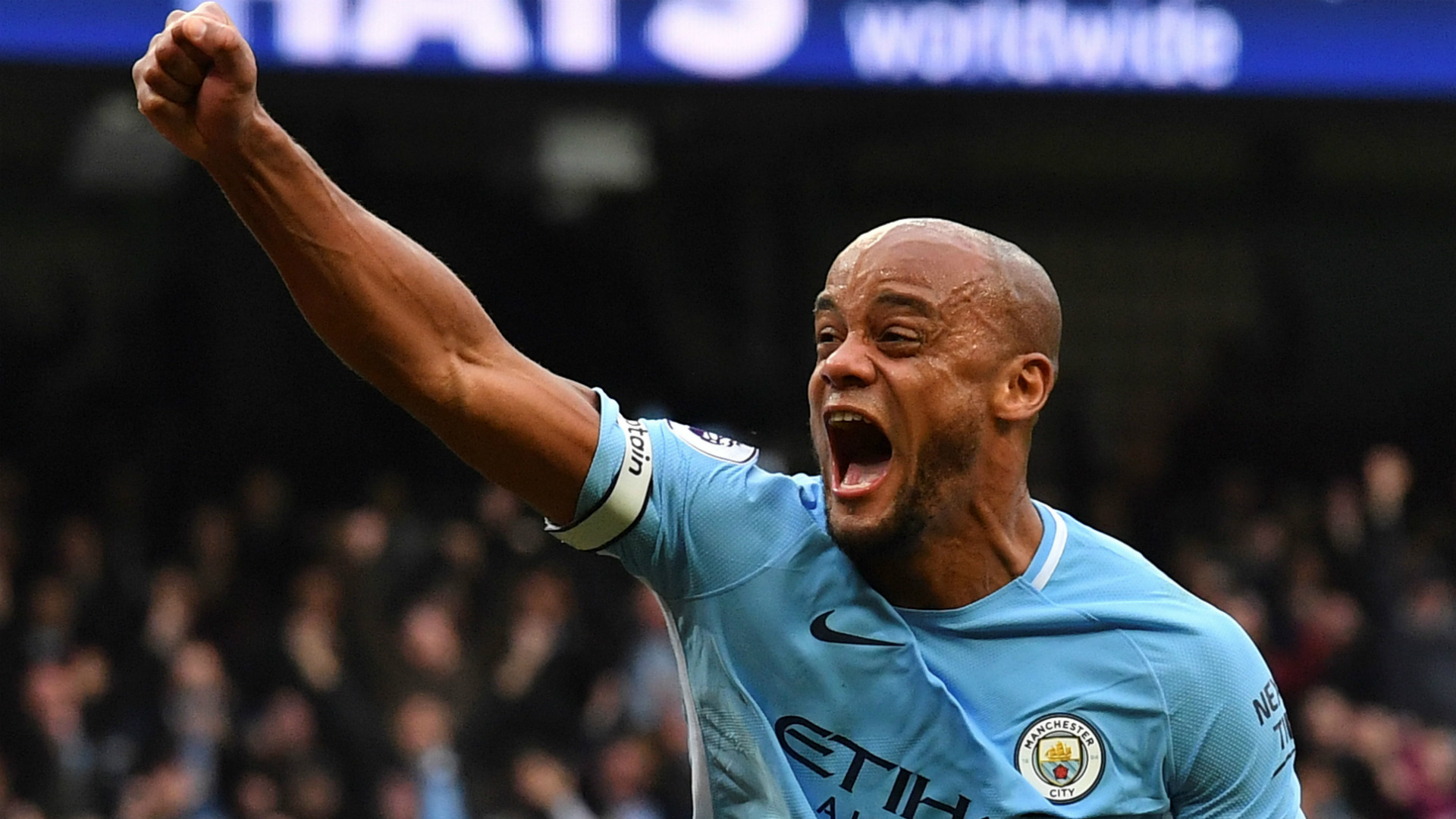 That is the biggest difference between this season and last. There were signs of the Guardiola blueprint during his first campaign in England but City were too often undermined by basic failings, individual errors. 
Thierry Ambrose, one of the club's young hopefuls now on loan at NAC Breda, is another unlikely voice to provide a peek into City's intensely private sessions, highlighting how Guardiola's constant quest for perfection has paid dividends.
"With Pep it's all about possession, possession, possession and if you lose a stupid ball at two or three metres, he will stop the training for five or 10 minutes," Ambrose said recently.
"He will talk about the pass and say, 'Your foot support must be like that, you must see the game before you receive the ball' and really he will stop the training for 10 minutes. After that, you don't want to lose the ball any more."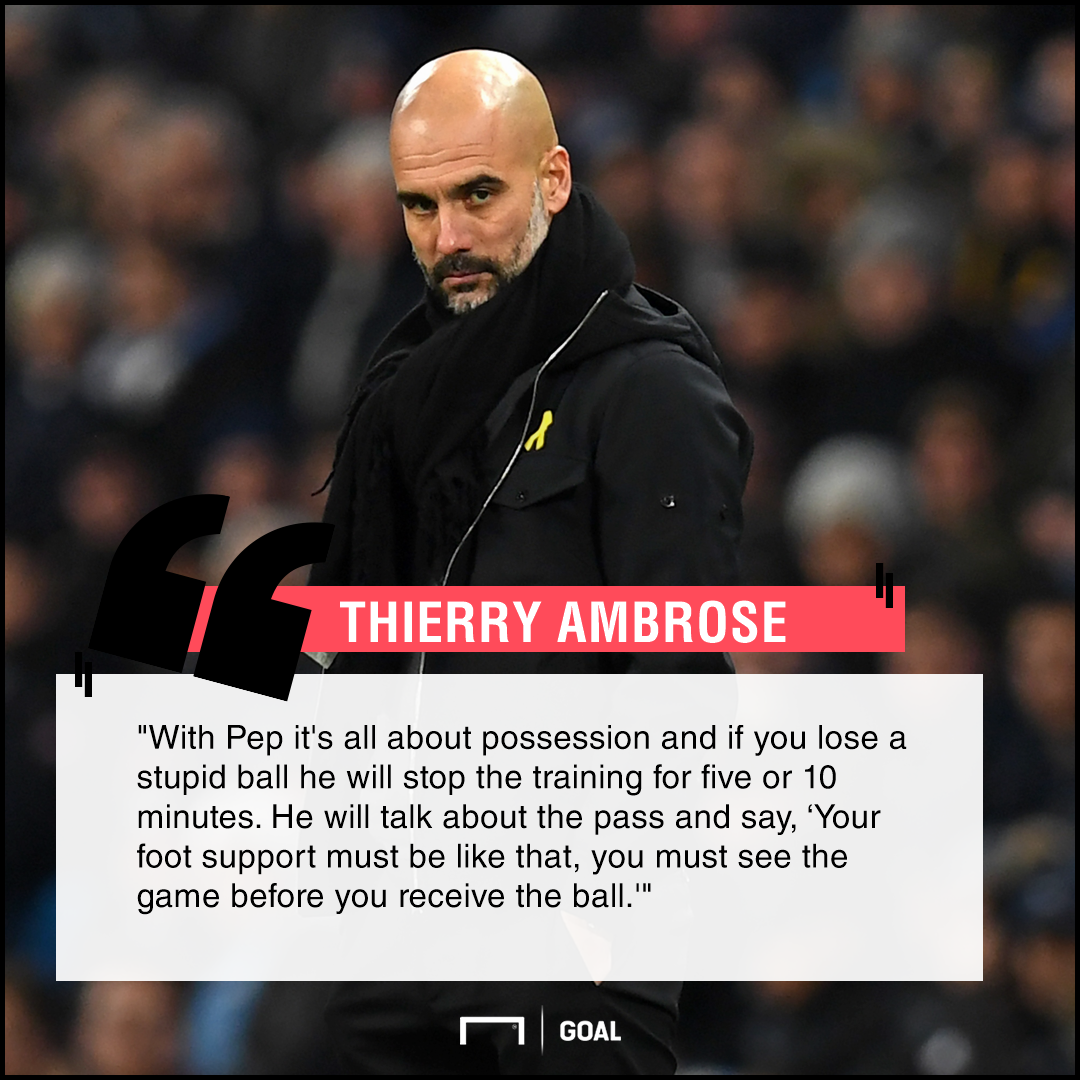 This is how Guardiola has always been, and we know this not just because many of his former players have relayed the same story, but also because a video surfaced on Twitter last week, highlighting this very approach during his early days at Barcelona B.
Brilliant footage about the DETAILS that Pep Guardiola believes since FCB 2007 – City 2017.
Body orientation, information, 3rd man concept.
"Cruyff once told me one detail: When you have the ball, the first thing YOU MUST DO is TO LOOK AS FAR AS YOU CAN" @PepTeam @GuardiolaTweets pic.twitter.com/PBqFGGzHuO
— Mindfootballness (@slawekmorawski) March 31, 2018
You could not even say the training session was at walking pace – the players were standing completely still, listening to the Catalan (looking considerably younger than he does now) explaining fields of vision and how to position yourself when you get the ball – just as Ambrose said a matter of weeks ago.
It is the exact same thing he has been telling his City players, and notably Raheem Sterling. At the back end of 2017, a video (incidentally tagged onto the end of the one above), showed Guardiola telling the England man how to position himself when receiving the ball. The very next day, Sterling put it into practice in a Champions League game against Feyenoord, latching on to Ilkay Gundogan's pass to score a late winner.
"I would be controlling it with the outside of my foot, slowing the ball down," Sterling said while on England duty recently. "He's telling you to get to the left-back quicker. He brings you back to what you used to do with the Under-8s, open your body up, gets the rhythm going again.
"It's simple stuff, stuff I already know. When you're playing a game, you probably don't pick up on it."
Sterling has scored a career high 22 goals this season, many of them one-touch finishes, highlighting that he is one of the many City players who knows exactly what is required of him.
And reasons like that are why Guardiola felt comfortable sending his side out for the game against Watford at the start of the year with no instructions whatsoever. They were told to work it out for themselves. They scored after 38 seconds. It was Sterling with another tap-in, finishing another well-crafted move.
It is a bonus, of course, that most of last summer's new signings have picked up Guardiola's methods so quickly, and that they did not need a one-season bedding in period.
The signing of Ederson, a largely unheard of 23-year-old Brazilian, has proven to be a masterstroke. The youngster is everything Guardiola wanted – needed – from Claudio Bravo; his distribution is so good and so varied that City have so many more weapons in their arsenal. Whether Ederson goes short or long, the opposition don't know what's coming.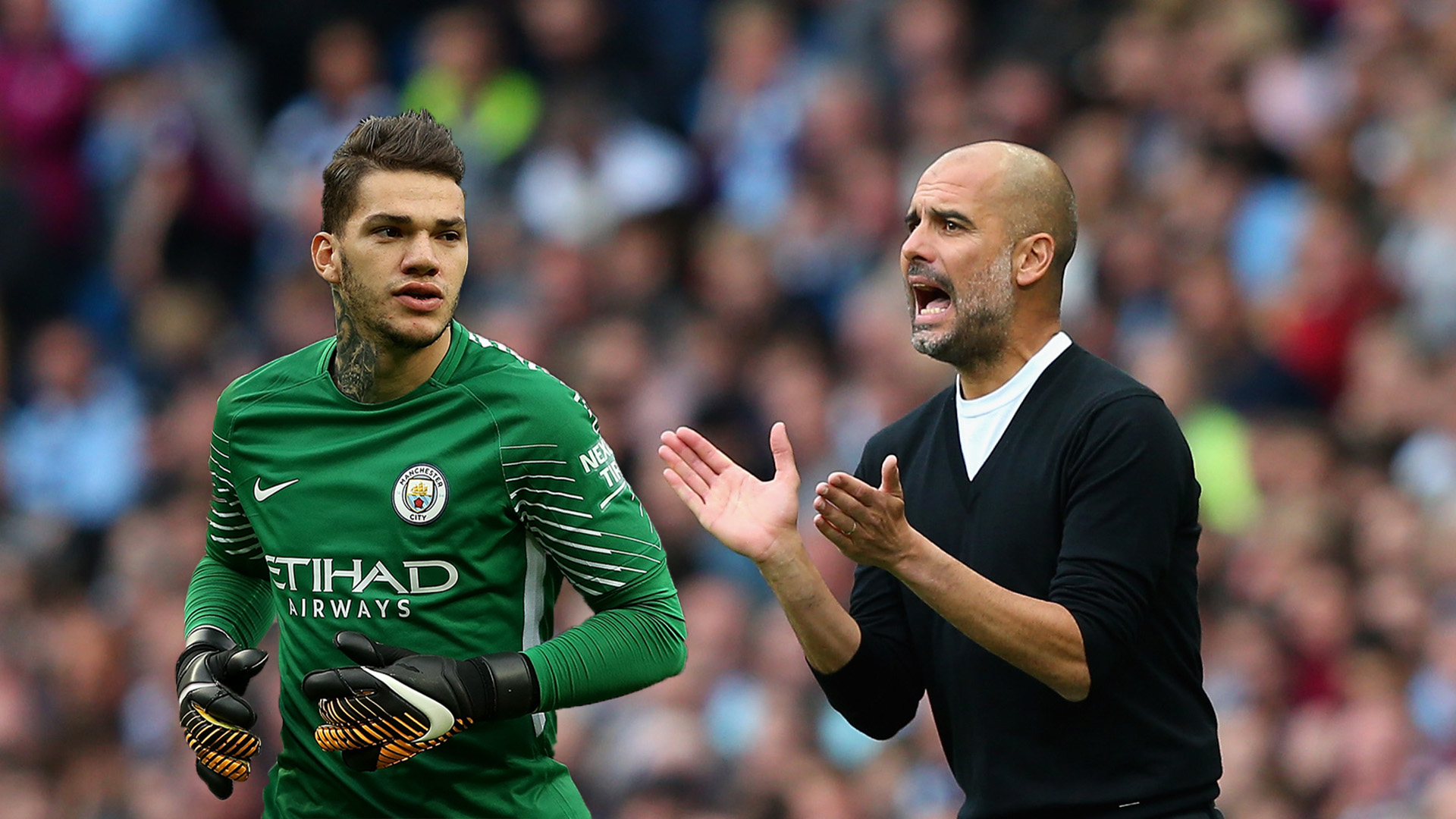 And then there's Kyle Walker, who best sums up the difference in quality between Guardiola's first and second seasons. He is everything Guardiola wants in a full-back, and a considerable upgrade on the ageing Pablo Zabaleta and Bacary Sagna, who so clearly struggled with what was being demanded of them.
In terms of the supporting cast, Bernardo Silva appears to be growing into his City career, whereas Nolito (remember him?) quickly grew out of it.
But the fortunes of Walker's fellow full-back arrival, Benjamin Mendy, highlight that City's success is not just about the quality of player on the team sheet, or the amount of money spent.
Mendy had made a fine start to his City career, bombing down the left and putting in crosses of stunning accuracy, and with the Frenchman in the side Guardiola found a way to play Sergio Aguero and Gabriel Jesus together. In fact, with those two and Sterling on the team-sheet, City were playing with three No.9s. The 6-0 win at Watford, a display of utter domination, suggested this was the way to go.
So, Mendy's injury represented something of a worst-case scenario for City. They had bought no other left-backs, and losing one of their fundamental signings for most of the season was seen as a huge blow.
Yet Guardiola adapted. Instead of finding another player to fly up the wing from left-back, he got Fabian Delph to go into midfield instead. Leroy Sane, who was struggling for gametime with Mendy around, was the one charged with staying wide.
With Sane's position opening up space between himself and the central striker, David Silva had extra room to manoeuvre, which is why he has so many goals and assists from the left-hand side of the penalty area.
That signified a major change in approach this season, albeit one which went under the radar, and there have been countless other in-game tweaks that have made it almost impossible to lay a glove on City.
At Old Trafford in December, the decision to bring on Ilkay Gundogan and put Fernandinho at centre-back was designed to send a message to United that City would keep playing their game, no matter what.
At times this season they have started with no striker, allowing Bernardo, Sterling and Sane to switch positions constantly. Against Everton over Easter, it looked like everybody was playing everywhere: Aymeric Laporte as both an orthodox left-back and a centre-back in a back three; Sterling as a false 9, working alongside Gabriel Jesus; De Bruyne in a deeper role alongside Fernandinho; Walker on the right wing. 
Against Tottenham on Saturday, in the win that ultimately clinched the title, Guardiola called for a 3-5-2, with Delph as a traditional wing-back and Sterling as a central striker, to see off the Spurs threat.
There have been times when Guardiola's changes have not always looked so convincing, and these tend to have come in the biggest games; in the Carabao Cup final and against Liverpool in the Champions League the Catalan has shown he is still prone to aiming for ultra-possession by fielding Fernandinho, Gundogan, David Silva and De Bruyne in the same team. They beat Arsenal, although only looked comfortable when Fernandinho was forced off injured, and it cost them a heavy defeat at Anfield.
But the overwhelming evidence suggests City are still too much for anybody to handle – indeed, they are just the third champion of the Premier League era to beat every other team in the division.
And all this because, after more than a year together, the City players now understand almost everything that Guardiola wants them to do. 
Imagine how good they'll be another 12 months down the line…
Let'