Manchester City stars scrambled to an unlikely destination to celebrate their Premier League title victory on Sunday evening – a traditional British pub on the outskirts of Manchester.
Vincent Kompany, Kyle Walker, Fabian Delph, John Stones and Bernardo Silva gathered at the Railway, around 30 minutes from Manchester city centre, shortly after the Blues were confirmed as champions thanks to United's shock defeat at the hands of West Brom.
City captain Kompany watched the United match with friends and family in nearby Irlam, and was responsible for organising the celebrations.
After Facetiming Kevin De Bruyne, who was out of the country with his family, Kompany roused a number of nearby team-mates and took them to the Railway.
The pub describes itself as "truly traditional" and advertises "Great British homecooked dishes served with a smile". The closest thing to a roped-off VIP area is a chalkboard above one end of the bar, which reads "Roy's corner, invitation only".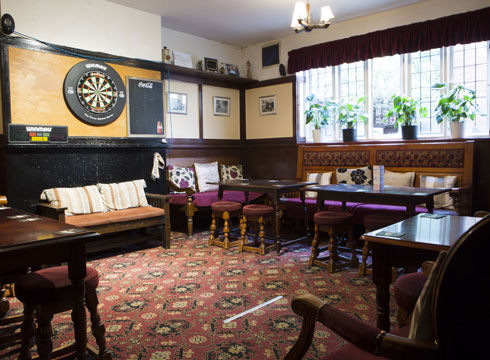 (Robinsons Brewery)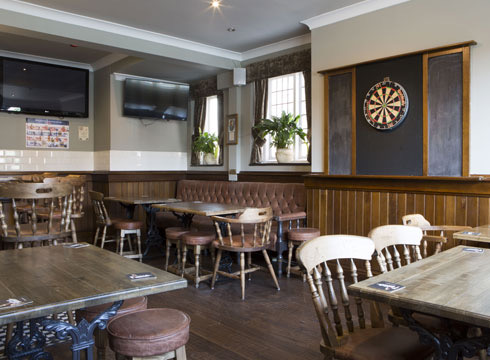 ​(Robinsons Brewery)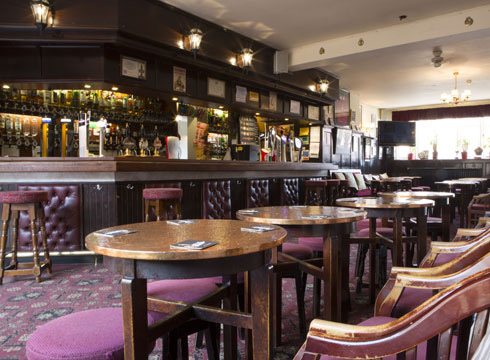 (Robinsons Brewery)
Hale is one of the most exclusive Manchester suburbs and is home to footballers, golfers, business leaders and television stars. It boasts a number of bars and restaurants popular with the super-rich, such as San Carlo Fiorentina, an offshoot of the famous city centre spot famous for its celeb-spotting possibilities.
But the Railway is better suited to quiet afternoons spent drinking modestly priced local ales and watching football on the television.
That is exactly what a number of United fans had done on Sunday as they gathered to watch the game against the Baggies, little over a week after noisily celebrating the Manchester derby victory that delayed City's coronation. 
Indeed, just a glance around the bar area suggests this is more of a United pub than a City one – there is a signed Red Devils shirt from the 1996-97 season framed on the wall, alongside paintings of Old Trafford.
[embedded content]
But City fans are no strangers to the Railway and they grew in number on Sunday evening as word got round that several players, plus members of the backroom staff, were mixing with locals and buying drinks for those in attendance, including Guinness and Jagerbombs.
Videos posted on social media show the players singing the famous "Yaya/Kolo" Toure song, among many others.
In a short speech to long-serving fans Kompany bellowed: "If there's kids in the room, cover their ears or send them out.
"It's a been a f****** long journey, especially if you have been a blue for more than 40 years in your heart. But tonight, we won it again! So let's celebrate together…"
Captain, leader, legend 🔵🔵 @VincentKompany@ManCity@City_Watchpic.twitter.com/CGIg5HGkIQ
— Alex Hunt (@AlexHunt01) April 15, 2018
pic.twitter.com/HHvJDwkejY
— James Matthews (@JamesM1717) April 15, 2018
However, the unexpected nature of City's coronation ensured only a handful of the squad were around Manchester at all.
Pep Guardiola, who himself was playing golf when Jay Rodriguez notched West Brom's winner, has given his players time off until Wednesday following the win at Tottenham.
As a result, David Silva had returned to Valencia to be with his family, Ederson attended Benfica's game with Porto in Lisbon, and Leroy Sane and Ilkay Gundogan were in Germany watching Schalke, Sane's former club, face Borussia Dortmund, Gundogan's former side.
Others, like Sergio Aguero, who is recovering from injury, and Nicolas Otamendi were at home in Manchester but celebrated with family and friends. Brahim Diaz spent the evening playing Fortnite on the PlayStation with friends, while Phil Foden is not legally old enough to drink alcohol.
Guardiola spent Sunday afternoon at Cheshire's Sandiway golf course with his son, Marius, and English professional Tommy Fleetwood, who is ranked 12th in the world.
Kompany's crew moved on to Hale Wine Bar after settling the long bar tab at the Railway.
The crowds followed them across the road, leading to long queues back down the street.
Inside, Bernardo Silva was seen singing Oasis' 'Wonderwall' – which is played in the Etihad Stadium dressing rooms ahead of every City home game – while Walker wrote "City" in the condensation with his finger.
The players left at around 22:30 to continue their celebrations privately, but not before crowning the season in style for hundreds of fans who were given the opportunity to celebrate with their heroes.
Let'