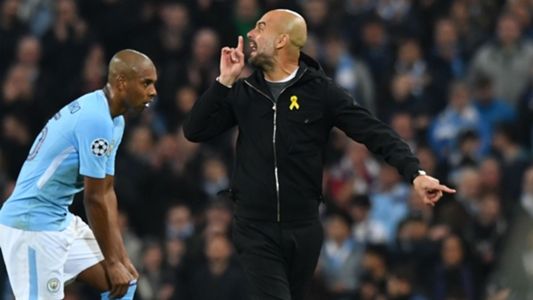 In the end, for all Manchester City can look back on the ifs and buts, the nearly moments that were both in and out of their control on a wild night at the Etihad Stadium, what cost them against Liverpool were their own shortcomings.
Gabriel Jesus' goal after just two minutes set up a frantic night in Manchester but Mohamed Salah's cool finish, after nearly an hour of constant City attacking and controversial refereeing decisions, all but finished the tie.
Predictably, on the evidence of the last two games, City were their own worst enemy when Nicolas Otamendi slipped near his own box, gifted Firmino possession and watched on as the Brazilian calmly slotted in his side's second of the night. That did finish it.
City had been brilliant up until that point but the inquest will show another flaky performance when things went against them.
After damaging defeats against Liverpool in the first leg and against Manchester United at the weekend, Pep Guardiola had insisted he had been happy with his team's reaction to conceding three goals in little over 15 minutes, despite the fact that they looked shell-shocked on both occasions.
[embedded content]
He said that if the same happened here, it would at least stand them in good stead for the future. After giving this all they could in the first half, that is all the consolation they are left with as they now re-focus their minds on sewing up the Premier League title. And it's Tottenham away on Saturday.
Yes, City can have legitimate complaints about the referee here.
Guardiola himself was sent off at half-time for confronting Spanish official Mateu Lahoz after City were denied what would have been their second goal by a questionable offside decision. Following a scramble the ball rebounded off Reds midfielder James Milner, towards Leroy Sane and into the back of the net. It was ruled out, only adding to the Blues' frustration after they had just seen Bernardo Silva crack a superb effort off the post.
City also felt they were hard done by last week at Anfield – on another night Salah would have been flagged offside before the Reds' early opener, while Jesus' tap-in after Sane was ruled offside would have handed them a vital away goal. Both decisions were extremely tight. These are the margins at this level.
Liverpool were on the ropes in the first half and their goalkeeper, Loris Karius, took to timewasting from the seventh minute onwards. It had seemed that Lahoz was ready to add that time on at the end of a first half which also involved five yellow cards, but he blew exactly on 45 minutes.
And City's frustration only grew after half-time when Firmino, who was booked for curtailing a Kevin De Bruyne break in the first half, did exactly the same thing, but avoided punishment, or even a free-kick.
But while the Blues can feel hard done-by about what might have been, they will also have to look at themselves. As soon as Salah scored, that was that. City, again, had no answers.
Salah's goal was similar to his opener last week; then, City keeper Ederson failed to adequately deal with a shot and Salah took full advantage at the back post. Now, Ederson had initially looked to have done well to thwart Sadio Mane, but fumbled the ball into the Egyptian's path and he made absolutely no mistake, clipping in a delicate finish.
City, as on Saturday against United, came forward again but lacked any sort of conviction. They probed for 11 minutes but not particularly menacingly, and then they left the outcome in no doubt when Otamendi slipped. The Argentine has improved greatly in the last year or so but he, as much as any of his team-mates, has shown that he is still prone to a mistake when put under scrutiny.
The final 13 minutes petered out. A stark contrast to their blistering opening.
Guardiola deserves credit for setting his team up for a comeback, and while his starting XI looked inexplicable to many of us, his players clearly understood it. In the first 45 minutes they were a whirlwind, every bit as good as Liverpool were in the first half last week.
As well as hitting the post they created a number of openings, little opportunities to pick out a man free in the box, but their intricate passes, for once, failed to find their target.
Fernandinho in particular was superb in that period, breaking up the visitors' breaks and setting up City's attacks, and were it not for those fine margins the Blues would have been in a much more commanding position at half-time.
The thunderstorm Jurgen Klopp predicted had arrived. The problem for City was that Liverpool weathered it, and the moment the Reds hit back with something of their own, Guardiola's men simply had no answers.
Let'