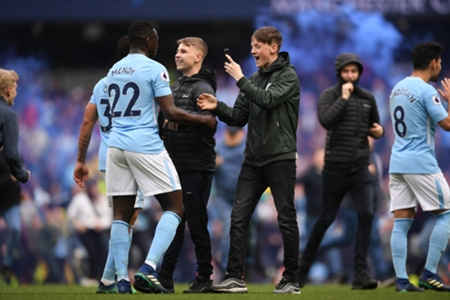 Manchester City will face no action from the Football Association for the pitch invasion that followed Sunday's victory over Swansea City.
Thousands of fans went on the pitch after the final whistle was blown on City's 5-0 victory, their first game at the Etihad Stadium since being crowned champions a week ago.
The FA studied footage on Monday but have decided that the Blues have no case to answer, in part because no disciplinary issues arose and no incidents of trouble were reported.
Some people are on the pitch, they think it's all over. It has been since Christmas pic.twitter.com/FZ2QEIsaBw
— Sam Lee (@Sammy_Goal) April 22, 2018
Yaya/Kolo pic.twitter.com/eNVcQikyPo
— Sam Lee (@Sammy_Goal) April 22, 2018
It had been put to City boss Pep Guardiola that City would face action from the governing body, but he was unmoved at the prospect.
"No problem," he said. The Catalan then argued that supporters should be allowed to celebrate: "Football is an emotional game. I understand you have to be careful, but when they feel they want to share that they are happy, it is better they stay where they should stay, but I'm not going to tell them don't do that.
[embedded content]
"If they are happy I like to be close with the team. They show how happy they are and that is the most beautiful thing we can live like professionals a manager and football players. We felt that today. The fans here were so happy.
"Just arriving on the bus [before the game] the way people look at us and celebrate in the stadium and jump. I'm sorry that's good. It's time to celebrate it. I'm not going to tell anybody don't enjoy it. I'm not going to tell them."
Let'