As the clock ticked over to 21 minutes during the first half of Manchester City's FA Cup game with Burnley on Saturday, fans at the Etihad Stadium rose to their feet to demonstrate their heartfelt support for David Silva.
City's iconic No.21, revered as the club's finest ever player by many of those present at the weekend, has displayed an incredible temperament by playing on during an incredibly traumatic time for himself and his family.
Such is the intensely private nature of his ongoing situation, it is best to stick to what he and his manager, Pep Guardiola, have been willing to disclose publicly.
Silva revealed last week that he has missed several City games in recent weeks because his partner, Yessica, prematurely gave birth to their son.
"I want to thank all of you for the love and good wishes received in the last few weeks," he said. "Special thanks to my teammates, the manager and all at the club for understanding my situation.
"Also I want to share with you the birth of my son Mateo, who was born extremely preterm and is fighting day by day with the help of the medical team."
A post shared by Benjamin Mendy (@benmendy23) on
After City beat Tottenham in mid-December, City's players paid tribute to the absent Silva, holding up his shirt and using their fingers to spell out '21', the number he has made his own.
Guardiola has also handled the issue sensitively, insisting the midfielder can take as much time as he likes away from football. 
"It doesn't matter if we drop a lot of points while he is not here, family is the most important thing," he said, and he means it.
Having missed games against Spurs and Leicester City, Silva returned for the pre-Christmas clash with Bournemouth, before returning to Spain and sitting out trips to Newcastle and Crystal Palace before the New Year.
After he returned once again for Watford on January 2 (a day before Silva revealed the nature of the problem to the public), Guardiola hinted he may need more time off in the future.
And when asked about the playmaker's availability last Friday, the Catalan said he did not know whether he would be able to play against Burnley. He did play, of course, but the City boss was not misleading anybody; such is the delicate situation Silva is in, Guardiola does not know from one day to the next whether the midfielder will be ready or not.
In fact, around the time of Guardiola's press conference, Silva was flying back to Manchester. He landed early afternoon on Friday, trained at 4pm and proved he was indeed ready to play the next day. Against Burnley he was, as usual, among City's best performers, and without prior knowledge you would never have been able to guess that he has such serious issues on his mind.
Shortly after the match he returned to Spain, where he is expected to stay for the rest of the week before a decision is made regarding Sunday's match at Liverpool.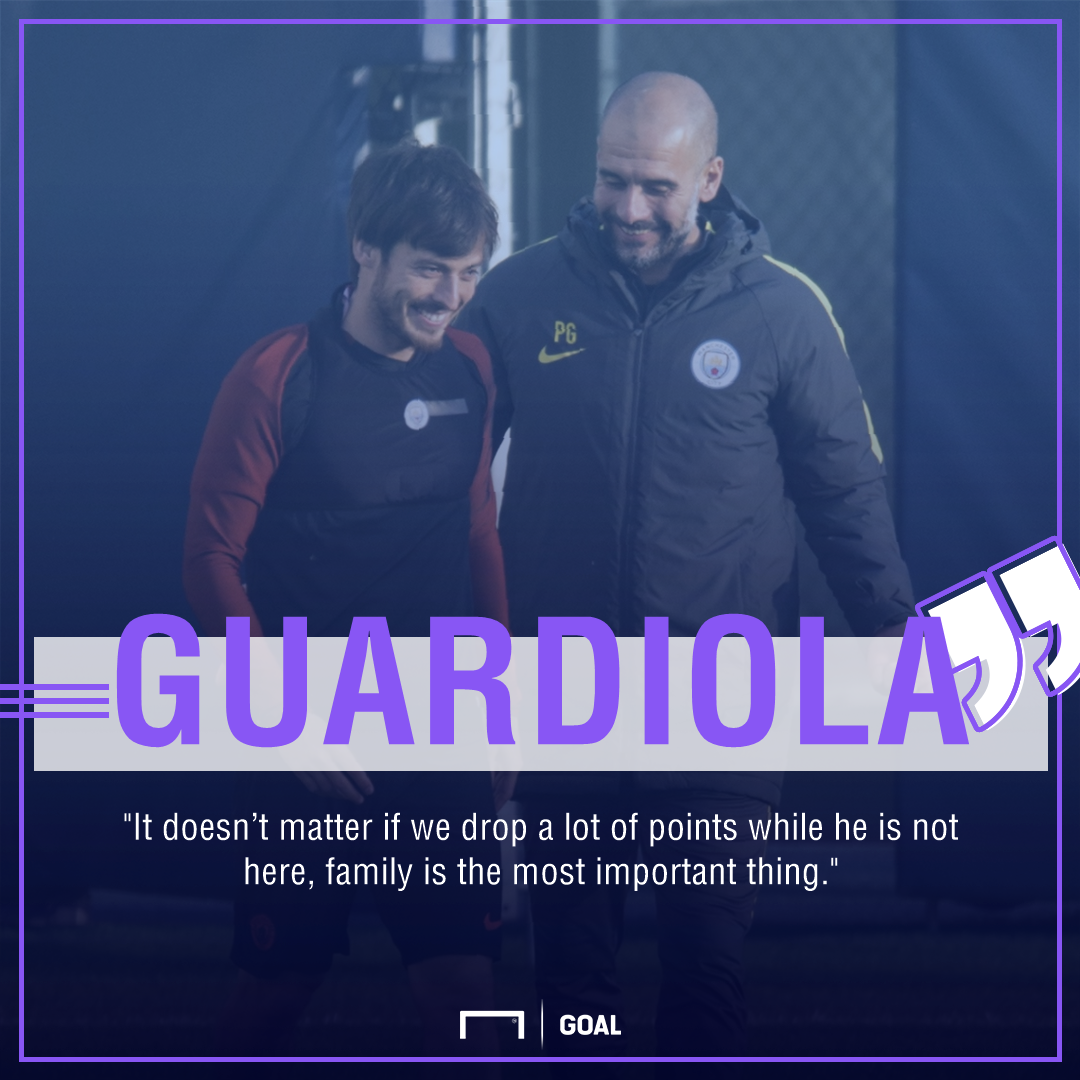 "It's not easy to go to Spain and come back, to go to Spain and come back, and to play the way we play," Guardiola said after the Burnley game. City's efforts in all four competitions are testament to how hard their players work, even if their exertions may be taken for granted because they regularly make it look so easy.
But even for those of us who have experienced similar issues in our private lives, it is incredibly difficult, if not impossible, to comprehend how Silva is managing to deal with such a distressing time while maintaining not only the mentality to want to play on, but the ability to actually do so, never mind for perhaps the best team in Europe this season.
While he has been there for Yessica and many other members of the family in recent weeks, he has also been keeping his fitness up by training on his own at the headquarters of his former club, Valencia, where he is still very well regarded.
To balance two incredibly demanding, yet very different, situations so admirably is nothing short of remarkable. Any man who has experienced, or is experiencing, anything similar will know you do everything you can to comfort your partner. There can even be a feeling, perhaps even guilt, that the pain they are going through is so much worse than your own. That is hard enough to deal with, so much so that it can be hard to leave their side.
The good news is that things are "going well" in relation to Mateo's progress, as Guardiola revealed on Saturday, but the mental toll of the initial scare combined with the persistent worries associated with premature births will continue to be a burden for potentially many weeks to come.
City as a club have done everything possible to help Silva and his family through this difficult time, and they will continue to do so, but the strength he has found within himself is worthy of praise. City fans and neutrals alike should continue to show their appreciation.
Let'