Manchester City have ramped up their transfer plans after missing out on Alexis Sanchez and are now trying to bring in both Aymeric Laporte and Fred this month, Goal has learned.
City are alarmed at having missed out on several key targets, including Laporte, since Guardiola arrived at the club in 2016 and after seeing Alexis join Manchester United they will try to rectify their approach in the final days of the current transfer window.
Laporte provoked anger at City by pulling out of a deal to join the club in 2016, and for that reason he was not considered as a target throughout last summer, even as the Blues cast their eye over several potential new centre-backs.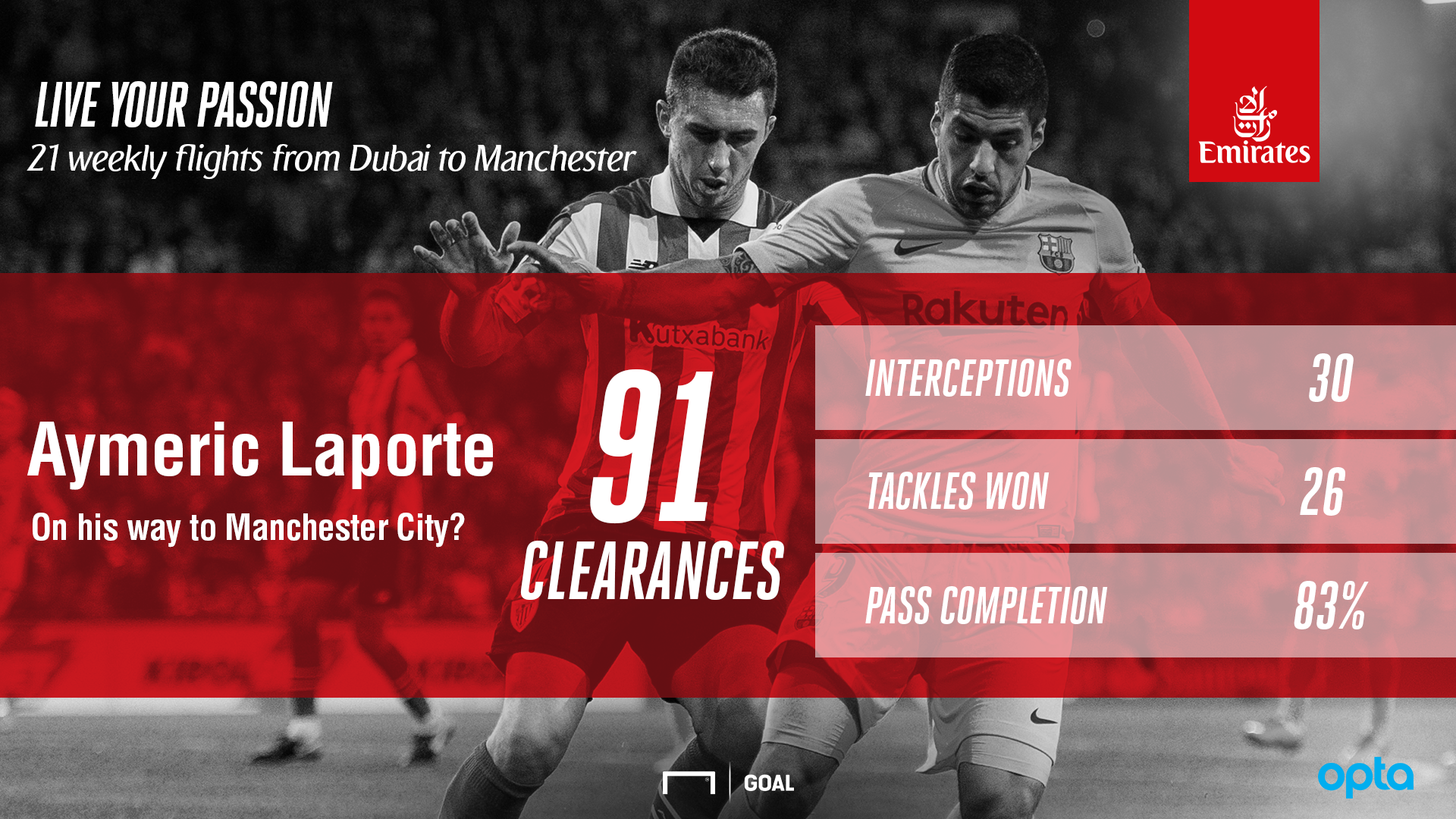 But after missing out on a number of other targets for the position, including Virgil van Dijk twice, and with the Alexis debacle at the forefront of their minds, sporting director Txiki Begiristain has contacted Laporte's agent about the prospect of joining the club once again.
It is understood the 23-year-old has shown sufficient desire to join City, though an agreement is not yet reached and he would face a major decision over whether to leave Athletic Bilbao, his boyhood club, midway through the season.
[embedded content]
Should he pledge to join City this month – and not pull out at the eleventh hour, as he did 18 months ago – City know that they will be able to pay his buy-out clause of €65 million.
Goal reported in December that City had been keeping tabs on Fred , and also reported over the weekend that they are hopeful of wrapping up a deal with Shakhtar Donetsk before the end of the month.
But while it was expected that he would be allowed to stay at Shakhtar and move to England in the summer, in recent days City have been trying to convince the Ukrainians to let him leave now.
As reported at the weekend, City are hopeful of signing him at some stage, although the structure of the deal is yet to be put in place and his exact arrival time will also be another factor to be decided during talks over the coming days.
The 24-year-old would be cup-tied for the Champions League, although that is not a problem for City, who see him as the long-term replacement for Fernandinho and somebody who could also play left-back if required.
It is believed any deal, for either now or in the summer, would total around £40m. Nice midfielder Jean Michael Seri is of interest to City but is considered a back-up option to Fred.
Pep Guardiola last week spoke of the club's desire to "anticipate" the transfer market by doing deals in January, and he also believes transfer fees, in general, will be cheaper this month than in the summer.
During a press conference on Friday, Guardiola also said City would be "unlucky" if they had to do the bulk of their business following the end of the season, and it is understood that the decision to accelerate their plans was only taken in the past few days.
Goal reported on Saturday that the club had held a transfer meeting before their victory over Newcastle and that they were hopeful of completing a move for Jonny Evans this month.
It had been heavily rumoured last week that the Northern Irishman had already sewn up his move to the Etihad Stadium, and indeed already picked the No.6 shirt, although that is not the case.
And it has now emerged that while the groundwork has been laid for a move, and could yet be invoked if required, Evans' arrival is likely to hinge on City's bid to sign Laporte this month.
Should Laporte arrive, which is still to be decided, it is unlikely that Evans would also be brought in.
Evans is considered as a solid option who is strong in all of the key areas most desired by Guardiola – passing out from the back, in aerial duels and one-on-ones – but even so, City had planned for him to start next season as fourth-choice centre-back, given they were planning to pursue another defender in the summer.
But those plans have now been brought forward and Laporte is the man they have decided upon, news which was first reported in Spain on Sunday.
City's latest approach to the January transfer is their third in the last month.
In December they had prioritised a centre-back and had eyed up moves for Virgil van Dijk, Inigo Martinez or Evans, and were prepared to leave a move for Alexis until the summer. Those thoughts had changed by the start of January, with Van Dijk signing for Liverpool and Blues striker Gabriel Jesus suffering a knee injury on New Year's Eve, prompting a move for Alexis and only tentative efforts to sign a centre-back.
Up until last weekend, City had been working to sign two Premier League-based players – Alexis and Evans – and one overseas player to arrive in the summer.
But that changed yet again following Alexis' decision to join United, and City are now keen to bring in as many quality reinforcements as possible, as soon as possible.
Fabian Delph's injury during last Sunday's defeat at Liverpool, the same day City decided to pull the plug on the Alexis deal, is another catalyst in City's decision making.
Guardiola says Delph will be out of action for "a while" and sources close to the City boss are hoping the converted left-back will be out for no longer than a month.
That, though, is regarded as an important month in the season given a pile up of fixtures in all four competitions.
As well as having missed out on several of their targets, including Laporte, Alexis, Dani Alves and Kylian Mbappe, City are also wary that fact they have had pay over the odds for some of the priority signings they have managed to make.
Last summer, for example, they had hoped to pay £40m for each of Kyle Walker and Benjamin Mendy, but in the end paid £45m and £52m, respectively, itself a consequence of having missed out on Alves after agreeing terms with the right-back but letting him continue his holiday in Brazil before putting pen to paper.
The fact that Laporte has a set buy-out clause has also factored in City's decision to pursue him again this month.
Additional reporting by Gorka Posada.
Let'