John Stones has revealed that Manchester City's predominantly Yorkshire defence sometimes communicate with their team-mates in Spanish.
Stones, from Barnsley, has been joined by Bradford-born Fabian Delph and Sheffield's Kyle Walker in the City back-line in recent weeks.
Argentina international Nicolas Otamendi has been Stones' regular centre-back partner of late, playing in front of either Brazil goalkeeper Ederson, a natural Portuguese speaker who can also communicate in Spanish, or Chilean Claudio Bravo.
Stones revealed shortly after arriving from Everton last summer that he would occasionally converse with his new team-mates in basic Spanish around the training ground to help settle into the team.
And he now says those interactions have extended to the pitch, and that his fellow England internationals have got in on the act, too.
"It's a mix between Spanish and English," Stones says of how the defence and goalkeepers interact during matches.
"We kind of pick up the Spanish – and [Otamendi] is learning English – so it's good to know what they're saying and how to communicate with others on the pitch, it's good."
Stones most likely sticks to English, however, when he tells fellow Yorkshireman Walker that he is the best right-back in the world.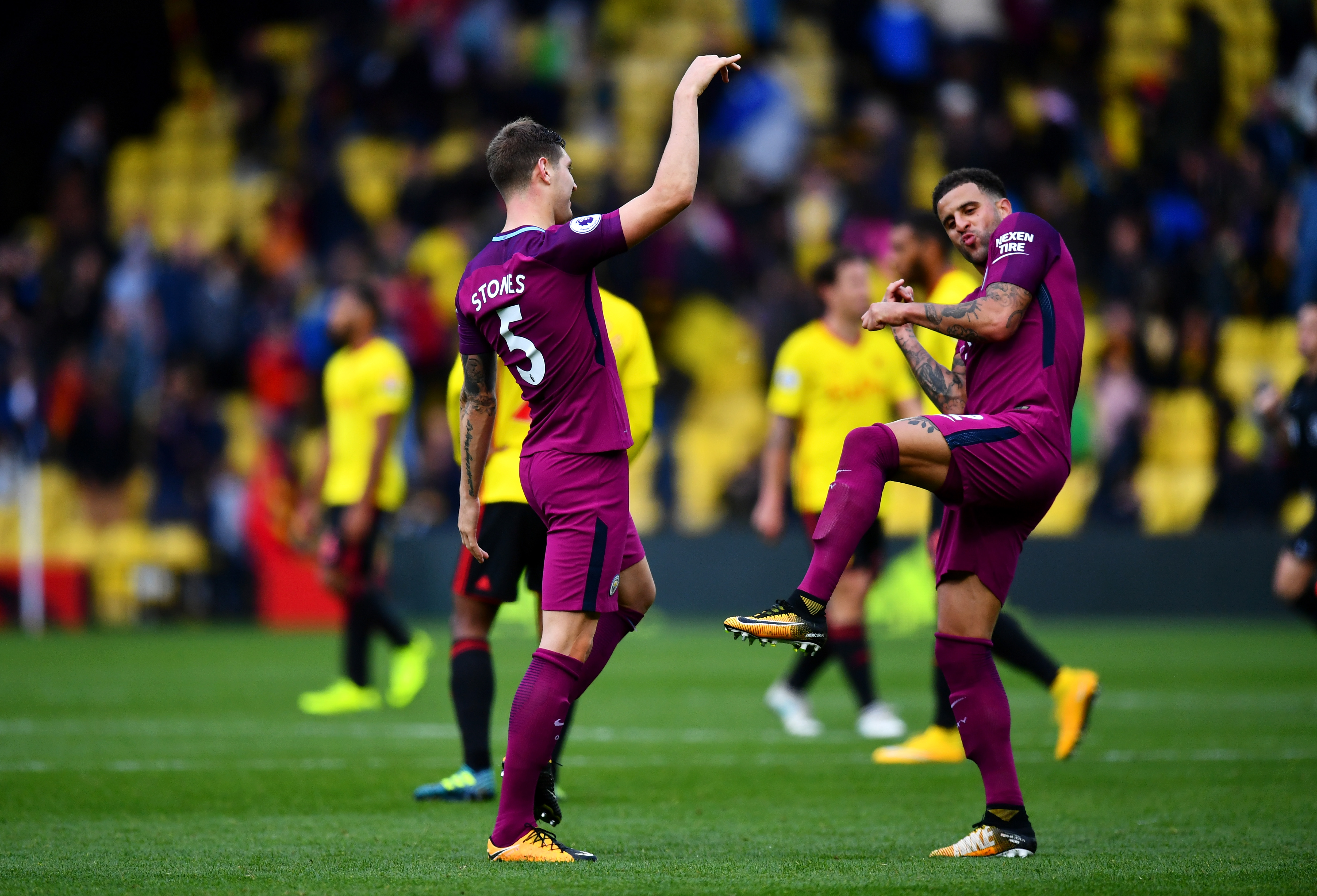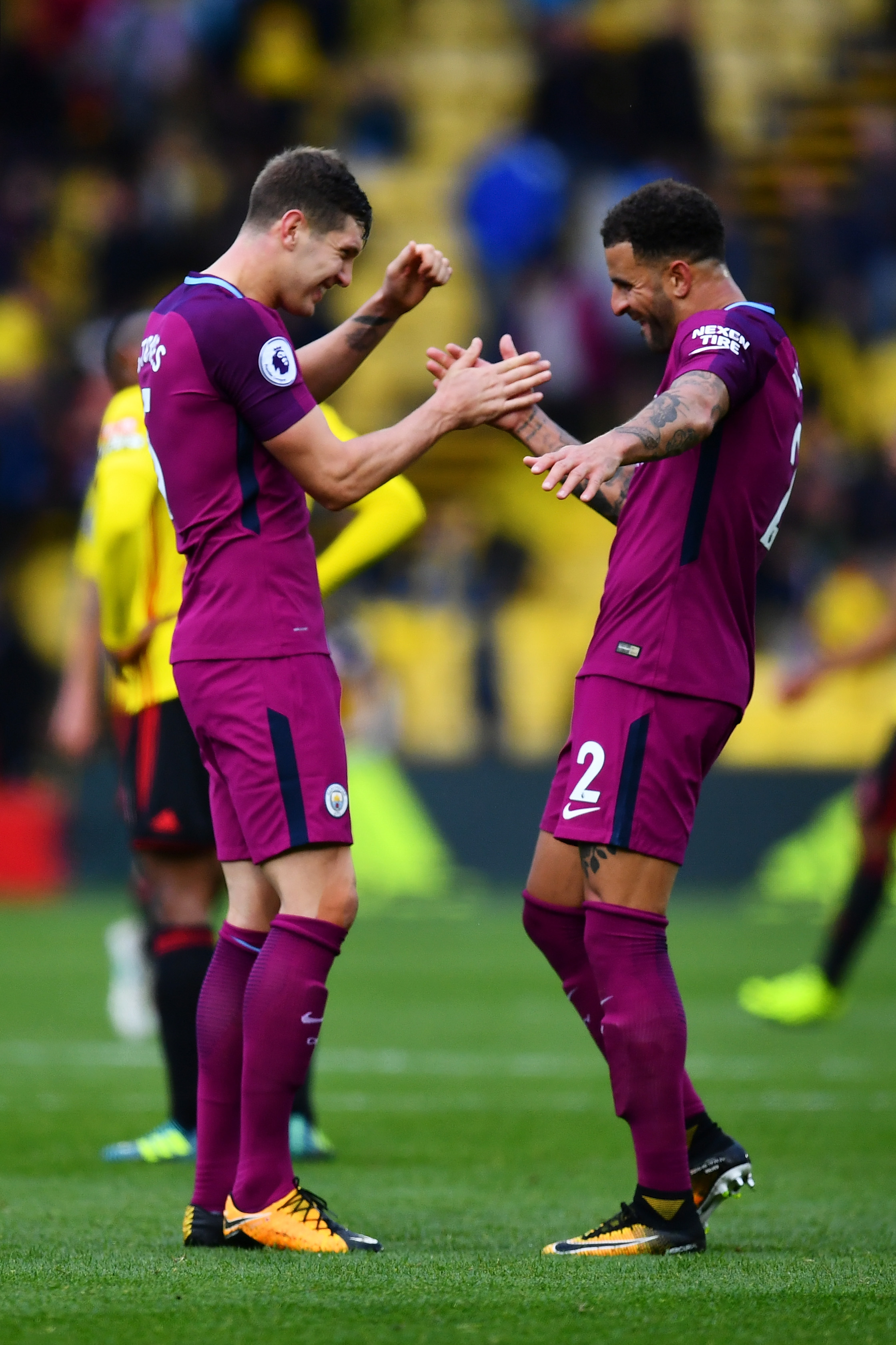 The England right-back has enjoyed a superb start to his City career following his move from Tottenham in the summer, and Stones says a combination of the Blues' welcoming dressing room and Pep Guardiola's tactical set-up has helped him become the best.
"The way he gets up and down the pitch is why for me he's probably the best in the world and I keep telling him that," the 23-year-old added.
"Kyle has fitted in straight away. It was the same for me when I came, I just fitted in straight away. The boys were great and I think that's why he's playing as well as he is.
"He wants to keep winning, keep on keeping clean sheets and getting better. That's why he's the player he is and the person he is, he wants to keep on getting better.
"I think it's down to the team, if he's so high there is always someone back to cover his position. It's down to the manager and players to ensure that happens and at the moment it all gels quite well together."
Stones admits he was frustrated to have seen Stoke City score twice in City's 7-2 victory on Saturday, goals which ended the Blues' run of six clean sheets in the Premier League and Champions League, but he believes the back-line made yet more progress in their first match since the impressive victory at Chelsea before the international fixtures.
"We conceded two goals which is frustrating from my point of view," he said. "We will go away and work on that and I think it's been a great run of defensive play from all of us and I think we showed that today.
"It was a bit of an unlucky first goal which was a bit of a sickener really because we have been playing so well and I think from the past previous games we have kept clean sheets and done so well defensively and brought that into today's game, but that gets overshone with conceding two.
"As a back four and a keeper we have shown real progress and hopefully we can take it into the next game."
He added: "I won't really be thinking about it tonight as such – but it's always in the back of your head. As a defence and as a team we did everything we could. If everyone watches the game back and sees the defensive things we did, the blocks, the tackles that allow us to go up the other end and score, it's progress again from Chelsea.
"That was a big win. But then you can't underestimate Stoke, they've been on a good run and have quality. To score seven against them is credit to us."
Let'