Leroy Sane's omission from Joachim Low's World Cup squad comes as a major shock to those who have marvelled at his Manchester City performances over the past 18 months, but not so much for those who have charted his progress with Germany in that same period.
Sane was one of the most exciting performers as Pep Guardiola's City side swept to the most dominant Premier League title victory in history last season, and indeed was awarded the PFA Young Player of the Year award .
The 22-year-old is getting better and better for City and he has added an acute tactical understanding to a skill-set that already included electrifying dribbles and breath-taking goals.
Sane has proven himself capable of changing a game in an instant; he can burst past a man from a standing start, and if he is allowed to build up a head of steam he is nigh on impossible to stop. 
He scored 14 goals for City in all competitions – a mixture of smart, close-range finishes and stunning efforts from further out – and racked up 15 Premier League assists, only one fewer than Kevin De Bruyne, widely regarded as the division's most creative player.
[embedded content]
The winger is a thrilling individual but has also shown that he fits perfectly into Guardiola's gameplan, which is why news of Low's decision was met with incredulity in many corners of the world.
In Germany, however, the reaction has been a little more measured. While Sane has become a major weapon in Guardiola's arsenal, he has struggled to fit into Low's system in recent months.
He only has 12 caps to his name, just six of those have been starts, and he is yet to score for his country but you cannot say that he has not been given a fair chance to prove himself; four of his six starts have come in his last six outings. The problem, more than any the lack of goals, is that his overall performances have been disappointing, particularly in the recent games with Spain, Brazil and, on Saturday, Austria.
A big thank you for their efforts and commitment from Joachim #Löw to the four players who won't be going to Russia, @Bernd_Leno , @jonatah , @LeroySane19 and Nils #Petersen 👏 #DieMannschaft #ZSMMN pic.twitter.com/ANUjXgOV6Y
— Germany (@DFB_Team_EN) June 4, 2018
Sane has been given plenty of playing time of late – as much as can be expected with so few games in the months leading up to a World Cup – but he has not been able to show off his City form.
That is not entirely his fault; Low does not play the same way as Guardiola. Sane plays on the left of the attack for both teams, but while he hugs the touchline for City, allowing David Silva to exploit the half-spaces inside, Low does not use classic wingers – he wants players who are less direct, more comfortable with their backs to goal.
At City, Sane is the one to finish moves, for Germany he is expected to start them, to contribute to the play in a way that Guardiola has demanded of Sergio Aguero. Broadly, Sane's duties with the national team would be more akin to what Silva provides for City, and how he plays out wide for Spain.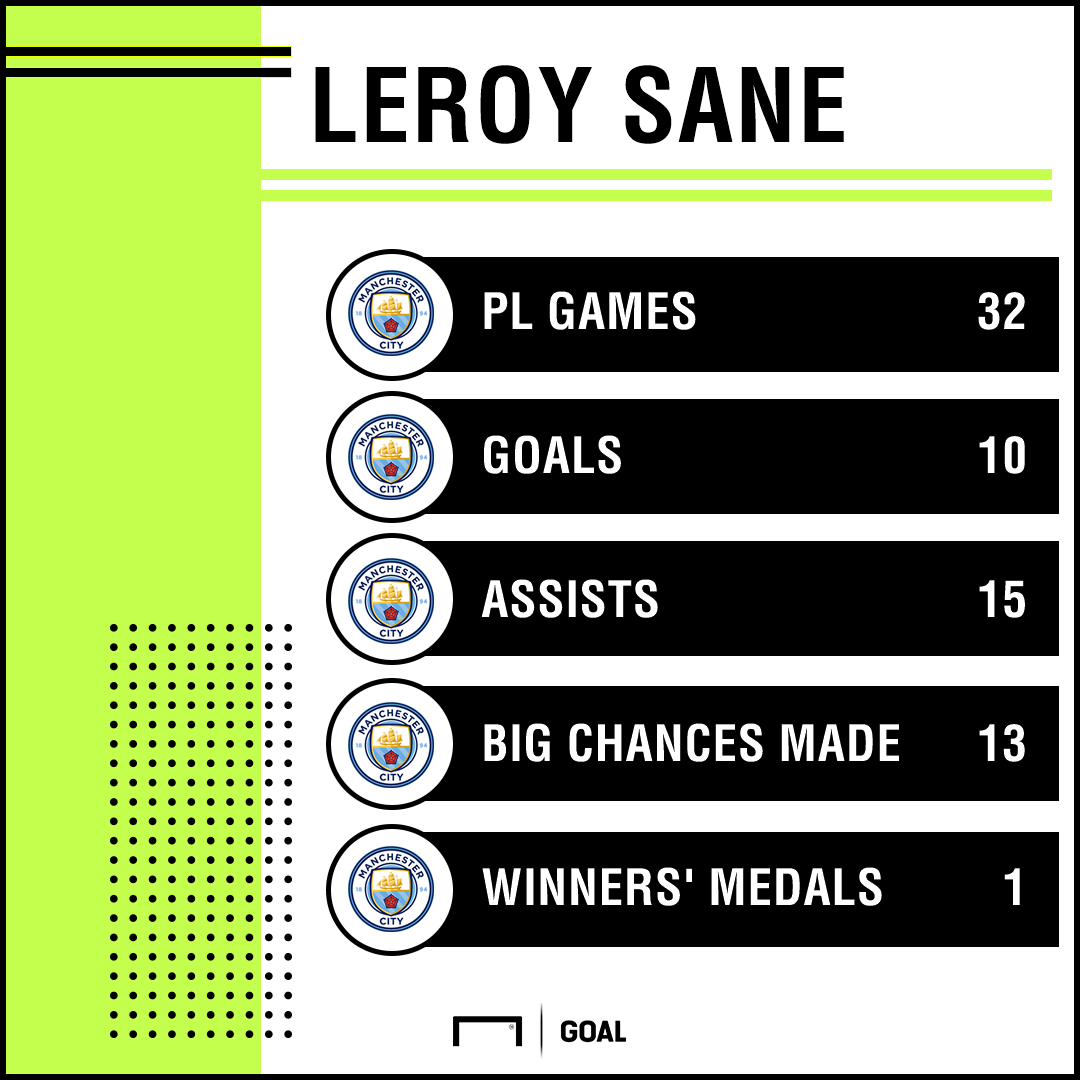 There could be some other reasons, too. Sane missed last summer's Confederations Cup after choosing to undergo nose surgery, which was not deemed entirely necessary by the coaching staff. 
There are also suggestions from those close to the camp that he comes across as arrogant in training, although that is hardly new information for Low and his coaches – Sane has had that cocky air about him throughout his fledgling career.
It has not stopped him from becoming a popular and important figure in Guardiola's dressing room, either, and lest we forget that arrogance is one of the cornerstones upon which German football's recent international successes have been built. 
The bottom line, however, is that Sane has looked out of place for Low's Germany.
That is evident when you look at the kind of wideman the coach has chosen to take to Russia; Thomas Muller is a far less dynamic than Sane, and has not had his best season at Bayern Munich, but clearly understands what his manager needs and has already been a key man at two World Cup finals. Marco Reus has cruelly missed major tournaments in the past but also has Low's trust.
Bayer Leverkusen's Julian Brandt is another 22-year-old wide-man but is more in the Low mould, while Julian Draxler, whose career with Paris Saint-Germain has drifted somewhat, is somebody who has proven his pedigree at international level, notably at the Confederations Cup a year ago.
The final 23-man squad for the #WorldCup 🇩🇪 #DieMannschaft #ZSMMN pic.twitter.com/SOJa14wIOD
— Germany (@DFB_Team_EN) June 4, 2018
It is true that Sane had his ups and downs even at City last season – his lows have been almost as eye-catching poor as his highs have been eye-catchingly spectacular. But even so, in the final months of the season he found much better consistency and those lows were increasingly rare.
For Germany, he has clearly had too many lows to be considered a viable option for a World Cup. It may not be through any fault of his own, simply that Low wants a completely different kind of player, but this is the cut-throat nature of top-level international football, especially with a major nation like Germany.
For all of that, there still remains a feeling that Sane could have played an important role for Germany this summer, even if reduced to a wildcard option off the bench if Low needs to change things up and rely on a moment of magic.
Yet maybe that feeling is more acute among those of us whose national teams could not afford to leave such a quality player behind, or those of us who are focusing too much on Sane's development at the Etihad Stadium.
Ultimately, the decision is not ours, but Low's. With one World Cup win already under his belt, he deserves the benefit of our doubts.
Additional reporting by Dennis Melzer.
Let'