"All the success we had in the past, and what happens in the future, it depends on the players. They are the artists. We are there just to help." 
"I define myself as an optimist. My constant battle in this business is to get out there what is beautiful in man."
The first is a quote from Pep Guardiola. The second from Arsene Wenger.
The two men, broadly, share the same football philosophy – for their players to express themselves and bring joy to those watching – but their differing approaches mean only one of them has consistently managed to marry style and substance in the past decade.
Wenger did such a good job of revolutionising English football that his approach became the norm that Guardiola is now trying to shake-up; it's just that, somewhere along the line, the Frenchman stopped moving with the times.
[embedded content]
The factors that have led to Arsenal's decline are well known, from their relocation to the Emirates just as Roman Abramovich arrived at Chelsea to Wenger's nigh-on refusal to match his rivals' spending in the transfer market.
Guardiola has no qualms putting City's money to good use, but for all the money City have spent, credit is surely due for how quickly and ruthlessly the Catalan identified the Blues' weaknesses and found suitable replacements – how many Arsenal fans would turn their nose up at that kind of overhaul?
And while Guardiola has indeed benefited from City's vast resources, it cannot be denied that he has moulded the players at his disposal into a special team, much more than simply a collection of expensive individuals.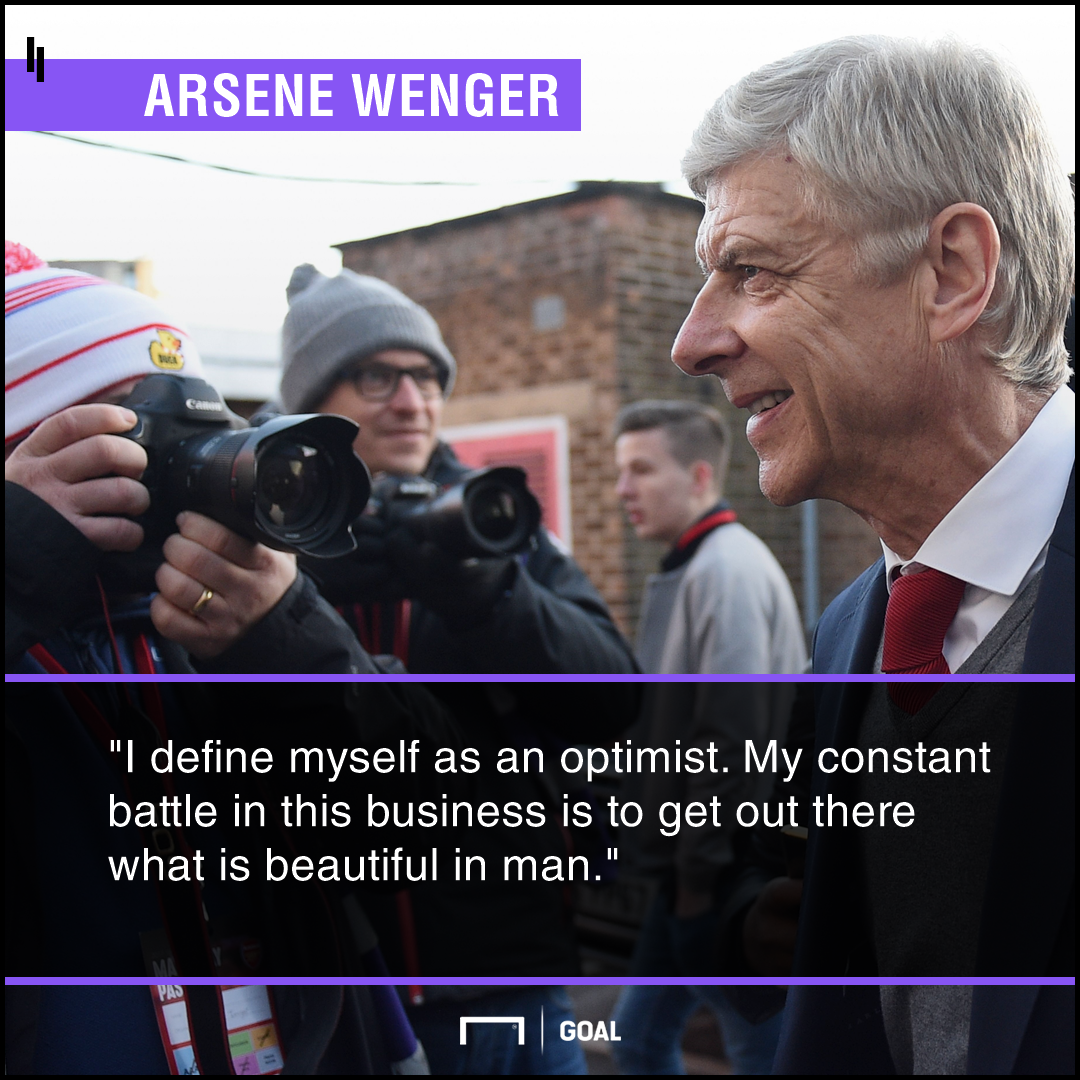 That is not something Wenger has managed to do for some time and while Guardiola's coaching and attention to detail has allowed his 'artists' to flourish, Wenger's quest for beauty has too often come at the expense of results.
It is their work on the training ground that sets the two apart, and what could prove key in the build-up to Sunday's Carabao Cup final.
After 18 months under Guardiola, City now know exactly what to do. Craig Bellamy, the club's former striker and a close friend of captain Vincent Kompany, shed light on the Catalan's approach recently.
"I don't want to give too much away but I speak to Vinny quite a lot," Bellamy said on Sky Sports' 'The Debate Live'. "Vinny says, "He [Pep] has taken a while to get us where he wanted us," and I asked what does he do now [in training], and Vinny said, "honestly, it's just there, we know what we're doing. It's been programmed into us, he's got us into his way, and now training is just recovery and that kind of stuff because we're programmed into what he wants."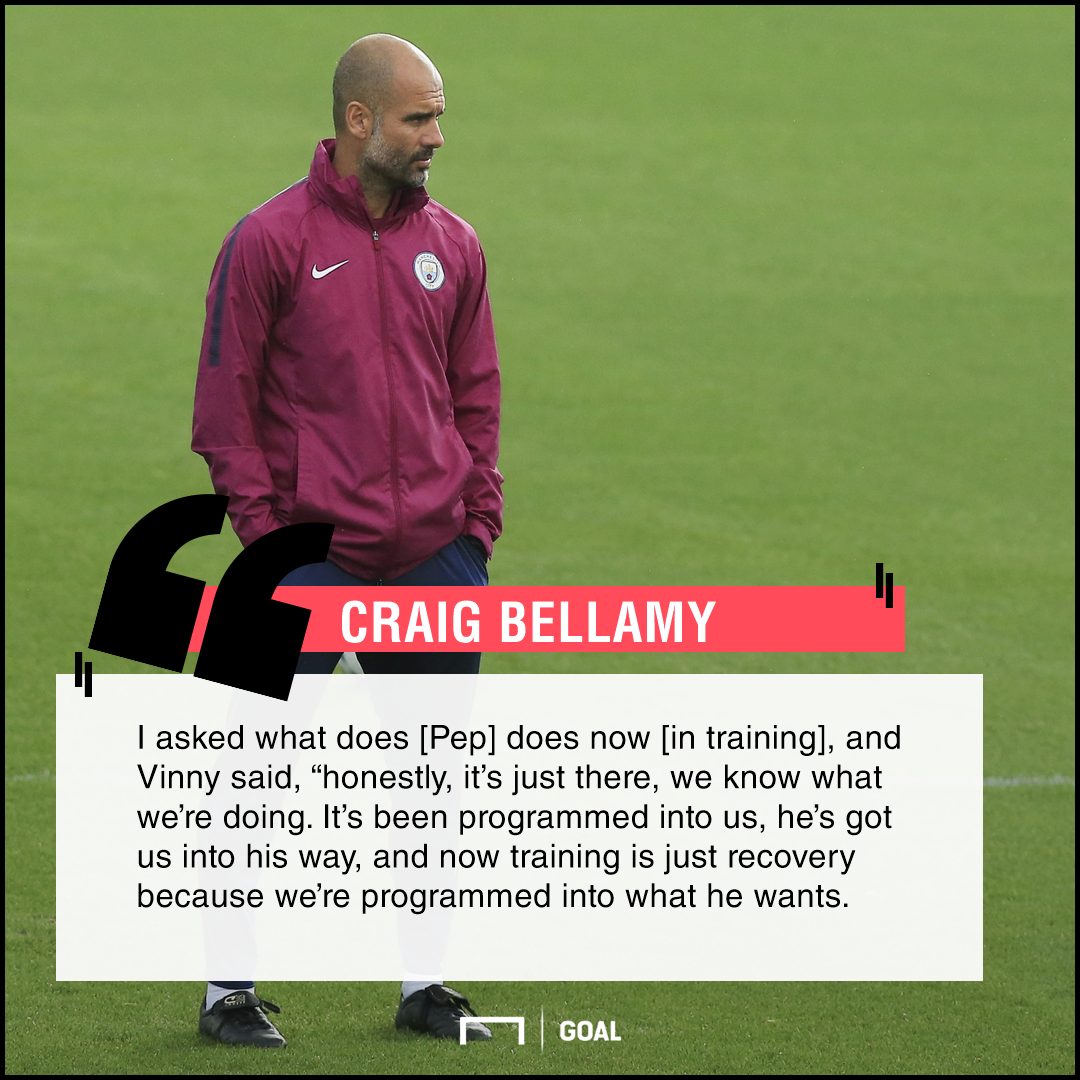 Xavi provides a specific example: "Guardiola focused on the details. He controlled everything. I had never trained for a defensive throw-in. He would tell you where you had to be even for that."
In January, the Catalan sent out his players to face Watford with no extra instructions. His work on the training ground has ensured there are certain times when focusing on your own strengths, rather than the opponents', is perfectly safe.
Wenger is no stranger to letting his team go out and get on with it, either. The Frenchman gave no team talk ahead of the Champions League clash at Bayern Munich last season, something which surprised his players even though they know better than anybody that the manager almost exclusively plays to their strengths at the expense of researching the oppositon.
Yet if you do that, the players need to know what they are supposed to be doing. Inside 11 minutes Arjen Robben cut inside onto his left foot and crashed the opening goal into the far corner. You know the one.
You could write that off as one convenient example if Arsenal's preparations hadn't been called into question so often in the last decade. In 2014 it emerged that a number of Arsenal players had urged Wenger to work more on the opposition. The complaint came after the Gunners conceded six goals at City and Chelsea, five at Liverpool and three at Everton to drop out of the title race.
What has changed? If anything, things have got worse; in 24 league away games since the start of 2017 Arsenal have lost 12 and won only 7.
For years now they have too often been completely eviscerated in the biggest games, their players looking like strangers. It has got to the stage, certainly this season, that the Londoners only seem capable of beating lesser teams at the Emirates. 
That will be the fear as they prepare to take on City at Wembley on Sunday. Guardiola has a plan, his players know how to follow it and, at his previous clubs, he has always come out on top when it matters against Wenger. 
Yet despite Arsenal's failure to challenge for the title or compete in the Champions League, they have found a way to win at Wembley. Or at least win at Wembley in cup games –  they beat both City and Chelsea on their way to winning the FA Cup last year, their third cup win in four years, but looked familiarly clueless against Spurs two weeks ago.
You never quite know what you're going to get from Arsenal, and on Sunday we'll see if another one-off Wembley rally can get the better of Guardiola's best-laid plans.
Let'