The Gunners' title bid has deteriorated without the Welshman, with shots and tackle stats, among others, dipping in the absence of the tenacious and urgency inducing midfielder
ANALYSIS
By Ewan Roberts
When Yaya Toure takes to the field at the Emirates Stadium on Saturday, he does so as the undisputed best midfielder in the Premier League. Were it not for a season-disrupting injury, though, Aaron Ramsey might have been in a position to claim the leggy Ivorian's crown.
Instead, the Welshman's absence against Manchester City will only exaggerate further his importance to Arsenal and highlight the spark that has been missing in recent weeks.
The 23-year-old, once a maligned figure in north London and more accustomed to groans than cheers, was dominant at the start of the campaign as the Gunners raced into an early lead at the summit of the table. His impact has been such that Arsene Wenger's revelation that he would be sidelined for a further two weeks was met with greater despondency than the disappointing 2-2 draw against Swansea City that preceded the news.
RAMSEY'S IMPORTANCE TO ARSENAL


WIN PERCENTAGE
LOSS PERCENTAGE
TACKLES PER GAME
SHOTS ON TARGET P/G


WITH

66.6%
16.6%
6.7
20.1

WITHOUT

5

3.8%




23%




4.4


1

7.9



Ramsey has made himself invaluable thanks to his energetic purpose and forward drive, traits that are all too rare and sorely missed in a side far too content to patiently pass and probe even when more urgency and directness is necessitated. That was evident against the Welsh outfit in midweek, with an abundance of passes producing so few chances; there were 296 passes in the final third, yet Michel Vorm made just two saves.
With Ramsey in the side, though, Arsenal had averaged a shot on target for every 29.1 final third passes played. Without him they require 44.7 final third passes per shot on target – a 53 per cent increase. The Wales international, put simply, makes things happen, surging forward when others might pass sideways, testing the goalkeeper, taking risks.
That tepid, passive play in Ramsey's absence, all bark (though in truth it is more of a whimper) and no bite, is summed up in Mikel Arteta. Since the Spaniard netted a consolation goal from the penalty spot against Liverpool in a 5-1 defeat at Anfield, he has played 125 passes in the final third in six games but failed to register a single shot on goal. Moreover, he has created just three chances for his team-mates from open play and failed to record a single assist.
Ramsey, however, is quite the opposite; all action, a consistent goal threat and in many ways atypical to the Arsenal way – perhaps part of the reason why he struggled for so long in a red shirt, looking to break through lines rather than pass around them. And, even though an Emirates Cup winners' medal is all that sits in his collection, he almost overnight developed a genuine winning mentality, deciding games regularly and oozing confidence.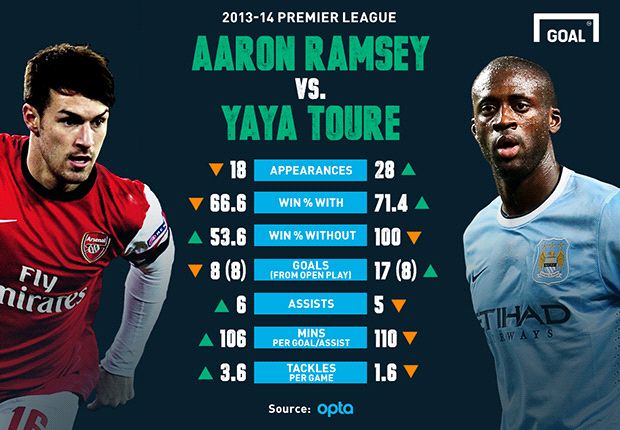 When the former Cardiff man has scored this season, Arsenal have a 100% winning record, while, before his injury, he was directly responsible for more points than any of his team-mates; even now, despite a prolonged spell on the sidelines, he remains the club's second top scorer behind Olivier Giroud while the club have mustered 28% fewer shots on target while the Welshman has been out of action.
Additionally, the north Londoners have been severely hampered without Ramsey's tenacity and work rate in the heart of midfield. His 3.7 tackles per game is still the joint third best in the division, behind only Claudio Yacob (4.1) and Morgan Schneiderlin (3.8).
Even accounting for the games he has missed, only Arteta has won more total challenges in an Arsenal side whose tackles per game have dropped from 20.1 to 17.9 since Ramsey's injury. Meanwhile, only twice in the last two seasons have the Gunners recorded fewer tackles than the 13 they managed in the 1-0 defeat to Stoke City at the start of March.
It might seem folly to suggest that Ramsey is even on par with the imperious Toure, who is now the third highest scorer in the Premier League and driving the club's title bid, yet you wonder how much closer to the top Arsenal would be had the league's then-form player not sustained injury.
In fact, despite playing 10 games fewer than Toure, he has actually recorded more tackles, 66 compared to the former Barcelona man's 46, more assists (despite the Ivorian playing in a team with a wider and deadlier array of attacking weapons) and has as many goals from open play. Ramsey's goal or assist rate of every 106 minutes also betters his counterpart, and Arsenal even fare worse when the Welshman is missing than City do when Toure is absent.
Of Arsenal's midfield options, Ramsey is one of only two players who the Gunners win more often with than without and lose more often without than with. Unlikely though it may seem, Mathieu Flamini is the other, which makes his recent omissions rather curious. The Frenchman started his first league match since January on Tuesday evening, despite the side losing 33.5% of matches he has missed and winning 68.1% he has played in – the best ratio of any player in the squad; a needless double blow for a side short of bite and drive in midfield.
On Saturday, then, Toure's powerful, rangy gallops through the middle of the spacious Emirates pitch, and a lightweight Arsenal midfield, are likely to be a prominent feature.
But, should the Ivorian coruscate once more, it will be against a Gunners side missing their star man – the boy from Caerphilly, not the club-record signing from Madrid – and in the knowledge that his reign as the Premier League's leading midfielder is uncontested only as long as Ramsey is sidelined.
*Statistics provided by Opta
Follow Ewan Roberts on