Twenty games, or around 2000 minutes. That's the amount of game time Ilkay Gundogan needed to get back to his best.
Speaking at the start of December, Marti Perarnau, the author who charted Pep Guardiola's time at Bayern Munich with incredible detail, declared that Gundogan was "not in good shape," but that the midfielder "could arrive in March and April at a very good level" if he were to play roughly 20 matches over Christmas and beyond.
"He's not fit, he's not in good shape," Perarnau told the 93:20 podcast. "But he understands very well the tempo of the play that the team needs at each moment, like David Silva.
"I think he needs 20 more matches in his legs. He hasn't played too many matches in the last three years.
"I hope in 20 matches we will see a very good Gundogan."
[embedded content]
He has played in 17 games since that interview, a rough total of 1,150 minutes, and the evidence suggests Perarnau was right.
Gundogan's two-goal, man-of-the-match performance against Basel in midweek was a reminder of the form he was starting to produce last season, before a serious knee injury forced him to miss roughly 10 of his 18 months as a City player.
"I love to play for this club, for this manager, with these team-mates, it's just fun," Gundogan said after the game in Switzerland. "Every single guy understands, is feeling it, and can see it that we have a very special group, with a very special atmosphere."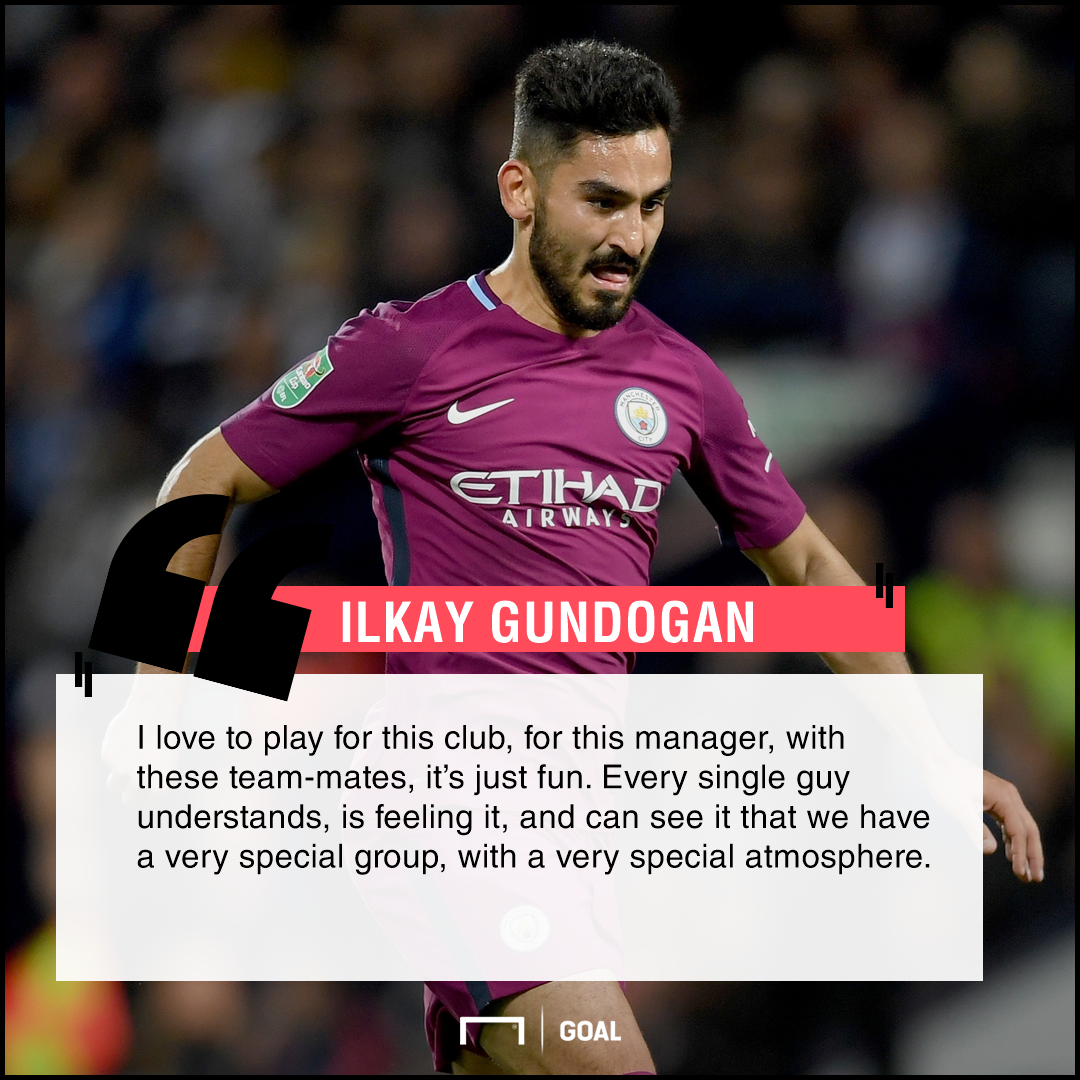 He is finally starting to play his role in that group, the role expected of him when he signed from Borussia Dortmund in 2016.
After all, he was the very first signing of the Guardiola era, designed to be come in and help the Catalan impose his fast passing style in English football. As Perarnau notes, Gundogan understands the flow of a game just as David Silva does.
But, thanks to his injury, in his 18 months in Manchester he has only fleetingly shown his best qualities.
The German's first period at City, between his belated debut on September 14, 2016 and injury exactly three months later, had as many highs as it did lows. Standing in for either David Silva or Kevin De Bruyne, he dovetailed well with whichever man he played alongside, helping to establish City's possession game. He even chipped in with doubles against Barcelona and West Brom, his knack for arriving in the box at the right moment surprising even those who had watched him closely in the Bundesliga.
But Guardiola, perhaps too confident in his side's ability, was ramping up his tactical plans during this period, attempting to play all three of his creative midfielders at once, with Fernandinho and a three-man defence behind them. The Blues managed to dominate possession but as a result of failures elsewhere the experiment rarely looked convincing. In truth, none of the three midfielders looked at their best, either.
So much so that when Gundogan was ruled out for the season, in the very first game after Guardiola simplified his plans after a bruising defeat at Leicester, it was seen, in the coldest terms, a blessing in disguise: with an uncomplicated back four in place, Gundogan's injury also deprived Guardiola of the temptation to cram three creative midfielders into the same line-up.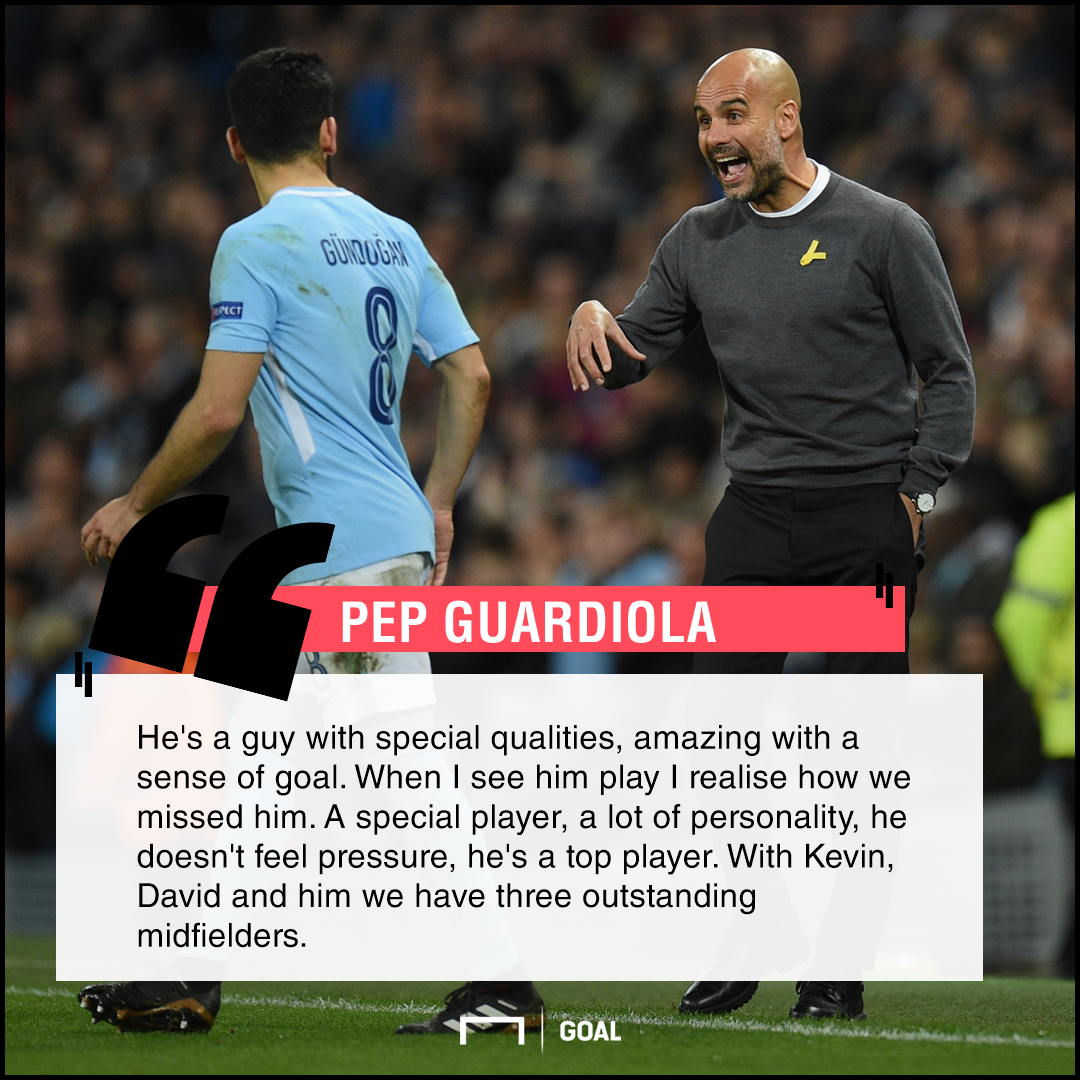 Guardiola had worked out how to control games with just De Bruyne and Silva by the time Gundogan returned last September, and thanks to their performances and his own physical limitation, the German had to wait for his opportunities.
He was handed his first start in the EFL Cup in September, but a nasty kick to the ankle hampered his progress and he did not start again for five weeks.
Since then, the end of October, he has often been called upon to stand in for Silva.
No City player, going back to when Silva first signed for the club in 2010, has managed to fill the Spaniard's boots sufficiently, but Gundogan has shown that he can do a fine job; against Napoli away and Spurs at home he helped pull the strings of impressive 4-2 and 4-1 victories respectively.
Those were open, fast-paced games but Gundogan also proved he can unlock tighter contests. Replacing De Bruyne, he provided two clever assists in two minutes to turn an FA Cup tie with Burnley on its head.
Gundogan can suffer by being compared to his two influential team-mates – his failure to find "the last pass" in the recent draw at Burnley seemed worse because it is easily imagined that Silva would have delivered it – but he would probably walk into any other midfield in the country on current form.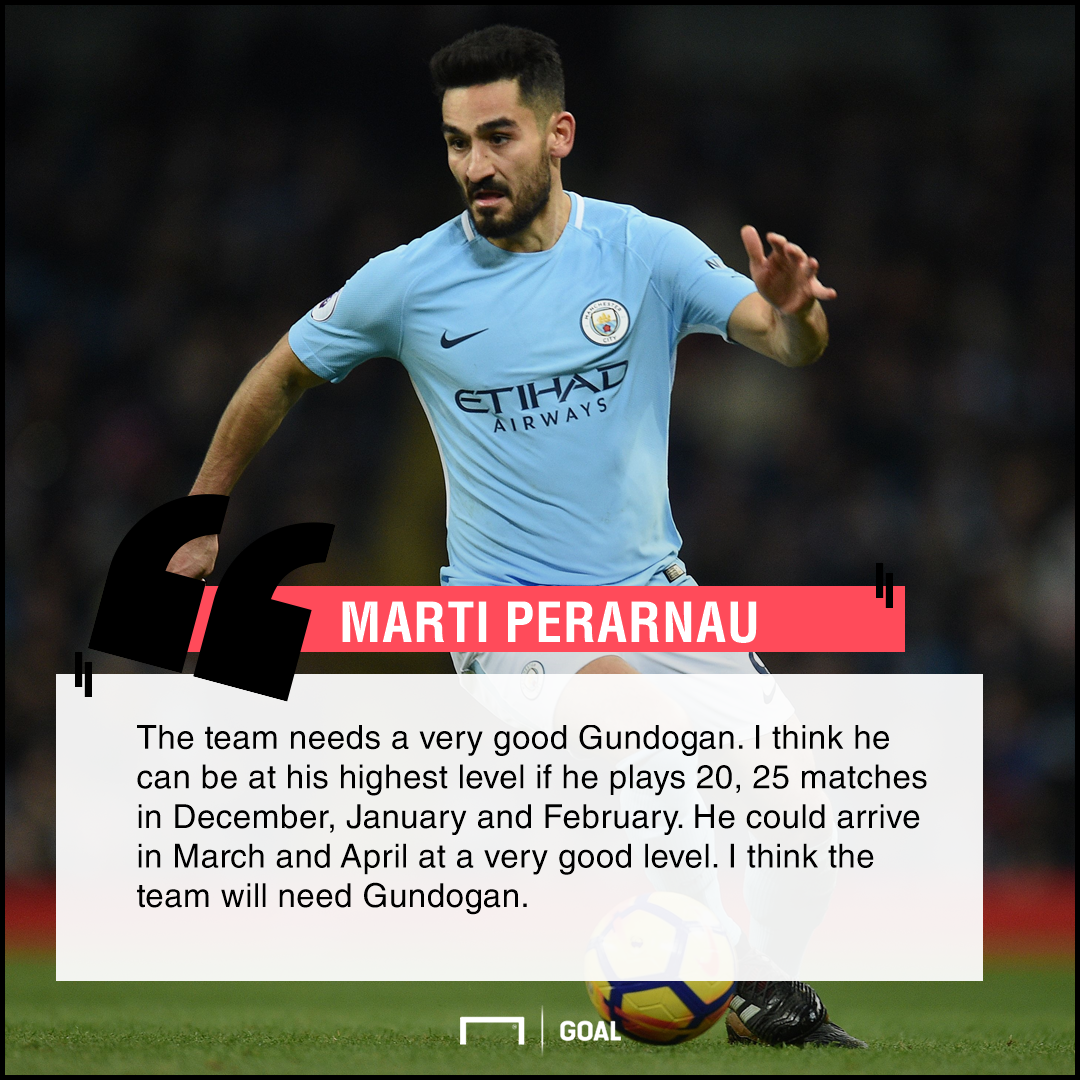 And certainly when he gets those 2000 minutes under his belt. With key fixtures in all four competitions coming up in the next few weeks, he appears to be hitting form at exactly the right time.
Other players are also returning from injuries and Gundogan, as predicted by Perarnau, looks set to have a key role in the final months of what could be a record-breaking season.
"The team needs a very good Gundogan," Perarnau added. "I think he can be at his highest level if he plays 20, 25 matches in December, January and February. He could arrive in March and April at a very good level. I think the team will need Gundogan."
Sources close to Guardiola's staff have intimated this week that he is finally back to his Dortmund best, but that level of performance could merely be a temporary pit-stop; given how most of his team-mates have progressed under Guardiola's tutelage, you get the feeling that Gundogan's very best is still to come.
Let'