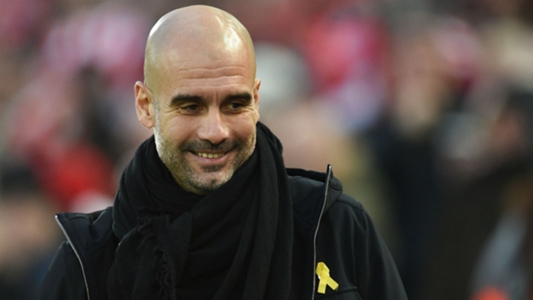 Pep Guardiola has hit back at Gary Neville in the row over Manchester City's substitutes, pointing out that the Sky Sports pundit "was a manager – for a short time".
Neville claimed Guardiola's decision to only name six substitutes on his bench for the game at Burnley last Saturday was "a joke", insisting the Catalan should have called up a youth-team player to make up the numbers.
Neville stressed that the City boss is "an absolutely incredible manager" doing "unbelievable work", but that his decision "let him down".
Guardiola said at the time that he simply did not have enough players available to name a squad of 18, and that the youth team had played the night before, meaning none of the players would have been able to travel.
The Catalan again clarified his position during his Friday press conference, and made sure he managed to fit in a dig at Neville, whose managerial experience amounts to an ill-fated three-month spell with Valencia.
[embedded content]
"It's quite simple, we had a lot of injuries," Guardiola said. "We had that day a training session at four in the afternoon. At the same time five or six of the players I could have taken had a game here.
"It was just one or two hours later and it would not have been correct to go the manager who is preparing for the game and say 'I need one or two players to go on the bench' when they are going to play.
"For that reason, I didn't call him.
"This guy, the pundit, he has to know my job is serious, it's not a joke, never is it a joke. It's so serious."
As another journalist took the microphone to ask the next question, Guardiola continued his riposte.
Guardiola goes back in for another nibble at Gary Neville.

You can tell he really wanted to get this one off his chest… pic.twitter.com/sePYX4Zvvg
— Sam Lee (@Sammy_Goal) February 9, 2018
"And he should know that because he was a manager – for a short time."
Guardiola had earlier stressed that he would name a full squad of 18 for Saturday's game against Leicester City, and that "Gary Neville can be happy".
He also explained himself even further after his jibe at Neville.
"It was the first time in my life but all of the players were injured believe me," Guardiola said. "David [Silva] was not [available], John Stones was not fit. David trained with us that day at four in the afternoon but during the session, he said, 'I am not ready'.
"After that I went to the second team, but the second team in an hour and a half were going to play a game so I felt I'm not going to call the player to go to the bench when the substitute is normally Brahim [Diaz] or Yaya [Toure] or another one.
"That is the reason why I don't call one up. It was the first time in my life and an exception. If the training session had been at 11 in the morning I'd have had 18 but it's not a big issue."
Let'