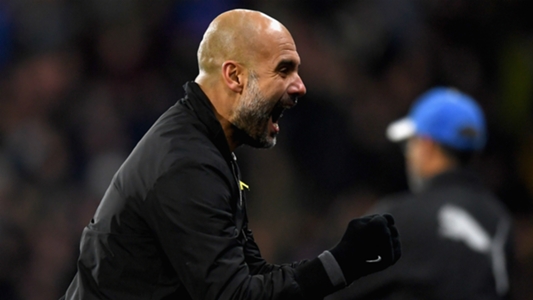 Pep Guardiola was so shocked to learn about Manchester City's latest broken record that he swore in both Catalan and English and answered the question in the wrong language!
City had not won a Premier League away match after trailing at half-time since 1995 until they came from behind to beat Huddersfield 2-1 on Sunday afternoon.
That fact was put to Guardiola in his post-match press conference by a Catalan reporter, and the Blues boss was so stunned that not only did he swear in Catalan ('Ostia' translates roughly as 'f***') but he then forgot to answer the question in his native tongue.
And he threw in another expletive for good measure (one everybody can understand) when his translator pointed out that he had answered in English by mistake.
This is excellent. Guardiola's reaction to being told City broke a 22-year-old record at Huddersfield: swears in Catalan, answers in English by mistake, swears in English "oh fuck!" pic.twitter.com/KO4nlr4ABS
— Sam Lee (@Sammy_Goal) November 26, 2017
Watch the full video above..
Let'