Manchester City were very pleased with themselves at the start of the summer. Within days of the end of last season they had agreed deals for two key figures in the Pep Guardiola revolution, and they were letting people know about it.
Were it not for a journalist happening to board the same flight to Manchester as Bernardo Silva, City would have had the bonus of becoming the first club in years to pull off a major transfer without the press getting wind of it. 
Bernardo 7/5 to net vs. Terriers
Given most major deals become very public sagas months before completion, it was a disappointment for the club that they could not #announcesilva completely out of the blue on a Friday evening.
It's official. @BernardoCSilva will join City on July 1st! #WelcomeBernardo https://t.co/dWswQzTPYB
— Manchester City (@ManCity) May 26, 2017
But they were still very pleased themselves. With Silva in the bag, they quickly reached a breakthrough in their pursuit of Benfica goalkeeper Ederson, and were it not for a paperwork issue he would've signed the other side of the weekend. Not a bad start to a crucial transfer window, and certainly a statement of intent.
Yet it was the money spent that most pleased City officials. They were keen to point out that Silva cost just £43 million, which did seem a little low for one of Europe's brightest prospects, even a couple of months before Neymar blew up the market. And although eyebrows were raised at Ederson's £35m fee, making him the second costliest goalkeeper in history, City were telling people they had secured two 'bargains'.
That did come back to bite them a couple of months down the line; Spurs chairman Daniel Levy got wind of what he deemed to be boasting on City's part, and effectively told them, 'if £35m for a young goalkeeper with fewer than 100 senior games under his belt is a bargain, then what's Kyle Walker worth to you?'. After Dani Alves' snub made the situation all the more tricky for City, Levy managed to get £54m out of them. Monaco saw the Walker fee and quickly demanded similar for Benjamin Mendy, so perhaps lessons need to be learned behind the scenes.
Yet given City's incredible results and performances, and another profitable set of accounts, few will care about all that now. Walker and Mendy have already proving to be big hits (even if the latter has mainly boosted morale from the sidelines), while Ederson is bringing the attributes Claudio Bravo was supposed to bring.
The Brazilian has exceeded all expectations and could indeed already be regarded as a bargain. Silva, however, has had a slower start to life. 
Much like Leroy Sane a year ago, there is a distinct feeling that the best is yet to come. In fact, at several stages last season there were a large number of City fans wondering why the best part of £40m had been spent on the German when full-backs were so clearly needed. 
Nobody is questioning the winger now, of course, and it is partly because of his fine form, as well as Raheem Sterling's improvement and the continued brilliance of Kevin De Bruyne and David Silva, that there has been considerably less pressure on Silva.
The 23-year-old has not been helped by the fact he only started training with City in August, after the club's pre-season tour. It is clear that the vast majority of City's players are carrying out Guardiola's orders better this season, and as the Catalan explained this week it is during the summer that he works hardest on tactical drills.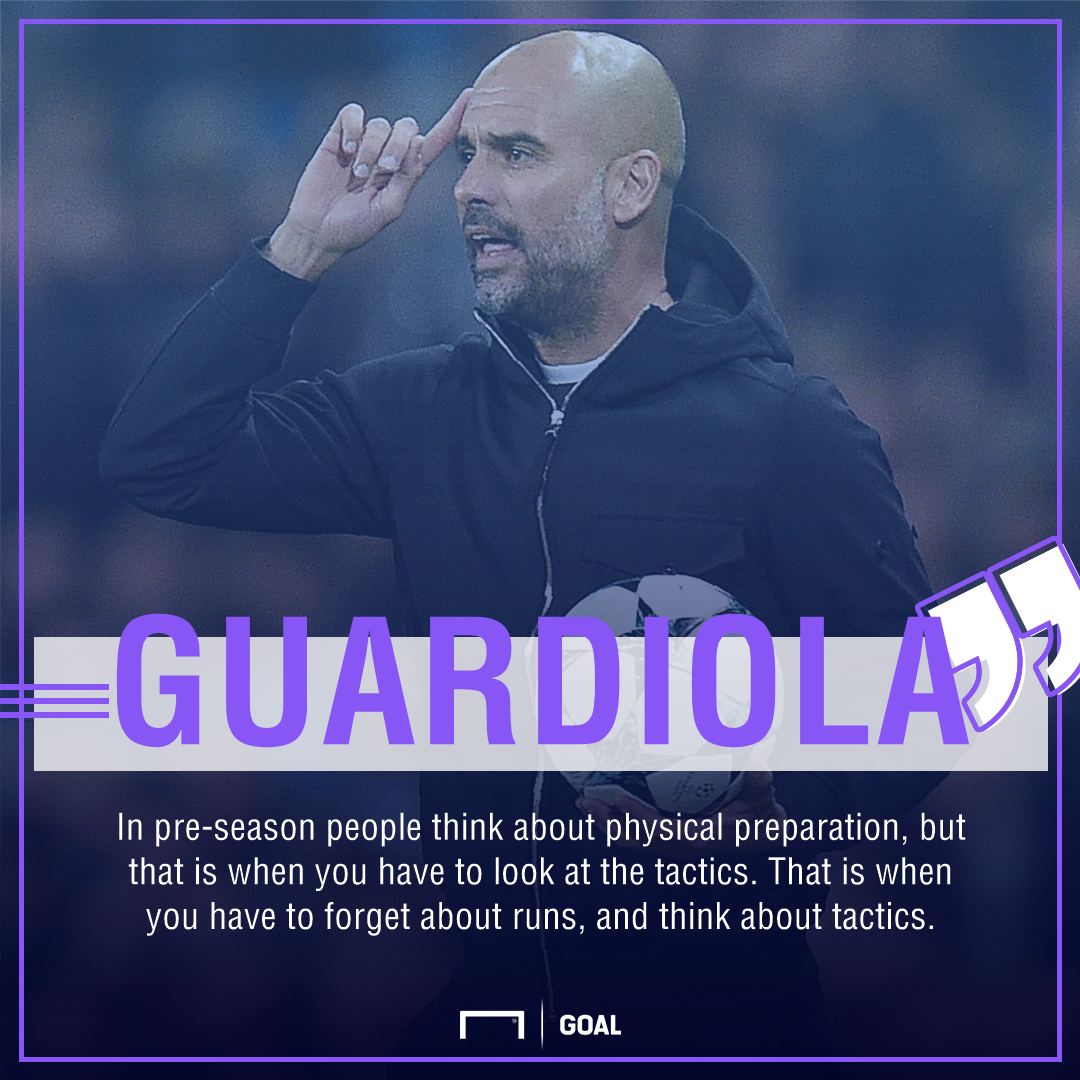 "In pre-season people think about physical preparation, but that is when you have to look at the tactics," he told a press conference. "That is when you have to forget about runs, and think about tactics."
Silva, thanks to his involvement with Portugal at the Confederations Cup, would have missed a lot of important information. Adapting to a new club in a new league is another obvious hurdle. 
But while it is completely understandable that he cannot yet do what Guardiola wants as well as those who were at the club last season, it has been noted behind the scenes that the playmaker is taking a little longer to get it than most.
As a potentially surprising example, the club's English players are said to have picked things up much quicker, whether Sterling last season or Walker this. 
And Silva's case is not entirely comparable to Sane's early struggles; Guardiola and his staff believed it was a lack of confidence that held the winger back, not a lack of understanding. 
Not that there is a major issue with Silva; the City coaches are genuinely pleased with his contribution to the team so far, and are particularly happy with his individual talent; how he can destabilise teams with dribbles or passes.
But they want to see a better grasp of the classic Guardiola 'positional play' principles; particularly his reading of the game so he takes up the right positions in regards to his team-mates.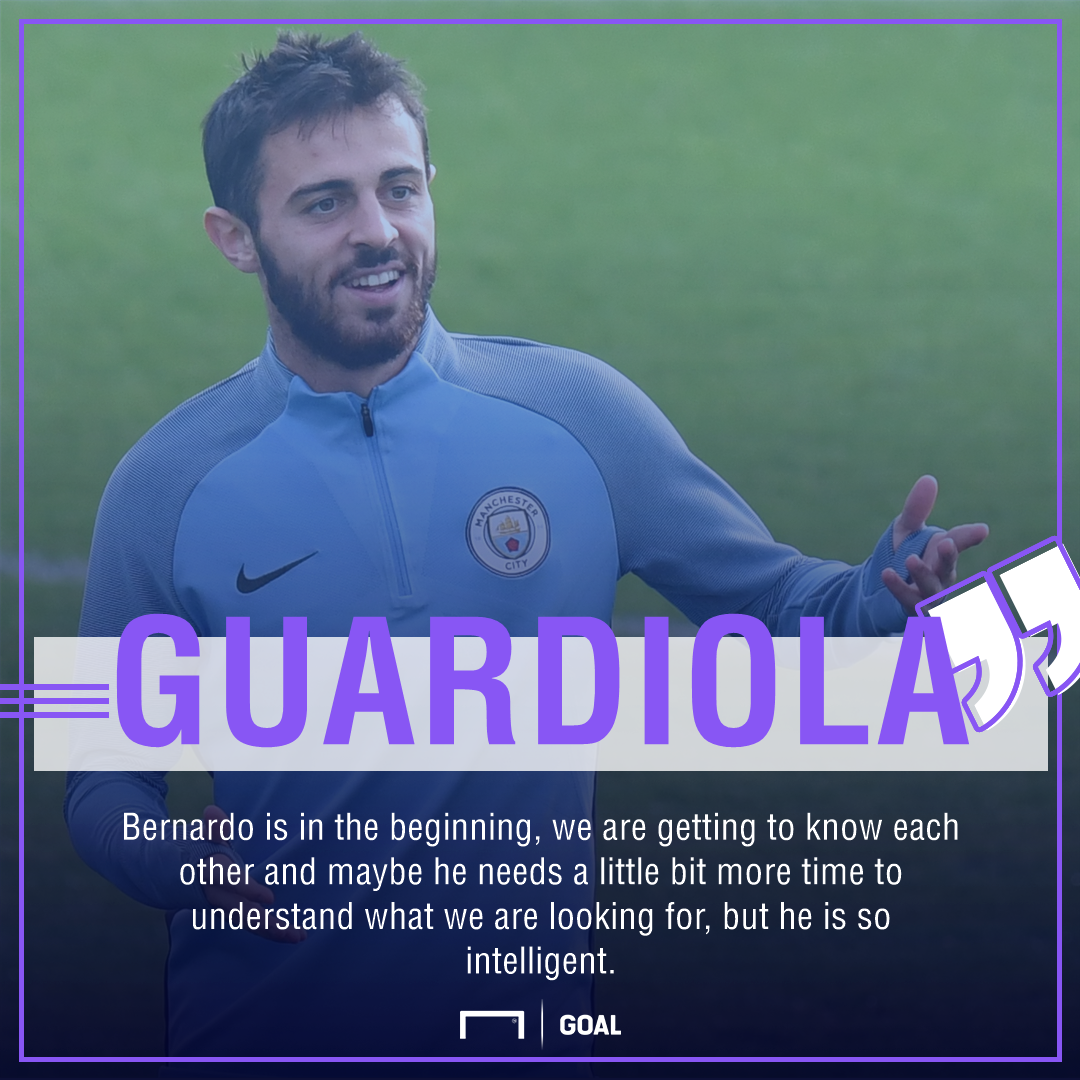 "Bernardo is a player who never plays bad," Guardiola said, rather generously, following City's 1-0 win over Feyenoord on Tuesday. "He makes little mistakes with the ball or in taking decisions, but he is probably the guy who runs the most.
"He is clever and intelligent, a player who is clear inside or outside. He does not have the speed of Raz or Leroy, for example, but he is so, so clever. He's a young player, he was so important last season for Monaco. For example, the last 10 or 15 minutes he played against Napoli, when it was 3-2, he came on and helped see out the game, he had the quality to have the ball and keep it.
"He is in the beginning, we are getting to know each other and maybe he needs a little bit more time to understand exactly what we are looking for, but he is so intelligent."
Although he has played in the front line, City still see Silva as a central playmaker, and coaches want him to be more like David Silva, the first Blues player to grasp Guardiola's demands; it is said he only needed one chat with the Catalan to realise exactly what was needed.
But it is also noted that the Spaniard took a season to get used to his surroundings when he first arrived in Manchester, so there is confidence the younger Silva will get there with time. Then he really will be a bargain.
Let'