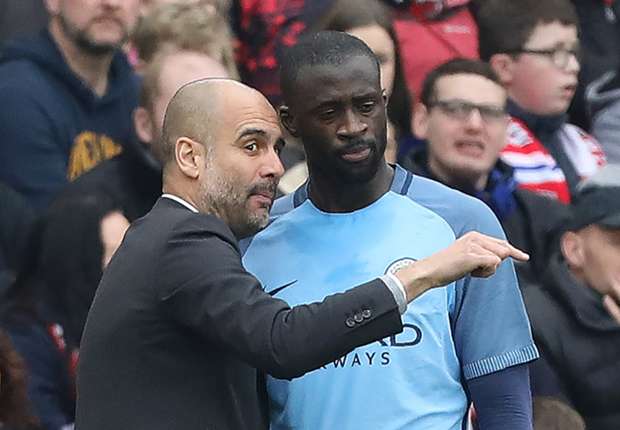 The midfielder's contract expires this summer and has been linked with a move away from the Etihad Stadium but he says that would be "quite difficult"
Yaya Toure says he wants to finish his career at Manchester City and that it would be "difficult" to pull on another club's shirt.
Toure's contract expires in July and neither he nor City boss Pep Guardiola have been willing – or able – to disclose whether the Ivorian will be offered an extension.
Guardiola: Aguero will stay at Man City
Pablo Zabaleta was given an emotional send-off following City's final home game of the season last week, having informed the club that the time is right for him to leave when his deal expires this summer.
Toure still appears to be in the dark over his own future but hopes that if he does get to bid farewell, as Zabaleta did, it will not be for some time yet. 
"Football is strange," he told reporters after the 5-0 win at Watford on Sunday. "I want to say a proper goodbye. I want to be honest with the fans because those guys, for all the time I've been playing, those fans have been so special and the club has been good to me.
"I want to go on until the end and the best way is going to be to stop playing football with City. That would be the best way for me. To be honest, to see me in another shirt would be quite difficult but we'll see. We don't know what's going to happen in the future but we'll see.
Man City youngster makes Team of the Week
"I'm capable of playing more. I need to be honest, I'd love to play more but I just want that when I finish I can finish at City. That's what I want but we will see."
It was put to Toure that his answers and demeanour during the interview gave the impression that he would stay at the Etihad Stadium, to which he replied: "I want to but after that it's the chairman etc. it's no longer a game of football.
"You know my intention is not bad. It's just about the fans, the club. All the time I go the pitch I'm always grateful. What I did for the club they always recognise and it's something special. You can always go somewhere else but where the fans care about you is the most important thing. For me, it's not about the money or other things it's about the fans and for them I can stay, but we'll see."