COMMENT: The four-times African Footballer of the Year has looked out of sorts at the Afcon, unhappy with his team's tactics as his former boss openly touts a move to Inter
By Brian Oliver in Malabo
Eight minutes before the end of Cote d'Ivoire's 1-0 win against Cameroon on Wednesday Yaya Toure was taken off. It was the second time in three games that the supposed talisman of African football was replaced.
Yaya, who won the Confederation of African Football's Footballer of the Year award for a fourth straight year just before the Africa Cup of Nations started, has not looked happy in Equatorial Guinea. He mumbled his way through a press conference before Cote d'Ivoire's first game, a disappointing 1-1 draw with Guinea, and has not faced the press since, despite being captain.
He brushed past reporters after the Cameroon match saying only "there's no problem, there's no problem", before boarding the team bus. He had needed treatment after a firm challenge by Stephane Mbia but will be fit to face Algeria in the quarter-finals on Sunday.
He is clearly not enjoying his role as a deep-lying midfielder, while his former boss at Manchester City, Roberto Mancini, is publicly discussing taking him to Inter.
The contrast with his elder brother, Kolo, could not be more noticeable. The Liverpool man has been a straight-backed, commanding presence who has clearly enjoyed his football. Kolo has been talkative, positive, confident and arguably the best defender of the tournament.
Yaya, on the other hand, has trudged off, shoulders slumped. He has worked hard, taken a few knocks, but has not yet controlled a game as he does for City.
On the day of the Cameroon game the Manchester Evening News carried the headline 'Man City need to plan future without Yaya Toure'.
In Italy, Il Giornale published an interview with Yaya's former manager, Robert Mancini, in which the Inter boss said: "He's one of the best players in the world, he can still have his say. He played for many teams, in many leagues like Belgium, Spain, Russia, England. He only lacks Italy, this may be a good chance for him. We're working on it. You know, there are some players who can change a team and Yaya is one of them. Next year we may try."
Perhaps the transfer talk is bugging him. City reportedly harbour a lingering resentment over his behaviour last season, and have identified the likes of Paul Pogba and Ross Barkley as potential replacements.
Perhaps he is distracted by thoughts of missing Chelsea vs Manchester City on Saturday. Maybe he is simply not satisfied with his form or his role.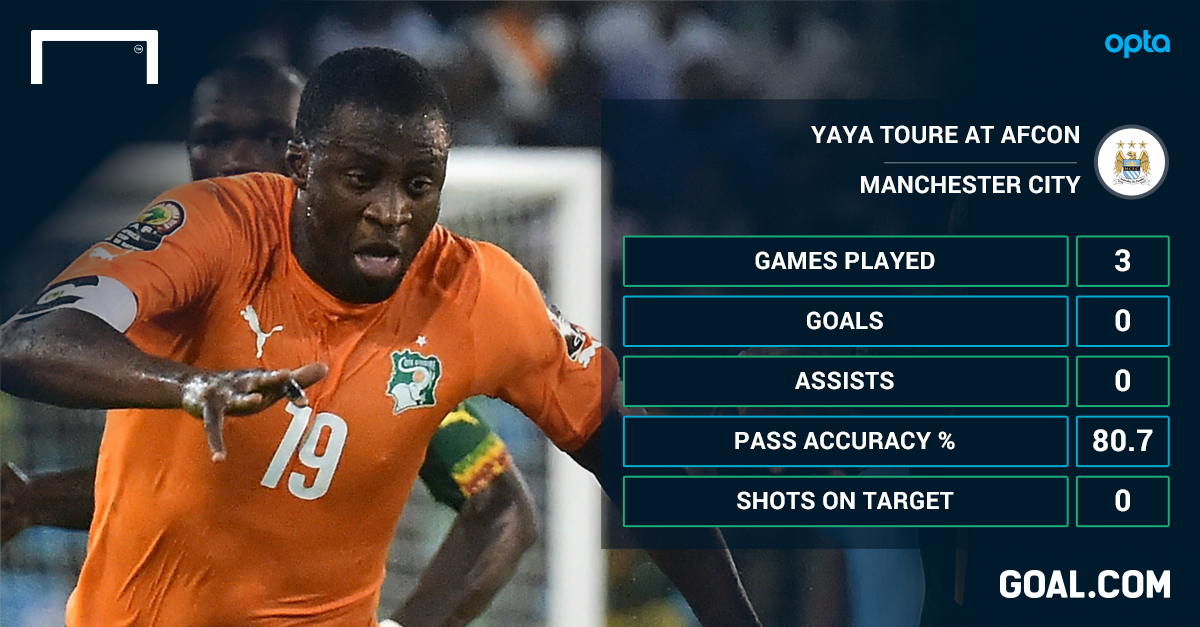 Herve Renard, the Cote d'Ivoire coach, talked about Yaya's positioning ahead of the Cameroon match.
"Ivory Coast are not Manchester City," he said. "The potential of the player is not the same.
"Manchester City have so many top-level players to defend, to build play very well, and Yaya can play further forward, behind the front two. It's different for us. We do not have Fernandinho.
"We have to ask Yaya to do a different job, to play further back. But he is a professional, he will do as I ask. I explain what I want and he does it.
"Besides, he is very comfortable with this position, as he used to play there earlier in his career, especially at Barcelona."
There was more of the same after the win that took Cote d'Ivoire through. This time, in response to questions about Cote d'Ivoire's unadventurous performance, Renard said: "We are not Germany. We cannot attack all the time".
The statistics show just how restrained Yaya has been. In 258 minutes on the pitch he has had one shot at goal, and that was not on target. His passing has not been great, either – 27 of 140 attempts have gone astray.
Renard demanded more from Yaya after an "average" opening game. He helped to create Max Gradel's equaliser against Mali in the second match, but Yaya was forced back again against Cameroon, as part of a successful defensive operation that denied the opposition a single attempt at goal.
Meanwhile Kolo has been talking about how much he enjoys guiding the new young defenders through a game, speaking of the strong spirit and confidence of a team in transition after the World Cup.
Before the tournament, Yaya said: "I have been lucky enough to win many trophies during my career but the Cup of Nations has always been my goal as an African."
If he is going to win it this year, he needs to put his troubles behind him – whatever they are.